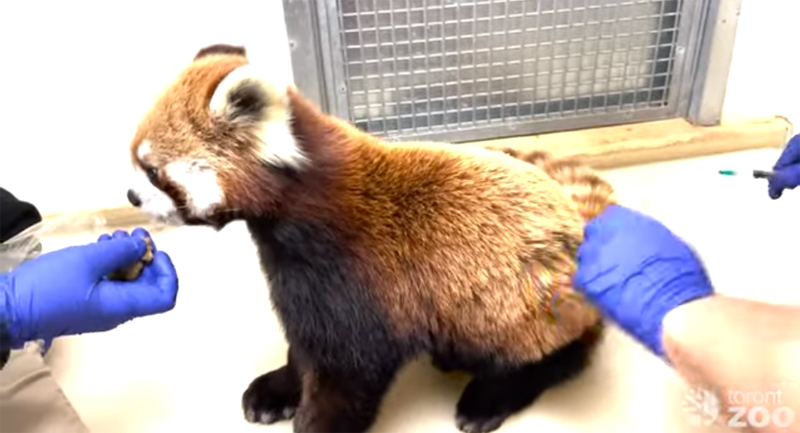 More than 120 lions, tigers, and bears (among other creatures) are set to receive their COVID vaccinations at the Toronto Zoo.
To protect animals at highest risk of becoming ill from the virus, the facility has begun the process of administering Zoetis' COVID vaccine, which is uniquely formulated for animal species.
"We are happy to report we have had no positive cases in any of our animals throughout this pandemic and being able to add this extra layer of protection allows us to continue doing everything we can to provide them with the highest level of protection and medical care," says the zoo's CEO, Dolf DeJong.
To help in the safe administration of the vaccine, the zoo is using voluntary positive reinforcement training—something it says has been an integral step in ensuring vaccine rollout results with minimal stress and disruption to the animals' routine.
The facility has released a video (below), detailing what the training entails.
"The COVID-19 vaccine for animals may be new, but receiving vaccinations from our vet tech team is a process many of our animals are already familiar and comfortable with," says the video's host, Hannah, a Toronto Zoo wildlife health technician. "The wildlife care team devotes a lot of time and care to training the animals to voluntarily present an area of the body—such as an arm, a leg, a tail or a hip—for a pretend poke and, as a reward, they receive their favourite treat."
An important aspect to this training, she adds, is that animals can walk away at any time and choose not to participate.
"I think one of the main questions you might be curious about is, 'how do we vaccinate some of these animals we might not get close to—like lions and tigers?"' Hannah says. "The thing to keep in mind is our animals are trained to participate voluntarily in their own healthcare."
The process, the zoo says, is not limited to vaccines, but is also useful for conducting regular X-rays, blood draws, and hoof trimming, allowing the facility's keepers and veterinary team to regularly monitor animal health without causing undue stress.
The Toronto Zoo has received 320 doses of the vaccine, with two doses required per animal given about two to three weeks apart. Zoos in the United States began vaccinating animals in 2021 and, to date, there have been no significant adverse effects reported.
"We have an incredible team here at the Toronto Zoo and it's been amazing to watch the care and commitment that goes into training many of these animals to participate in their own healthcare," DeJong says.
For more, check out the video below (courtesy Toronto Zoo):