Calibration and measuring

As highlighted in the Veterinary Parasitology Reference Manual, proper calibration is an important step in accurately measuring parasites under the microscope.8 Before viewing fecal slides on a microscope, it is important to ensure the microscope has been properly calibrated to allow for proper measurement and identification of parasite eggs, cysts, and oocysts.
To calibrate, an ocular micrometer is superimposed over a stage micrometer while the lowest objective (usually 4x) is in place. While the two micrometers are superimposed, line up the left edge of each and locate the position in which one line falls directly over another. At this point, the number of ocular units are compared to the 'known' divisions on the stage micrometer so a conversion factor can be obtained.  There are numerous videos and resources on the web which provide sample calculations and visual representation of this process.
Tips on assessing flotation results
Pinworms are common nematode worms detected in reptiles (Figures 4A-E). It is also common to find other nematode eggs, as well as trematode eggs and coccidian oocysts belonging to the genus Eimeria (Figures 4A and F). Information on various species of Eimeria infecting both domestic and wild hosts can be found on the Coccidia of the World Database (eimeria.unl.edu/table.html).
It is not unusual to find pseudo-parasites in fecal flotations, which, though they appear as parasitic elements, are not as such (Figure 5). Common pseudo-parasites include plant matter, arthropod appendages, pollen grains, fungal spores, and other inanimate objects.
The number of parasites found in feces is not always associated with the intensities found in the respective intestine or by the host identity5 and parasitic egg counts can often be rather randomly distributed in feces. Intestinal parasites may also be under-represented in the feces due to their location in the intestine, their intensities of infection, presence of adult females shedding eggs, and/or the erratic nature of feces formation and release.9
Overall, evaluation of reptile feces for internal parasitic infections should be approached in a similar manner to other taxonomic groups. With proper preparation of materials and calibration of diagnostic tools, the examiner can become adept and confident in identification and evaluation of reptile feces.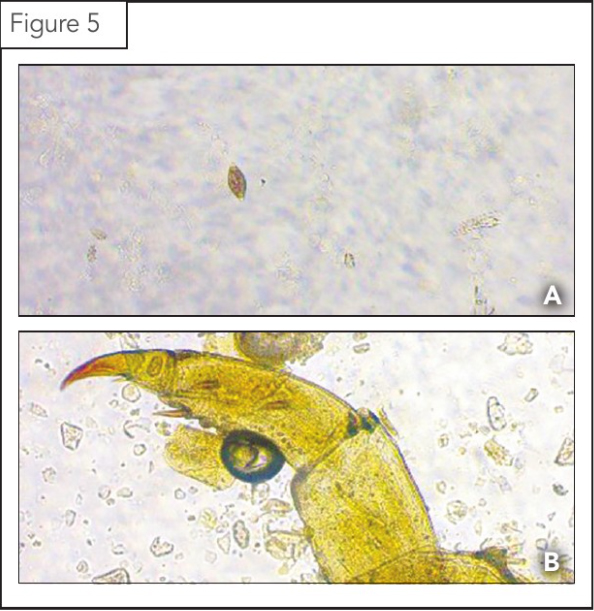 Ashley McGrew, DVM, PhD, DACVM, is an associate professor at Colorado State University's College of Veterinary Medicine and Biomedical Sciences.  She graduated from the DVM/PhD dual-degree program at CSU and went on to become boarded in parasitology under the ACVM in 2015. She currently teaches veterinary parasitology and serves as Section Head of Parasitology within the CSU Veterinary Diagnostic Laboratories. She can be reached at ashley.mcgrew@colostate.edu.
Miranda Sadar, DVM, DACZM, is an assistant professor at Colorado State University's College of Veterinary Medicine and Biomedical Sciences. She graduated from CSU with a BSc in zoology before earning a DVM degree from Colorado State University. Dr. Sadar completed an internship in zoological, zoological companion animal, and wildlife medicine at the University of Saskatchewan's Western College of Veterinary Medicine. After finishing a two-year fellowship in wildlife medicine at the Wildlife Center of Virginia, she moved to Davis, Calif., and completed a residency in zoological medicine at the University of California. Sadar is a board-certified specialist in zoological medicine with a focus on zoological companion animals. She can be reached at miranda.sadar@colostate.edu.
Tyler Yamashita, BSc., is a research associate at Colorado State University's Center for Vector-Borne Infectious Diseases (CVID) and Veterinary Diagnostic Laboratory. Yamashita, who graduated from CSU with a BSc. in biological sciences and a minor in entomology, is a rising first-year at CSU's College of Veterinary Medicine. He can be reached at tyster45@colostate.edu.
References
1 Ras-Norynska M & Sokol R. (2015). Internal parasites of reptiles. Ann Parasitol, 61(2):115-7.
2 Galosi L, Attili AR, Perrucci S, Origgi FC, Tambella AM, Rossi G, Cuteri V, Napoleoni M, Mandolini NA, Perugini G, Loehr VJT. (2021). Health assessment of wild speckled dwarf tortoises, Chersobius signatus. BMC Vet Res, 17(1):102.
3 Castillo GN, Acosta JC, Gonzalezrivas CJ, & Ramallo G. (2020). Checklist of nematode parasites of reptiles from Argentina. Annal Parasitol, 66(4):425-432.
4 Smales LR. (2007). Acanthocephala in amphibians (Anura) and repiles (Squamata) from Brazil and Paraguay with description of a new species. Journal of Parasitology, 93(2):392-398.
5 Wolf D, Vrhovec MG, Failing K, Rossier C, Hermosilla C, Pantchev N. (2014). Diagnosis of gastrointestinal parasites in reptiles: comparison of two coprological methods. Acta Vet Scand, 56(1):44.
6 Schmidt V, Dyachenko V, Aupperle H, Pees M, Krautwald-Junghanns M-E & Daugschies A. (2008). Case report of systemic coccidiosis in a radiated tortoise (Geochelone radiata). Parasitol Res, 102:431-436.
7 Rom B, Kornas S, Basiaga M. (2018). Endoparasites of pet reptiles based on coprosopic methods. Ann Parasitol, 64(2):115-120.
8 Foreyt, W.J. (1989) Diagnostic parasitology. Veterinary Clinics of North America Small Animal Practice, 19 (5), 979-1000.
9 Jorge F, Carretero MA, Roca V, Poulin R, Perera A. (2013). What you get is what they have? Detectability of intestinal parasites in reptiles using faeces. Parasitol Res, 112(12):4001-7.