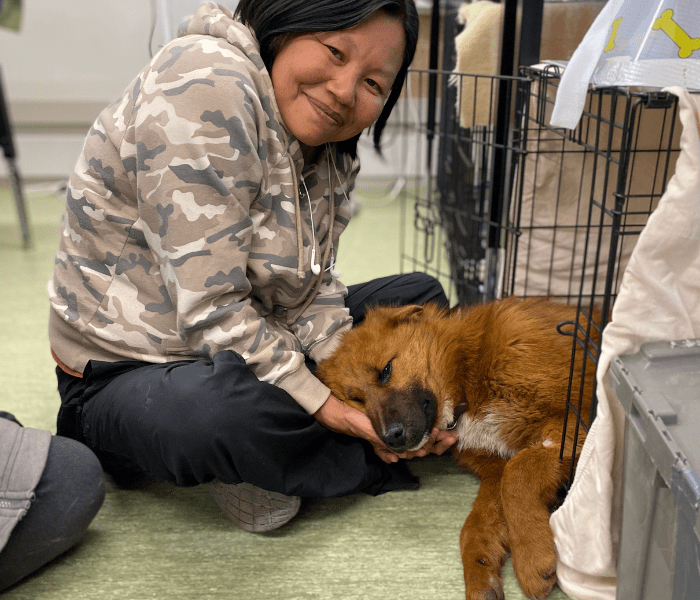 Improving access to care in the North and supporting Canada's future veterinarians are the driving forces behind Veterinarians Without Borders/Vétérinaires Sans Frontières' (VWB's) new scholarship program.
Launched as part of the organization's Northern Animal Health Initiative, the Access to Care Awards will provide scholarships and bursaries to individuals living in Canada's North who are interested in pursuing educational opportunities related to animal health and wellness.
"These awards will increase local animal health knowledge and capacity," says VWB's Northern Canada program manager, Marieke van der Velden. "Our goal is to enable further access to care across the North and ensure all animals and communities can access the support they need, when they need it."
The program is open to all individuals living in the territories, with priority given to Indigenous applicants. Awards include one $10,000 scholarship for a veterinary school student and five $5000 bursaries for individuals pursuing animal and One Health-related diplomas or certificates.
Additionally, the program will offer an opportunity for Northwest Territories and Nunavut residents to take pet first aid courses, as well as participate in online career fair sessions. These sessions, VWB says, will guide students who are interested in working with animals and feature speakers from a range of professions and career paths, including veterinarians, biologists, dog trainers, and more.
"During our northern clinics, we often meet young people who have never interacted with a veterinarian before and are quite curious about their work," van der Velden says. "We know how important it is that youth and teachers have access to people who are already working in animal health fields and can provide some guidance in pursuing similar careers."
"The Access to Care program will be a huge benefit to a remote community like Wrigley, [which is] a small community of 150 residents," adds Jocelyn Skeard, a VWB community liaison in Pehdzeh Ki First Nation (Wrigley), NWT. "With the closest veterinary care being in Yellowknife, almost 850 km away, this program can provide members of our community with pet first aid and other valuable pet health and care knowledge to provide for animals in need. With the ability to access the program, we are able to build our community capacity, provide members with adequate pet first aid knowledge, and educate the community on the importance of animal health."
Applications will be accepted until Jan. 15, 2023. Recipients will be announced in March.
For more, click here.
Veterinary Practice News Canada recently spoke to Michelle Tuma, DVM, owner of Northwest Territories Veterinary Services, a mobile practice in Yellowknife. To learn more about Dr. Tuma's experiences, click here.