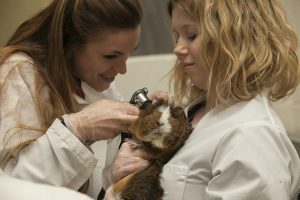 The University of Saskatchewan's Western College of Veterinary Medicine (WCVM) is losing a quarter of its operating budget due to an $8-million funding shortfall.
And now, the school is looking at other options to make up for it, including opening the program to international and Western Canadian students willing to pay higher tuition fees.
The move comes following Alberta's decision last year to pull out of an interprovincial funding agreement with Saskatchewan, British Columbia, and Manitoba starting in 2020. Under the agreement, Manitoba is allocated 15 seats a year of the 78 available for new students admitted to WCVM's doctor of veterinary medicine program. The other three provinces each have 20 seats.
With Alberta withdrawing its financial support and giving up its seats, WCVM needs to find another way to fund them.
Currently, the school does not admit international students, but that may soon change, says its dean, Douglas Freeman, DVM, B.Sc., M.Sc., PhD.
Although this might address the issue of insufficient funding in the short term, the concern is international students will not practice in Canada, leaving the western provinces with a veterinarian shortage.
"Professionally they could get licensed in Canada, but whether or not they could get a work permit would be a Canada immigration process, which we have no control over," Dr. Freeman said.
Freeman says the school is considering running a pilot project with a small number of seats for Western Canadian students who are unable to secure one of the 55 allocated to Saskatchewan, Manitoba, and British Columbia. Those applicants would pay the same tuition fee as international students.
WCVM also currently funds two educational equity seats for students of indigenous ancestry out of its operating budget. Those applicants have to meet the minimum admission requirements, but they compete in a separate pool.
The college has taken a proposal to the federal government to help grow the program and include at least eight indigenous students per class.
"Growing our educational equity seats has been a goal since before Alberta made the announcement," Freeman said.
"It impacts the number of international students we might firmly say we may take now, versus maybe a year from now, when we know how some of the programs are going to go."