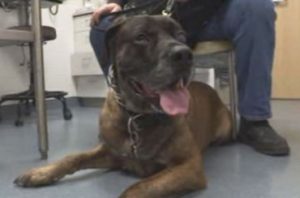 When Edward Sloan's dog, Dozer, a 7-year-old bull mastiff went blind seemingly overnight, a devastating diagnosis revealed Dozer had cancer.
Desperate to save his best friend, Sloan found a clinical trial at the Cummings School of Veterinary Medicine at Tufts University, where Abbey Sadowski, DVM, found that Dozer had "lost a lot of weight [and] had several weeks of history before he even saw us."
Dr. Sadowski and Cheryl London, DVM, Ph.D., are testing an experimental drug—called KPT-9274—combined with just one round of chemotherapy to treat lymphoma.
"We had this remarkable response … when you combine these two things together you can get a dramatic reduction in disease," Dr. London said.
Early results of the small study have been promising, especially for Sloan and Dozer.
"A single heroic dose … the next day he was able to see," Sloan said.
Dozer is three months in remission, and his medical reversal of fortune could eventually lead to a breakthrough in human medicine.
London said the outcome of a canine trial is a valuable piece of the research puzzle.
"The benefits to the human side are that you get a drug into humans that's actually much more likely to work," London said. "The benefit to the veterinary side is that we get to enroll our patients in clinical trials of novel drugs at little to no cost for them."
Sloan is happy to have his best friend back—for longer, quality time.
"The fact that's he's alive, the fact that he's doing well and he's bristling with energy and personality, I would consider miraculous," he said.
Doctors are still accepting dogs into this trial. For more information, email clinical trials technician Diane Welsh at clinicaltrials@tufts.edu.