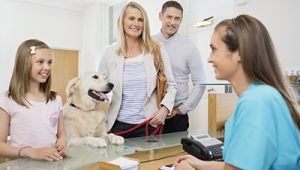 Scratchpay, a financial tech company focused on veterinary care, has raised a $6.4 million in a Series A funding round led by Companion Fund, a pet-care focused investment arm launched by Mars Petcare.
Founded in 2016 by John Keatley and Caleb Morse, Scratchpay offers payment plans to clients with vet bills from $2,000 to $10,000. If approved, applicants choose among various payment and interest options. Once the plan is set, the vet receives a confirmation email and Scratchpay pays the clinic through direct deposit.
The company's underwriting model incorporates multiple proprietary and third-party data sources specific to the animal health industry, according to CEO John Keatley.
"We are the only lender that incorporates information about the pet and the procedure being performed into lending decisions," he said.
The company makes money on the interest, which is determined on an individual basis, ranging from 5 to 26 percent, and a 5 percent cut on all transactions it handles. As Scratchpay pays the vet clinic the approved amount up front and takes full responsibility for pet owners' payments, this process potentially mitigates the risk-assessment problem vets (and pet-owners) often face in care provision.
The Los Angeles-based company has partnered with more than 2,000 U.S. veterinary hospitals and plans to expand internationally.