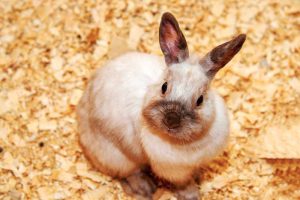 Ten years ago, my hands-on education on rabbits began and ended with safe and uneventful handling of a docile New Zealand buck, a resident of the university lab. It gave me no hint of the mule-like kicks of which less docile rabbits are capable. This was only the beginning of my ignorance about this species, discovered when my husband and I adopted a surrendered rabbit from the SPCA. Since then, I have been educating myself by any means possible.
An unofficial poll of my general practitioner colleagues revealed most see rabbits at least once a month, with many seeing this species daily, if only for spay and neuter. Some decline to see rabbits at all; I myself was among their number until recently.
General practitioners without training in exotics are caught between a rock and a hard place when it comes to rabbits. Should they offer what they justly perceive to be substandard care due to lack of knowledge and experience, or should they not touch rabbits at all, even with the knowledge an owner may have no access to exotics specialists? Moreover, the number of rabbit owners who seek veterinarians is under-represented. Many simply do not expect veterinarians to help them, having been turned away before or received care inappropriate to this species. As a student I had no idea of the scope of demand on the part of rabbit owners, a demand that has only grown in the past 10 years. If I knew then what I know now, I might have hesitated to take the Veterinarian's Oath, since I was simply not ready.
Going against stereotype
The human-animal bond is a force to be reckoned with, and people who love rabbits, love them a lot. Jokes about stew are no longer suffered gladly. Activists have succeeded in banning sales of rabbit meat in certain grocery stores. Many of us are familiar with clients who boycott our veterinary practices when they find out we carry rabbit-based dog and cat food. But if you think rabbits are only for the emotionally fragile, tell that to the marine. That's right: the Retired Rabbit Sanctuary in San Antonio, Texas, for abandoned and surrendered rabbits is run by Kyle Hendricks, a former U.S. marine. These animals attract people of diverse backgrounds and temperaments. Many rabbit lovers also own dogs and/or cats, and love all their pets equally.
Contrary to the stereotype of cuddliness and timidity, rabbits are proud and spirited animals that stand up for themselves, prey animals learning to get along with meat-eaters. Interacting with rabbits can teach us much-needed patience and humility. Rabbit yoga is a real thing, and so are therapy rabbits who visit hospitals and nursing homes. Rabbits are the ultimate eco-friendly pet in a society with increasing environmental awareness. As obligate herbivores, they leave the smallest carbon footprint of the three most popular pet species. And, their feces really and truly don't stink. It can go right back into the food chain as safe, high-grade fertilizer.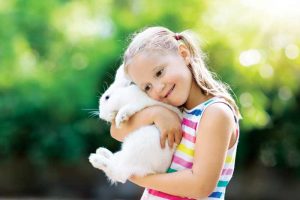 With all the factors adding up to rabbits' growing popularity, one would think veterinarians would be all over this species. Unfortunately, this is not the case.
A profession where new graduates struggle with crippling debt seems strangely unaware it is standing on a gold mine. Love it or hate it, social media is here to stay, and posts pertaining to this particular human-animal bond should be taken seriously. It is heartbreaking to see Facebook statements such as, "Every vet I've called hasn't been able to get them in or says they don't do rabbits." Rabbits are susceptible to many problems accompanied by gut stasis, which can very quickly progress beyond the point of no return.
From our perspective this may be a conscientious refusal to do harm by dabbling in medicine we were not taught. However, from the client's perspective, this may well feel like being abandoned in an hour of need, especially if they have no other recourse. Lack of knowledge among general practitioners sends people the message our profession does not take rabbits or their owners seriously, a message as detrimental to our public image as it is to the animals we could be helping. Many owners have simply given up on veterinarians when seeking help for their rabbits. Many more still look up to us, at least in emergencies, and urge each other to take an ailing rabbit to the vet.
Exotic or not?
Continuing to designate rabbits as 'exotics' is part of the problem. Rabbits are on a level with dogs and cats, not only in terms of popularity, but also regarding an overpopulation crisis and abandonment, not to mention the welfare and environmental issues that come as a result. Rabbits are unique in being food animals, as well as pets, an additional reason to bring them into the core curriculum from either of these angles—or both. Would this undermine the status of exotics-trained veterinarians? Hardly. The number and distribution of veterinarians trained to treat exotics is not nearly sufficient to meet the demand of rabbit owners, a vast number of whom do not live anywhere near such a veterinarian and do not have access to this type of care.
My classmate Dr. Erin Harrison, who has undertaken exotics training after graduating from Ontario Veterinary College (OVC), maintains rabbits are so commonplace they are not exotic pets. In her experience, referring and primary veterinarians often approach rabbits like cats, whereas they are much closer to horses in physiology and susceptibility to problems. This is a curious if sad observation, since rabbits and cats have only one thing in common: not so long ago, cats themselves were on the periphery of veterinary attention, treated like 'little dogs.' In fact, only a century ago, both dogs and cats were 'exotics' compared to food animals and pack animals that occupied our profession throughout most of its history. Veterinary medicine is evolving with amazing speed.
Time for change
In February, I started a petition to be delivered to veterinary colleges accredited by the American Veterinary Medical Association's (AVMA's) Council on Education.1 The gist of it is that rabbit medicine must be part of the required curriculum, rather than being left to electives. The petition, which is open to the general public, has received the support of such world-renowned exotics specialists as Drs. Frances Harcourt-Brown, Molly Varga, and Livia Benato, and veterinary nurse, Jo Hinde, of the U.K.-based continuing education organization, LagoLearn. The petition is in need of wider support from those of us working in the trenches of general practice and increasingly exposed to questions about rabbits, if not requests to see them. Several veterinary schools, notably the University of Edinburgh; University of California, Davis; North Carolina State University; and the University of Tennessee, are already teaching exotics medicine in their core veterinary curriculum, with encouraging results reported by their graduates. Most veterinary schools have excellent exotics departments within their teaching hospitals, so the logistics base is already in place, though the interface with the core curriculum remains to be made. These changes need to take place at all AVMA-accredited schools, and to receive the publicity necessary to reassure the public that we, as a profession, have not given up on these much-loved animals.
Parallel to this, it is necessary to have a larger number and variety of continuing education (CE) courses and hands-on labs in rabbit medicine for practitioners who, like myself, have missed out on the fundamentals. Currently, rabbit CE is not that easy to come by. Travel to conferences is not always a viable option, whereas online courses on rabbits are quite limited in number. Here, again, is ample opportunity for exotics departments to extend their offerings. Meanwhile, LagoLearn, which offers both lectures and hands-on labs, has taken the innovative approach of placing rabbits in a class of their own, rather than seeing them as part of the exotics spectrum.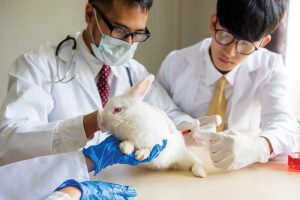 A valid concern raised in response to my petition was that any future courses in rabbit medicine are likely to be guided by animal welfare standards, and might thereby alienate and even condemn breeders. It is true most of the demand for rabbit medicine comes from pet owners and not breeders, who have learned to provide their own medical help to their flock. Advice from breeders is a legendary thorn in the side of veterinarians when it comes to dogs and cats. However, the situation with rabbits is unique, and provides an opportunity for a much-needed handshake between the profession and conscientious breeders, rather than perpetuation of an unnecessary standoff. It is no accident the very first person to sign the petition was a breeder. Any sound and well-rounded course on rabbit medicine should make use of valuable data and experience accumulated by breeders who approach their work with thoroughness and love for their animals. Designing a curriculum in rabbit medicine is an opportunity for a truly inclusive initiative that can unite the public and the veterinary profession. It can draw on the experience of veterinarians who are themselves breeders of rabbits, or who are closely associated with breeders. As I always remind people, veterinary schools do not teach sentimentality. If the fundamentals of rabbit medicine are in place, a graduate is free to determine whether they want to work with this species as companion animals, in the context of shelter medicine, or as a production species. If 'pet people,' breeders, and at least one veterinarian can coexist on a Facebook board (see Rabbit Help and Advice), the prognosis for real-life co-operation is good.
Joining forces
The outbreak of the rabbit hemorrhagic disease virus, RHDV-2, in British Columbia earlier this year has been both a wake-up call to the veterinary profession and a show of solidarity among veterinarians, rabbit owners, including breeders, and Canada's government agencies. The number of owners who came out of the woodwork, and the number of rabbits in need of veterinary care, has proven to be high enough that a vaccine was imported to B.C. from France on an emergency permit and with remarkable speed. (Roughly 4000 vaccines have been imported to date for pet rabbits, sanctuary rabbits, and breeders' stock, with more orders to be placed in the near future.)
It is encouraging to see such co-operation in the name of the human-animal bond and of the animals inspiring it. Thankfully, at this time the virus has not spread beyond parts of British Columbia, but we are very far from being out of the woods. If any good can come from this tragedy, the arrival of this virus in Canada means a new reality in which rabbits receive increased attention, requiring greater knowledge on the part of veterinarians and fostering of long-term relationships with owners.
Reference
1 The petition can be found at https://www.change.org/p/veterinary-schools-teach-rabbit-medicine-as-part-of-the-core-curriculum.
Veronica Gventsadze, M.A., PhD, DVM, worked as a conference interpreter and a university professor of the humanities before gathering the courage to turn her love of science and animals into a profession. Upon graduating from Ontario Veterinary College (OVC) in 2008, she settled in British Columbia where she received her battle christening in the trenches of small animal medicine. Besides advocacy for rabbits, Dr. Gventsadze brings public attention to the plight of moose and caribou who continue to be trapped in abandoned telegraph wire in Canada's Pacific Northwest. She is a regular contributor on wildlife to West Coast Veterinarian magazine. To balance the rigour of daily work, she writes fiction incorporating lessons learned from animals. To reach Gventsadze, e-mail her at gassendus@hotmail.com.