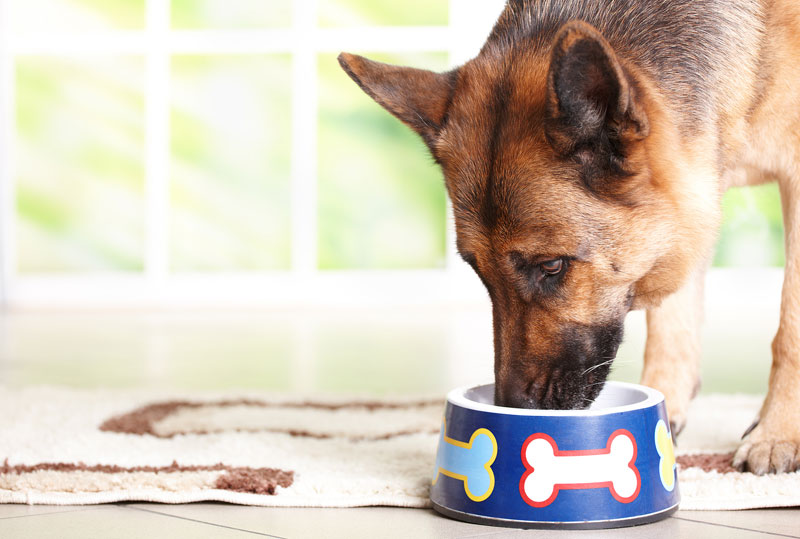 Considering advances in medicine and nutrition, it is no surprise our dogs and cats are living longer, more fulfilling lives. According to the American Veterinary Medical Association (AVMA), in 2018, at least 33 per cent of the pet population was considered 'senior' or 'mature' in age.1 As our pet population ages, the propensity to develop age-related co-morbidities—including obesity, renal disease, osteoarthritis, dental disease, and cancer—increases. As seen in human health and wellness, nutrition and other lifestyle modifications can help mitigate the risks for many age-related diseases.
This desire to achieve longevity and optimal health has brought on a demand for more personalized nutrition by taking into consideration the interaction among systems like the gut microbiome, metabolites, and host metabolism.
A similar approach is being investigated in our companion animals. Evidence suggests utilizing nutrition (in addition to other strategies) before clinical signs of illness are noticed may help delay the onset of age-related diseases and promote a higher quality of life. As our knowledge relating to nutrition and aging expands, the ability of practitioners to customize recommendations to the individual, rather than by age alone, should also develop.
In practice
Clinicians are tasked with one of the most common questions from veterinary clients: "When is my dog or cat considered a senior?" Indeed, as we see a significant portion of our pet population age, we can more accurately define life stages in both cats and dogs.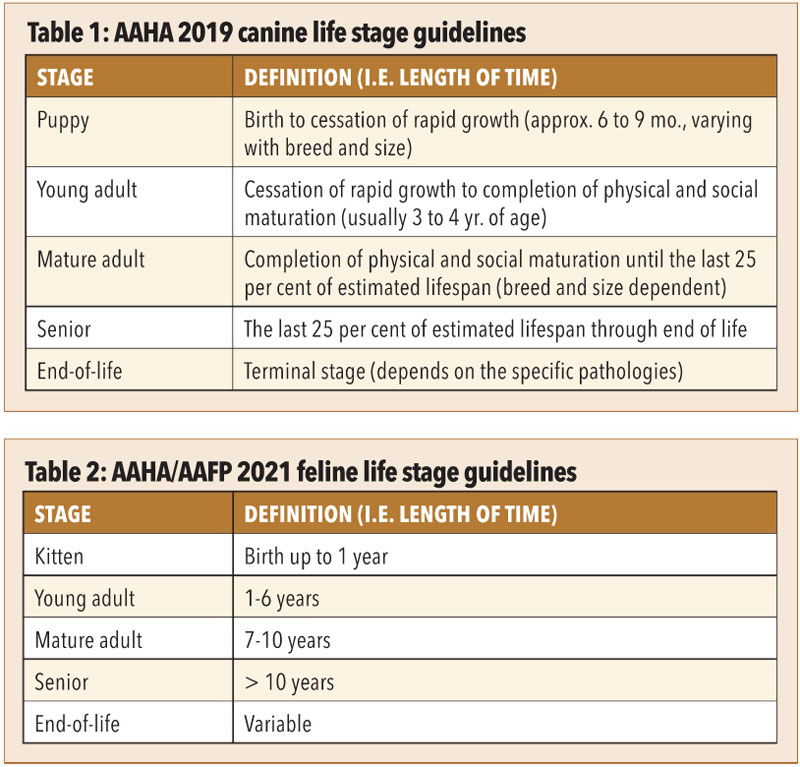 In a 2019 publication, the American Animal Hospital Association (AAHA) updated the canine life stage guidelines from its 2012 publication, decreasing the number of categories from six to five, including puppy, young adult, mature adult, senior, and end-of-life.2 Similarly, the feline life stage guidelines were recently updated to include five categories: kitten, young adult, mature adult, senior, and end-of-life.3 (Tables 1 and 2 are adapted from the AAHA publications and provide more detail of the life stage definitions.) These guidelines are designed to assist practitioners and pet owners in developing individualized care based off a pet's life stage.
Some debate may still exist as to what is considered 'senior;' however, in general, most animal health professionals have defined this as seven years in dogs and 11 years in cats, and will suggest changes in diet and health management based off these ages.
Aging brings on a cascade of physiologic changes that can have serious health implications—this, in turn, may present significant cost, financially and emotionally, for veterinary clients. Nutrition must be optimized for the patient to mitigate risk of certain diseases.
A recent review by Churchill and Eirmann (2021) provides an extensive evaluation of the metabolic changes experienced with aging, offering a clinician's approach to tailor nutritional interventions based off individual assessments.4 This timely review also reinforces the guidance of the World Small Animal Veterinary Association (WSAVA), which recognizes nutritional assessment as part of the five vital signs of standard physical examination.5
To summarize, doing a comprehensive screening through appropriate laboratory testing and physical examination should precede assigning diets to enable specific nutritional recommendations. In general, metabolizable energy requirements are lower with age, which can increase risk of obesity; however, some geriatric dogs and cats may be underweight. Therefore, understanding a patient's body weight in relation to the body condition score should help guide nutritional interventions. This, along with frequent assessment of the individual's status, are needed to determine a change in dietary approach.
Overall, it is also suggested early detection of age-associated problems can lead to appropriate nutritional intervention before the clinical signs manifest.
Nutrient benefits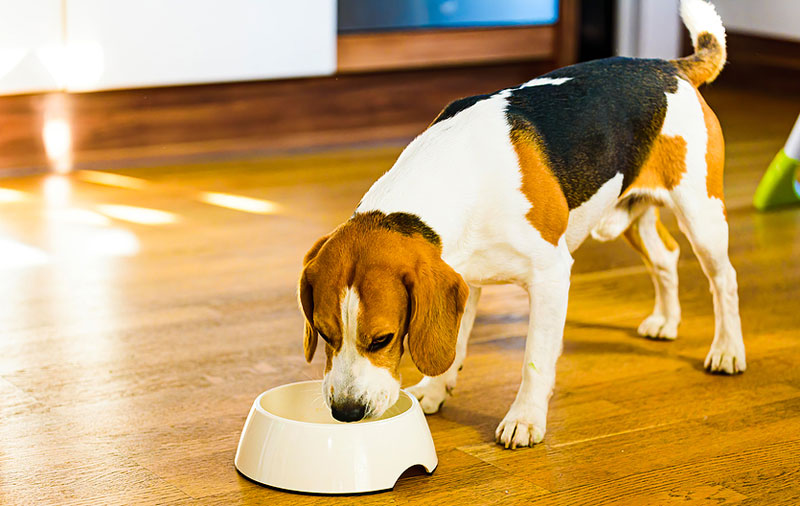 A variety of ingredients and specific nutrient profiles can be found in today's commercial senior diets. Indeed, numerous studies in dogs and cats diagnosed with age-related comorbidities show that certain ingredients or feeding strategies can curb progression and aid in management of age-related disease.
For example, the omega-3 fatty acids, docosahexaenoic acid (DHA) and eicosapentaenoic acid (EPA), are commonly referenced for their efficacy in acute improvements in mobility for dogs with osteoarthritis (OA), as well as benefits in age-related anxiety and cognitive dysfunction. In client-owned dogs with OA, diets supplemented with fish oil resulted in significant improvements in lameness and weight bearing after 90 days of feeding.6
More recent studies in aged dogs found long-term supplementation with DHA-rich ingredients, like fish oil and algae, resulted in improvements in cognitive function and may delay cognitive aging.7,8 Other ingredients, such as antioxidant vitamins E and C, B-vitamins, L-arginine, and medium-chain triglycerides, as well as fruits and vegetables with high antioxidant activity, have proven to be beneficial in improving cognitive function abilities in aged dogs.7,9 Bioactive components in fruits and vegetables are also shown to slow age-related decline. Aged dogs supplemented with β-carotene, a common carotenoid found in numerous fruits and vegetables, demonstrated restored immune responses in comparison to their age-matched controls.10
In terms of preservation of lean muscle mass and maintenance of cardiac function, supplementation of L-carnitine and taurine is commonly found in senior-focused diets. Indeed, including L-carnitine in a moderate protein diet helped senior cats maintain lean body mass, as well as stable serum taurine and serum symmetric dimethylarginine, throughout a 180-day study published in 2020.11
Finally, chondroprotectants, such as glucosamine and chondroitin sulfate, have been investigated in both human and companion animals as a strategy to preserve joint and mobility integrity through aging. (Table 3 provides a list of these ingredients and nutrients, as well as their function in senior nutrition.)
Making the change
Although the nutrition-based evidence is strong for the ingredients cited above in specific clinical populations, the question as to when to begin senior-focused feeding to delay the onset of age-related comorbidities remains.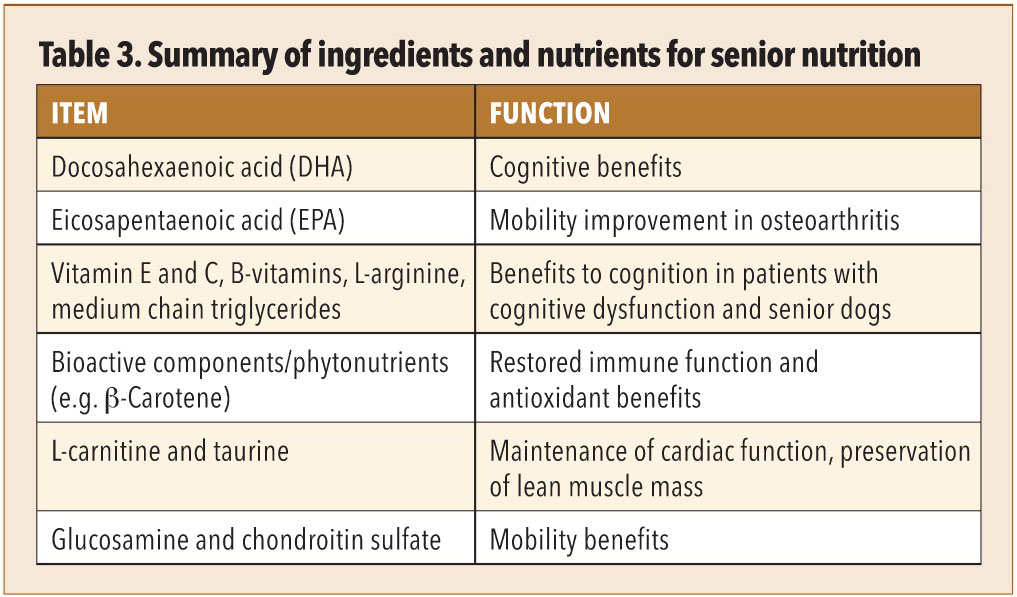 Pet owners often deny their cats or dogs need senior-focused nutrition due to the animal's seemingly healthy status and playful disposition. Taking together the nutrition research and complexity of aging, switching to a diet aimed at longevity should not be based solely off life stage. These guidelines are very useful to both practitioners and pet owners for understanding pet aging and should also be evaluated against the individual's clinical status.
Indeed, the updated life stage guidelines for dogs are defined based on both age and characteristics; however, life expectancy of the species does not take into consideration other factors contributing to aging. After all, this is an intricate process that can be accelerated or delayed due to environment and genetic predisposition. Nutritionists continue to expand their knowledge of interactions between diet/ingredients and the gut microbiome, metagenomics, and proteomics as they relate to host metabolism and disease.
Viewing the life stage guidelines to characterize the aging process via clinical signs, rather than strict reference values, seems more fitting in promoting health and longevity. For example, a dog at the age of five years exhibiting clinical signs of an eight-year-old may be more appropriately fed senior-focused nutrition to potentially delay further consequences of aging.
An ongoing process
Overall, the assessment of senior nutrition continually evolves as our knowledge on nutrition and metabolism increases. While there are numerous studies exhibiting the benefits of certain ingredients and nutrients in age-related disease, these are mainly explored in the aged population. Through this research, we have assumed applying these principles early may help prevent age-related comorbidities (indeed, the idea of optimized nutrition is gaining traction in the human wellness market, where implementation of nutritional philosophies is happening well before clinical signs are present).
Regardless, even if a pet is not showing clinical signs of aging, practitioners have an opportunity to discuss prevention through their guidance on nutrition. More studies assessing the preventive attributes of ingredients and nutrition on the aging process in our companion animals are warranted.
Moreover, aging is not a 'one-size-fits-all' progression. In terms of nutritional guidance, life stage guidelines should be viewed as an occasion for evaluation of the pet's aging process and not used exclusively by the age of the animal. Our increasing ability to examine nutrient-host interactions as they relate to metabolism and etiology of diseases provides a great opportunity for enhancing diets toward longevity. These are exciting developments that should be applied to future upgrades on life stage guidelines and will most certainly enhance clinician's abilities to optimize individualized care for their patients.
Matt Panasevich, PhD, is a companion animal nutritionist and a senior nutrition scientist at Blue Buffalo Co., in research and development. His background and experience have focused on the impact of diet and ingredients on the gut microbiome and the implications they have on health and disease. Dr. Panasevich helps validate the use of new ingredients, formulations, and nutritional performance in complete and balanced pet foods. He has shared his expertise through scientific contributions in more than 12 peer-reviewed publications, three patents, and numerous conference abstracts and seminars in both companion animal and human nutrition.
References
1 AVMA pet ownership and demographics sourcebook, 2017-2018 Edition. Schamburg (IL): American Veterinary Medical Association; 2018.
2 Creevy KE, Grady J, Little SE, Moore GE, Strickler BG, Thompson S, and Webb JA. 2019 AAHA Canine Life Stage Guidelines. J Am Anim Hosp Assoc 2019;55:267-90.
3 Quimby J, Gowland S, Carney HC, DePorter T, Plummer P, and Westropp J. 2021 AAHA/AAFP Feline Life Stage Guidelines. J Fel Med Surg. 2021;23: 211-233.
4 Churchill JA and Eirmann L. Senior Pet Nutrition and Management. Vet Clin North Am Small Anim Pract. 2021 May;51(3):635-651.
5 WSAVA Nutritional Assessment Guidelines Task Force Members, Freeman L, Becvarova I, Cave N, MacKay C, Nguyen P, Rama B, Takashima G, Tiffin R, Tsjimoto H, van Beukelen P. WSAVA Nutritional Assessment Guidelines.
J Small Anim Pract. 2011 Jul;52(7):385-96.
6 Roush JK, Cross AR, Renberg WC, Dodd CE, Sixby KA, Fritsch DA, Allen TA, Jewell DE, Richardson DC, Leventhal PS, and Hahn KA. Evaluation of the effects of dietary supplementation with fish oil omega-3 fatty acids on weight bearing in dogs with osteoarthritis. J Am Vet Med Assoc. 2010 Jan 1;236(1):67-73.
7 Pan Y, Kennedy AD, Jönsson TJ, Milgram NW. Cognitive enhancement in old dogs from dietary supplementation with a nutrient blend containing arginine, antioxidants, B vitamins and fish oil. Br J Nutr. 2018 Feb;119(3):349-358. doi:10.1017/S0007114517003464. Epub 2018 Jan 10. PMID: 29316985.
8 Hadley, KB, Bauer J, Milgram NW. The oil-rich alga Schizochytrium sp. as a dietary source of docosahexaenoic acid improves shape discrimination learning associated with visual processing in a canine model of senescence. Prostaglandins, Leukotrienes & Essential Fatty Acids. 2017 Mar;118:10-18. doi:10.1016/j.plefa.2017.01.011
9 Milgram NW, Head E, Zicker SC, Ikeda-Douglas CJ, Murphey H, Muggenburg B, Siwak C, Tapp D, and Cotman CW. Learning ability in aged beagle dogs is preserved by behavioral enrichment and dietary fortification: a two-year longitudinal study. Neurobiol Aging. 2005 Jan;26(1):77-90.
10 Massimino S, Kearns RJ, Loos KM, Burr J, Park JS, Chew B, Adams S, and Hayek MG. Effects of age and dietary beta-carotene on immunological variables in dogs. J Vet Intern Med. 2003 Nov-Dec;17(6):835-42.
11 Frantz NZ, Panasevich MR, Kats LJ, and Daristotle, L. Reduced protein food with L-carnitine maintains lean mass and renal health in senior cats. In Proceedings AAVN Clinical Nutrition & Research Symposium. Virtual, June 10-11, 2020.