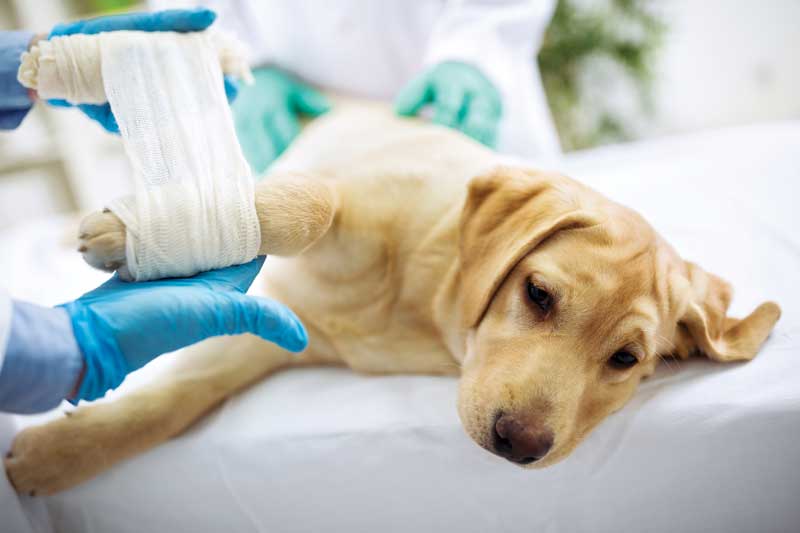 Awareness of the importance of analgesia for veterinary patients has increased significantly over the past two decades. It is widely considered important, for medical and ethical reasons, to provide effective pain relief for dogs and cats, whether their pain is due to surgical procedures, acute injury, or chronic medical conditions.1 This growing awareness has been accompanied by a proliferation of pain control options, including new drugs labeled for veterinary use and many more compounds routinely used off-label.
Multimodal analgesia also has become common, with the concurrent use of multiple local and systemic analgesics considered an optimal pain control practice.1 The inevitable limitations and adverse effect profiles of all analgesic drugs require a variety of options to allow effective pain control tailored for each individual patient. Some of the most widely used analgesic drugs, such as nonsteroidal anti-inflammatories, have side effects that can be potentially serious, though in general they are a very safe and effective class of compounds for both dogs and cats.2-3 The current concern about opioid abuse in humans and shortages in the supply of these drugs has led veterinarians to seek alternatives to traditional narcotic analgesics in our patients.
Tramadol is an opioid and serotonergic agonist analgesic drug used in humans, and it has become very popular in veterinary medicine due to the perception of a wide therapeutic index and low potential for abuse. There has been significant and ongoing debate, however, about both the abuse potential in humans and the clinical efficacy of tramadol in dogs. Tramadol is now a Schedule IV drug due to the conclusion of the Drug Enforcement Administration that it does have significant potential for dependence and abuse.4 A large amount of indirect evidence, and a few direct clinical studies, also are available to assess the question of whether tramadol is an effective analgesic in dogs and cats.
Tramadol and cats
In cats, the preclinical evidence is relatively encouraging. Pharmacologic studies suggest adequate bioavailability, and plasma levels of the active metabolite appear to be high enough to potentially achieve analgesic effects.5-6 Laboratory studies looking at the effects of tramadol on response to nociceptive stimuli (pressure and heat) also generally support the potential analgesic effects of this drug in cats. Further, studies of oral6 and intramuscular7 administration have reported reductions in the thermal nociceptive threshold. One study of low-dose subcutaneous administration,8 however, found only "limited" effects on thermal and pressure stimuli.
Clinical studies in cats also appear to show some real-world analgesic efficacy, though there are typical limitations to these studies. Studies of surgical pain have found analgesic effects after ovariohysterectomy,5,10-11 castration,5 and dental procedures.9 However, these studies have used parenteral administration and different doses and pain measurement tools, so it is difficult to compare them or extrapolate their findings to feline patients given oral tramadol for these or other conditions. Some also compared tramadol to no analgesia at all, which is not an appropriate or useful measure of its value in a more appropriate, comprehensive analgesic plan.11 In terms of comparison to other analgesics, one study reported meloxicam to be superior to tramadol9 while another found tramadol to be superior to the NSAID vedaprofen.11
The only study evaluating oral tramadol for chronic pain in cats reported more activity and subjective benefits assessed by owners for treatment of arthritis.12 However, this study had a high dropout rate, used a placebo rather than a positive control, and did report a meaningful number of adverse effects.
Overall, it appears that tramadol likely does have some analgesic effect in cats given parenterally for acute pain, and it may have benefits given orally for chronic pain. The literature has significant limitations, however, so we can only have a low level of confidence in these conclusions at this point.
Tramadol use in dogs
There is considerably more research evidence investigating tramadol for dogs. As always, the published data are not perfectly consistent, but a clear trend against efficacy is apparent.
In preclinical studies, it has been difficult to convincingly show that oral tramadol is absorbed and metabolized to the active metabolites to a degree that would be expected to produce meaningful analgesic effects. While some studies do suggest adequate absorption and metabolism,12 most indicate that dogs generally appear to produce very little of the active metabolite of tramadol, and this seems to persist for too short a time to provide reasonable analgesia.13-19 While these studies vary in route, dosage, and formulation, the trend is clear that the absorption and metabolism of tramadol in dogs is unlikely to support effective clinical use as an analgesic, especially with oral administration. Studies evaluating intravenous tramadol and thermal nociception in dogs have also failed to find a clear effect.20
The clinical research results for parenteral tramadol are less clear, with most but not all studies suggesting limited efficacy. Most of these studies compare tramadol with another analgesic. It has been reported to be inferior to buprenorphine,21-22 methadone,23-24 morphine,25 tapentadol,25 and nefepam.26 It also has been reported to be equivalent to morphine27-29 and superior to buprenorphine,30-31 banamine,32 meloxicam,33 and ketoprofen.33 These studies all differ significantly in tramadol dose and route of administration, clinical indication, method of measuring pain, and use of concurrent analgesics, so it is challenging to sift through the details and identify the underlying direction of effect, if any.
Clinical studies of oral tramadol are also mixed but with a trend against any meaningful analgesic effects. One study reported that tramadol and dipyrone combined provided analgesia in dogs with chronic cancer pain and that addition of an NSAID did not improve the quality of pain control.34 On its own, however, tramadol has been reported to be inferior to carprofen for dogs undergoing enucleation,35 equivalent to hydrocodone/acetaminophen with both being inadequate for dogs undergoing tibial-plateau-leveling osteotomy,36 inadequate for dogs undergoing ovariohysterectomy,37 and both inferior to carprofen and equivalent to placebo for dogs with osteoarthritis.38 Despite differences in indication, pain assessment, and other important variables, these studies suggest oral tramadol is not likely to be useful as an analgesic for dogs for acute or chronic pain.
The bottom line
Tramadol has become a commonly used oral analgesic in small animal medicine, especially in dogs. While it appears to have a wide margin of safety and minimal adverse effects, both preclinical and clinical research evidence suggest it is unlikely to have meaningful benefits in dogs. Even parenterally, it is unclear how useful tramadol is for pain in this species. The evidence is strong enough that tramadol should not be relied on as a sole or first-line analgesic.
For cats, it seems more likely that tramadol may be useful. The preclinical literature demonstrates that it is at least possible that tramadol may be suitable as an analgesic in this species. Clinical studies are mixed but somewhat encouraging for parenteral tramadol. Unfortunately, the only study of oral tramadol for chronic pain in cats has significant methodological limitations and does not provide strong evidence for this use of the compound.
More research in both species may help to clarify the potential effects of tramadol, but at this point the widespread use of oral tramadol is not justified by reliable scientific evidence.
Dr. McKenzie discovered evidence-based veterinary medicine after attending the University of Pennsylvania School of Veterinary Medicine and working as a small animal general practice veterinarian. He has served as president of the Evidence-Based Veterinary Medicine Association and authors the  SkeptVet blog, the Science-Based Medicine blog, and more. He is certified in medical acupuncture for veterinarians. Columnists' opinions do not necessarily reflect those of Veterinary Practice News.