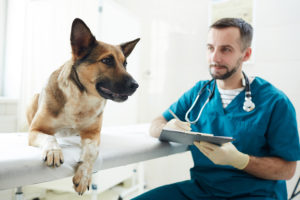 Canadian Association of Veterinary Cannabinoid Medicine (CAVCM) is calling on veterinarians and pet owners to sign a petition to allow veterinarians to prescribe cannabis to their patients and openly discuss treatment with their clients.
"What concerns us, as veterinarians, the most is that often times our clients are initiating cannabidiol (CBD) treatment for the pets without talking to us first," says CAVCM president, Sarah Silcox, DVM, who travelled to Ottawa earlier this month to lobby members of parliament to authorize the use of cannabis for animals.
"Veterinarians should always be the first source of information on anything health-related for pets."
The petition specifically asks the government to:
• recognize the role veterinarians play as front-line health-care workers for their patients, and work with the veterinary industry to educate pet owners on medicinal cannabis and how to use it safely;
• amend Part 14 of the Cannabis Regulations to allow veterinarians to provide necessary medication to their patients while maintaining an arms-length oversight on its dispensing; and
• modify warning labels on tetrahydrocannabinol-(THC-) containing products to include a warning statement.
According to CAVCM, pet owners are asking their veterinarians about the therapeutic use of cannabis for their pets to treat conditions such as pain, seizures, arthritis, and anxiety, but the current Cannabis Act and Regulations restricts them from providing direction or prescribing it. As a result, many owners are resorting to using products for human consumption or from illicit sources, which can harm pets.
Grey Wolf Animal Health is working with CAVCM to amend the current regulations.
"Cannabinoids are already being administered unsafely to pets, without veterinary guidance, and the problem will get worse once edibles are legalized for people," says company chief executive officer, Ian Sandler, DVM.
Currently, a review into the Cannabis Act is only planned for 2021, but CAVCM is looking to make changes before then.
The online petition is open until June 26.