For The Education Center
In 2004, an AAHA task force of boarded veterinary dentists, technicians and general practitioners authored the evidence-based AAHA Dental Care Guidelines for Dogs and Cats. Recently, AAHA assembled some of the original contributors and new, fresh eyes to create an updated report. The 2013 AAHA Dental Care Guidelines are available online at www.aahanet.org/Library/DentalCare.aspx.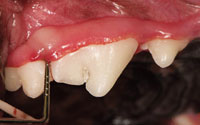 Figure 2. Stage 3 periodontal disease (5 mm pocket depth) diagnosed under general anesthesia
Here are some of the important details in the guidelines that help veterinarians deliver consistent quality of dental care to their patients. The updated guidelines have been peer reviewed by the Journal of the American American Hospital Association and endorsed by the American Veterinary Dental College.
Dental health care needs to be part of the preventive healthcare examination discussion. It should begin at the patient's first appointment and continue throughout all subsequent exams. Semi-annual dental evaluation examinations are recommended.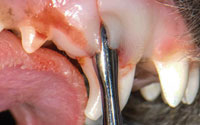 Figure 3. Surgical extraction of retained deciduous tooth
Assessment by life stage introduced the concept of periodontal diseases—with its many appearances, compared to the catchall term "periodontal disease" (Figure 1).
The professional oral care visit is a two-step process. First the patient is assessed under anesthesia, followed by the formation of a treatment plan based on a tooth-by-tooth examination. Because studies have clearly demonstrated that much of the pathology present cannot be appreciated until dental radiographs are taken and assessed, protocols need to be in place to give clients ample time to make an informed decision on how to proceed with the proposed treatment plan. After this oral examination under anesthesia, there is a discussion on treatment options with the client. The dental cleaning and treatment under anesthesia is then scheduled and performed.
The exam room evaluation is updated in the new guidelines to include inspection for occlusion, asymmetry, tooth resorption, missing or extra teeth, tooth mobility and notation of pain.
Participants cited concern that practitioners may underestimate dental pathology present because it is impossible to visualize all oral structures when the patient is awake. It is only when the patient has been anesthetized that a complete and thorough oral evaluation—including tooth-by-tooth clinical probing and radiographic examination—can be conducted.
After the examination, a precise treatment plan and related fees for proposed services can be formulated and discussed with the pet owner.
This is important because approximately 60 percent of the tooth structure is located below the gum line and is not visible on the clinical oral examination. To help the practitioner, inclusion of a diagnostic test strip for the measurement of dissolved thiol levels can be used as an exam room indicator of periodontal health.
The use of this diagnostic test strip aids both veterinarian and client in detecting and discussing periodontal infection.
General anesthesia with intubation is necessary to properly assess and treat the companion animal dental patient. It is essential that aspiration of water and debris by the patient is prevented through endotracheal intubation (Figure 2).

Non-anesthetic teeth cleaning is considered unacceptable and below the standard of care. It does not provide for patient health and safety such as necessary immobilization without discomfort, periodontal probing, intraoral radiology and the removal of plaque and tartar above and below the gum line.

A written protocol needs to be established and followed for equipment and instrument care. Dental instruments used for oral surgical procedures should be sharp and sterile.

Surgical extractions are to be performed only by trained, licensed veterinarians. Practice acts vary from jurisdiction to jurisdiction; veterinarians must be familiar with their local laws (Figure 3).

Intraoral X-rays are indicated during each professional oral hygiene visit and before and after each extraction.
Nutrition plays an important role in oral health. It is important for the health care team to have an understanding of its effect. Dental diets and chews can be very effective. Dental diets work either by "brushing" the crowns of the teeth as they are chewed, and/or by coating a calculus retardant agent on the surface of the teeth.
Two additional steps to the 13-step professional dental cleaning visit:
Provide instruction on home oral hygiene. The Veterinary Oral Health Council "accepted products" web page (www.vohc.org/accepted_products.htm) lists products that have been demonstrated to be effective in retarding accumulation of dental plaque and/or calculus.

Examine and rinse out the oral cavity. Remove any packing or foreign debris.
Definition Improvements
Dental prophylaxis. A procedure that occurs on a healthy mouth and includes oral hygiene care, a complete oral examination, as well as techniques to prevent disease and to remove plaque and calculus from the teeth above and beneath the gum line before periodontitis has occurred.
A professional dental cleaning is performed on a patient with plaque and calculus adhered to some of the teeth, but that has an essentially healthy mouth or mild gingivitis. Its intent is to prevent periodontitis.
Patients with existing disease should undergo periodontal therapy in addition to professional dental cleaning.
Periodontitis. A destructive process involving the loss of supportive structures of the teeth, including the periodontium, gingiva, periodontal ligament, cementum and/or alveolar bone.
Periodontal surgery. The surgical treatment of periodontal disease. This is indicated in pockets greater than 5-mm, class II or III furcation exposure, or inaccessible areas.
Periodontal therapy. The treatment of the tooth-supporting structures where periodontal disease exists; the nonsurgical removal of plaque, calculus, and debris in pockets, and the local application of antimicrobials.
Periodontium. The supporting structures of the teeth, including the periodontal ligament, gingiva, cementum and alveolar and supporting bone.
This Education Series story was underwritten by PDx BioTech of Lexington, Ky.