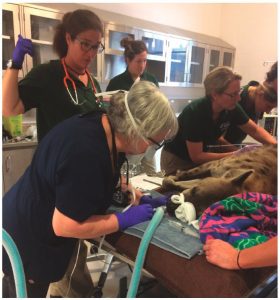 Sharon French, DVM, has a long history with veterinary dentistry. After graduating from the Ontario Veterinary College (OVC) in 1985, she began her career working alongside the only board-certified veterinary dentist in Canada at the time, James Anthony, DVM, MRCVS, DAVDC, DEVDC. Her position with Dr. Anthony ultimately led her to complete a fellowship at the Academy of Veterinary Dentistry in 1996.
Now working as Toronto Zoo's veterinary dental consultant, Dr. French collaborates with internists, surgeons, and anesthesiologists to treat multiple system disease that often accompanies serious dental conditions. French—who has been practicing for 33 years joined—Veterinary Emergency Clinic (VEC) in 2001, where she maintains a practice in veterinary dentistry.
1) How did you get started in animal dentistry?
I fell into dentistry. I was working at the MacKay Animal Clinic in Whitby, Ont., and they needed someone to manage Dr. Anthony's schedule and cases when he came to Ontario. Dr. Anthony was teaching continuing education courses at OVC at the time and was travelling there every two months. He did referral cases through the clinic in Whitby. The alternate pathway residency developed from there. There were not many formal residencies at the time, so it was a great opportunity. I knew very little about dentistry and was amazed about what could be done to help our patients.
2) How did you get involved with the Toronto Zoo?
About 27 years ago, I called the zoo to see if they would be interested in having my mentor, Dr. Anthony, help with cases when he was in Ontario. I volunteered us both to work pro bono to give back to the zoo for all the good work it does. The head veterinarian at the time agreed to meet and we've had a long and great relationship ever since. It really is an honour and privilege to work with them—our zoo is really excellent. Their great conservation efforts are preserving endangered species and in some cases, repopulating natural habitats. My kids tell me it ups my cool factor.
3) What species of animals do you most frequently operate
on at the zoo? Who would you say has been your most unusual or memorable patient to date?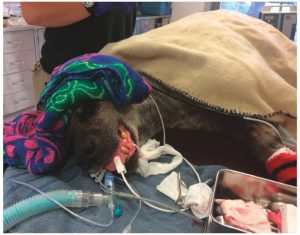 I have worked on many species—large cats, hyenas, monkeys, gorillas, polar bears, wallabies, even snakes. Once, we had an alligator come to VEC, where I work, for a CT scan. She was having trouble opening her mouth—that was definitely a first. Those situations remind us how difficult the zoo vet job is. We have the luxury of taking pre-operative blood, X-rays, and all manner of things to make anesthesia safe. In most cases, the zoo vet has to anesthetize to find out if they can anesthetize. This is done with patients who can truly harm them. Despite their stressful line of work, they see to it the animals get the best dental care we can offer.
4) How has the world of animal dental care changed/evolved since you began your career?
Veterinary dentistry has advanced by light years since I was in school. We had virtually no training other than being set loose with an ultrasonic scaler and no instruction about how to avoid thermal injury. I was taught to section a tooth with Gigli wire—those were dark days. Now, many general practices have dental radiographs, which allow us to do a much better job. Many dental problems are hidden from the naked eye and we cannot rely on patients for information. Veterinarians are taking courses and buying equipment to better handle dentistry in general practice. There is formal training in many schools, but little in others, which needs to change.
5) What advice would you give to students interested
in pursuing animal dentistry?
Ideally, start in a dentally oriented practice. Most large conferences will have some dental programs. If you are really keen, start going to the annual Veterinary Dental Forum and taking wet labs. In addition, get the Journal of Veterinary Dentistry. The American Veterinary Dental College has information for those seeking a career as a veterinary dentist.