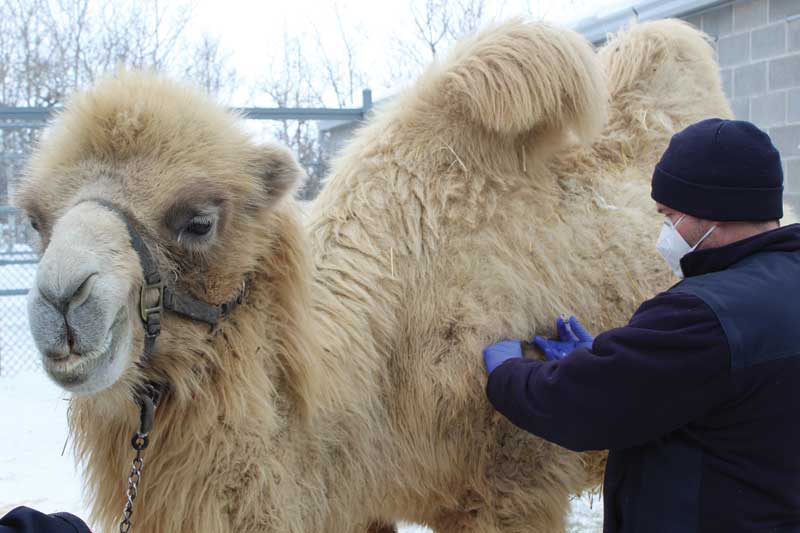 How many veterinarians can say they've performed a root canal on a polar bear or removed a mass from a wolf's mammary gland?
For Chris Enright, DVM, these tasks are simply all part of a day's work. Indeed, in his role as head of veterinary services at Assiniboine Park Zoo in Winnipeg, Dr. Enright treats a range of Arctic wildlife species, including polar bears and wolves, as well as seals, reindeer, owls, and even snow leopards.
The caseload is certainly fascinating—so much so that Enright and the team at Assiniboine are the focus of a television show on CBC Gem. Arctic Vets, which just wrapped on its second season, offers a glimpse into the life of these animal health professionals and other specialized organizations as they rescue, conserve, and care for the array of species inhabiting Canada's frozen North.
"In this season of Arctic Vets, there are opportunities to see some of the excellent work of conservation officers working for the Province of Manitoba, as well as Dr. Maria Hallock at Yukon Wildlife Preserve outside Whitehorse, and the team at the Canadian Polar Bear Habitat in Cochrane, Ontario," Enright tells Veterinary Practice News Canada. "Universities, government agencies, and not-for-profits that work with wildlife are all pretty regular connections for us in the wildlife field."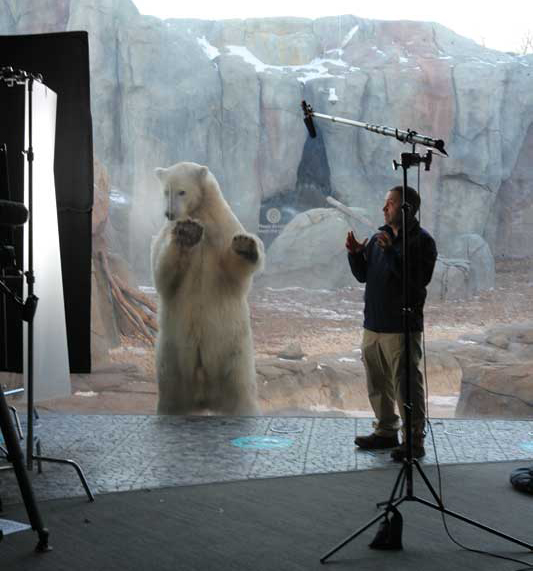 Of course, many veterinary professionals were familiar with Enright long before Arctic Vet's premiere. Indeed, Veterinary Practice News Canada first spoke to the veterinarian in 2019—before the show's debut—to learn more about his work with Assiniboine's Leatherdale International Polar Bear Conservation Centre (LIPBCC), a provincially funded facility that treats, supports, and houses orphaned and at-risk polar bears.
"In my time at Assiniboine Park Zoo, I have been fortunate enough to work on cases of both free ranging wildlife and wildlife in human care, as well as participate in research collaborations, mentor students and interns, and collaborate with a network of colleagues across the country," Enright says.
We caught up with the veterinarian to find out how things have changed since the premiere of Arctic Vets, and learn more about the special considerations required when performing procedures on its featured animals
1) How were you and the team at Assiniboine first approached about filming Arctic Vets?
In 2014, Assiniboine Park Zoo celebrated the opening of the award-winning 'Journey to Churchill' exhibit, which features a number of northern species, including polar bears. At the same time, we were expanding our efforts in conservation science, education, and visitor engagement around the threat posed by climate change.
At some point in 2018, we were approached about a concept for a television show based around the veterinary care for animals here at the Assiniboine Park Zoo, with a particular focus on Arctic species. We saw this project as a natural fit, as well as an opportunity to highlight the excellent work of our veterinary and animal care teams, and our contributions to wildlife conservation. It let us lift the curtain a little bit and allow people to see some of the work that goes on behind the scenes. Our hope with this project is that we can connect Canadians and the wider public with how incredible Arctic animals are, so we might all take steps in our own lives to help live alongside wild animals.
2) How has being on television impacted your life and your work?
I can't say much has changed in my day to day. It was, however, kind of neat for me to hear about how my nephew in Ontario ended up having Arctic Vets shown at school. He could point out which veterinarian was Uncle Chris.
3) The season two premiere saw polar bear Baffin receive a root canal from Dr. Colleen O'Morrow. What are some of the special considerations you take when anesthetizing an animal of Baffin's size (and species), particularly for long procedures?
There are many layers of consideration for the anesthesia of an animal like a polar bear. The first is human safety. We pick our drugs and doses carefully and are very on top of anesthetic monitoring when we have people working on potentially dangerous animals.
The second concern is animal safety. Not only do we look at human safety with anesthetic choices, but we need to consider the animal very highly, too. For Baffin, because of his size, patient positioning and padding of surfaces were taken into consideration, as was body temperature, because polar bears are very good at conserving heat. We scheduled his procedure for a cool season that walked the balance between being cold enough for bear safety, yet warm enough for the dental products to still work and set properly.
The length of the procedure is, of course, a consideration impacting both of the first two points (human and animal safety), but also is defined by the task at hand. Dr. O'Morrow was (and is) fantastic at getting the important dental work done, and this takes some time. At the end of the day, though, it was a successful procedure, and Baffin has been doing well with his tooth and the site.
4) How has working closely with the Arctic Vets film crew impacted safety considerations at the facility?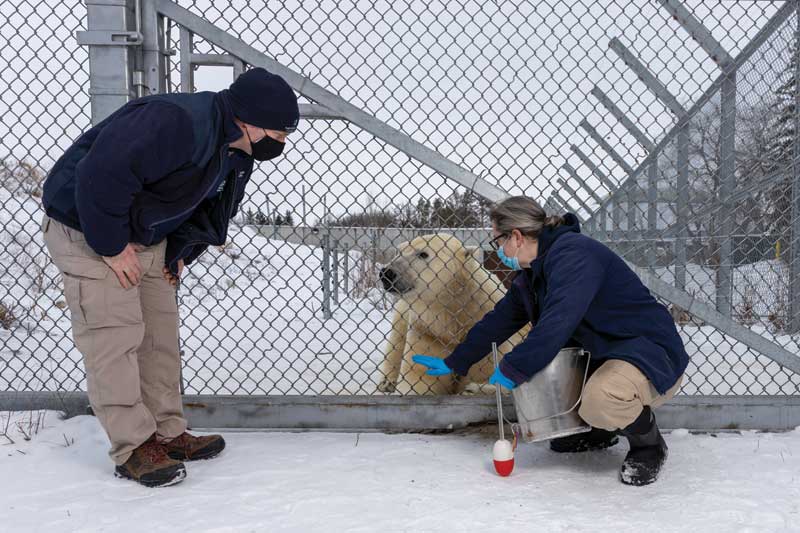 The film crew is really easy to work with. Safety for people and animals has been everyone's top priority. When filming, I go over the proposed procedure, flagging everything from radiation safety, to working around sterile fields, to inhalant anesthetic leakage. As the attending clinicians, it certainly does add a layer to our considerations as we added the group to our oversight, but they genuinely are a great bunch and very easy to work with.
5) How do you hope the show is increasing understanding of wildlife medicine and, by extension, the One Health initiative?
I hope Arctic Vets can echo the concept of One Health, and the high standards of care that Canadian veterinarians and technologists provide on a daily basis to wildlife, agricultural, and companion animals.