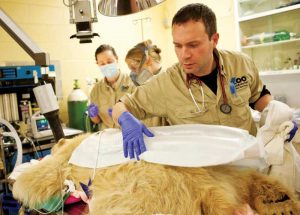 Chris Enright, DVM, has known for a long time he belonged in wildlife care.
Since high school, Dr. Enright felt a strong attraction toward helping all kinds of creatures, a passion that led him to become part of a Canadian project focusing on northern animals and ecosystems.
Just two years after he started working at the Assiniboine Park Conservancy in Winnipeg, Man., he found himself involved in helping create a new vision for the facility, a process which included the development of the Leatherdale International Polar Bear Conservation Centre (LIPBCC).
Built with financial support from the province of Manitoba, the centre is a polar bear rescue and transition space, and hub of the zoo's research and conservation initiatives. It is the first home within the zoo for orphaned and at-risk polar bears and a place where they are given care as they adjust and transition to their new surroundings.
Through the centre, Enright hopes to offer cubs a second chance to experience a fulfilling life in human care and, over their lifetime, inspire millions of zoo guests to learn about climate change and its negative effects on polar bears.
1) How did you start working as a veterinarian caring for polar bears?
In high school I developed a strong interest in the conservation of wild animals and spaces and becoming a veterinarian. I explored those interests further during my time in university and veterinary school.
I was fortunate to receive some incredible mentorship and fantastic opportunities to experience the practice of veterinary medicine on free-ranging wildlife, as well as wildlife in human care. After graduating, I went into mixed practice and enjoyed the chance to work with some great colleagues and clients, but the appeal of wildlife remained. In 2007, I secured a position at the Assiniboine Park Zoo and have remained there ever since. My experience with the clinical care of polar bears started around then with an elderly female polar bear named Debbie. She was a special bear and had a dedicated team looking after her well-being. Since then, I have had the pleasure of caring for a variety of species and many more polar bears, including the 10 rescued bears who currently reside at the zoo. I am lucky enough to work with an awesome team of veterinary and animal care staff who are passionate about the care we provide and the conservation aspects of all we do.
2) What kind of veterinary care do polar bears receive at the LIPBCC to help them transition from living in the wild to the park?
The short and somewhat glib answer is, "anything they need." The longer answer is, "it's complicated." Before we welcomed the first bear to the new centre, we spent a lot of time researching best practices for meeting the physical and psychological needs of polar bears. We drafted care routines, designed habitats, and developed programs based on best available understanding. Good animal welfare must underpin the activities of a modern zoo, and we know polar bears can be challenging to care for. By putting in work on the front end, and continuing it every day with our staff caring for the bears, we are able to provide a complex, stimulating environment offering them enjoyment and fulfilment. On the physical side of things, we have encountered broken teeth and emaciation in some of the bears coming from the wild, as well as the occasional injury. We treat these much the same way other veterinarians would treat dogs or cats. We also use specialists when necessary, as was the case when a wild rescued cub arrived with several dental problems and required root canals. After addressing any immediate physical ailments, we vaccinate the bears and treat them for parasites as appropriate. We examine them annually and respond to conditions if they arise.
3) Does the park ever release polar bears back into the wild after rehabilitation? If so, how do they fare?
Polar bears are almost entirely carnivorous, relying on seals for the vast majority of their yearly calories. Cubs orphaned before they have learned to hunt seals on their own face near certain death through starvation or predation in the wild. While attempts at cross-fostering have been made by other organizations, to date no cubs have been accepted by other dams. Rehabilitation and release of young polar bear cubs has not been tested and studied. The challenge is teaching cubs the necessary survival skills while in human care. In addition, there are significant risks to residents of northern communities when it comes to the release of a potentially human habituated predator like a polar bear. For these reasons, our facility is designed to transition polar bear cubs into life in a zoological environment. On occasion, we have been asked to provide clinical services to more mature polar bears who are returning to the wild and we have been able to work well with Manitoba Sustainable Development (MSD) and the conservation officers and staff who live and work in the north.
4) How does regular human interaction affect a polar bear's health?
In the wild, regular human interaction can lead to conflict. Polar bears are a large carnivore, and habituating them to people can lead to threats to human or bear health and safety. Communities in the north are very good at living with wildlife, but polar bears must command a lot of respect and wariness. In human care, regular interaction is a good thing. Polar bears soon adjust to their routine here at the conservation centre and develop a history of positive interactions with their animal caregivers. As a portion of their overall behaviour management, we engage in positive reinforcement training to make husbandry routines of moving from A to B a positive experience, and for bears to learn to take part in their veterinary care. Whether it's opening a mouth, presenting a body part for examination, or providing a voluntary blood sample, the more we can teach a bear to participate awake, the less we have to rely on anesthesia for examination and diagnostic testing. Here, we use something called "protected contact," which means at no time is our staff ever in the same space as an awake bear. The bear has its space and the people theirs. They have the choice to interact with people or to walk away, but they find the interaction engaging and interesting and really seem to enjoy it. That being said, there are times when the bears decide they are done and walk away, and that's just the way it is.
5) What is the most memorable experience you've had as a veterinarian tending to polar bears?
Probably my most memorable polar bear experience came when I was actually working on a different species entirely. One summer, I was part of a collaborative team working on beluga whales and better understanding how they use their environment. We were just offshore in the Seal River area of northern Manitoba observing a whale when a wild polar bear decided what we were doing looked interesting. I'll never forget trying to concentrate on the animal at hand, while at the same time attempting to convince the bear there was "nothing to see here!"