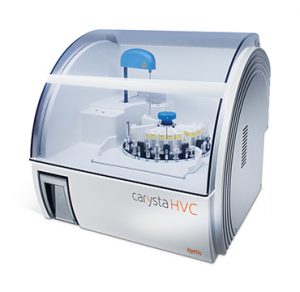 Zoetis has launched Carysta HVC (high volume chemistry), a standalone, chemistry diagnostic instrument designed to bring reference-lab quality testing to high-volume veterinary practices.
Carysta HVC offers a menu of 37 routine and specialty parameters, available as singly selected tests or fully customizable panels, all on one system. The instrument, specifically designed for those veterinary practices conducting the highest volume of diagnostic tests, offers veterinarians greater operational flexibility than current instrument solutions, while improving quality, productivity, and reducing clinic costs of testing, according to the company.
Carysta HVC is based on liquid reagent technology ideally suited for veterinary clinics, reference laboratories, and shelters that need greater throughput and test selection flexibility.
The system runs multiple patient samples simultaneously with minimal sample volumes, enabling high-volume veterinary clinics to practice cost-effective medicine based on patient needs and allowing customized test selection based on veterinary requirements, and allows veterinarians the to add urgent samples with no work flow interruption.
The product will be distributed through an exclusive partnership with DiaSys Diagnostic Systems USA LLC.
Availability of Carysta HVC is expected in March.
For more information, visit carysta.com.