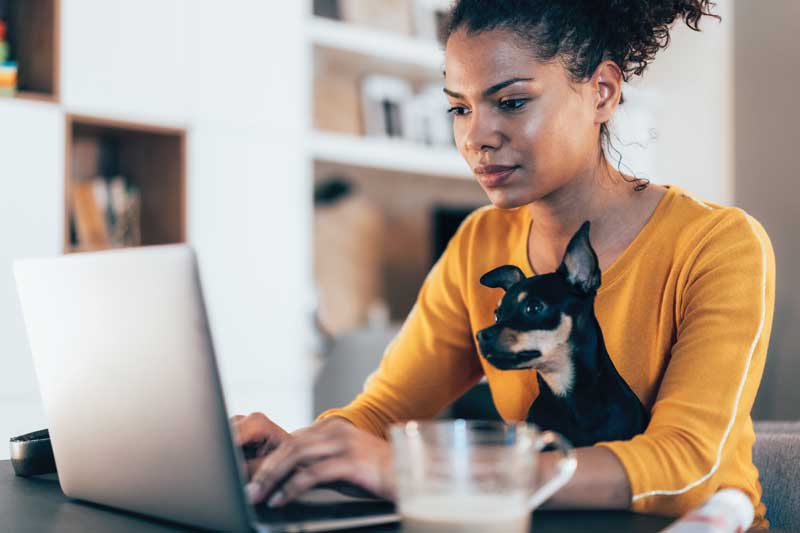 Technology changes quickly, so it is prudent to stay informed about the innovations the latest software platforms are offering, as well as the efficiencies those capabilities create. As veterinary practices become more proficient, they become more productive, and ultimately, more profitable.
If you are looking to switch software—or if you just want to get more out of your existing platform—here are five expanding software capabilities to watch for and implement in your practice.
1) Remote access (to everything)
Cloud software started this trend, and mobile apps continued it. Yet, what started as a simple convenience for staff members who wanted to finish something up at home after hours has evolved immensely.
Now, it is essential to be able to operate a veterinary practice remotely by providing telemedicine from home, after-hours triage, and other benefits. Remote access has turned into a valuable benefit not only for veterinary staff members who want a better quality of life, but also for veterinary clients who want more convenient and flexible treatment options.
When shopping for software, ask about remote access. Specifically, you want to know if, and how, you can access important data from home or in the field, and which pieces of data (if not all) are accessible.
2) Built-in automation and workflow management
Other than software integrations, this is probably the ripest area for gaining efficiencies in a veterinary practice. Look for more automation and workflow management tools that enhance and streamline your processes.
For example, whiteboards are a great automated workflow management tool. Patient locations, treatments, and staff to-dos are all located in one place accessible from any workstation, laptop, tablet, or mobile phone.
Not only is it a central place to track tasks and progress, but any services or products noted in a treatment plan on the whiteboard can be automatically added to client invoices, the medical record, and adjusted in inventory (updating product quantity on hand). The premise is to enter information only once and have it automatically populated in every other relevant area of the software.
3) Client self-service
Client self-service means the ability for clients to request appointments, request proof of vaccinations, order medication refills, check patient records, and perform other tasks online at their convenience. This is a huge time-saver for practices because it reduces patient requests and the time spent to field phone calls and look up information.
The question becomes—what's right for your practice? Is it a mobile app for your clients that ties into your software and pulls vaccination records and facilitates prescription refills? Is it a patient portal that exists on your website? Maybe it's the ability to post open appointment time slots clients can request, and then those appointments automatically populate your scheduler. All these capabilities are available in the latest software platforms. Be sure to ask what is offered in any software platform you are evaluating.
4) Shortcuts and time-savers
Like workflow management, small shortcuts and time-savers can quickly add up to big efficiencies for a veterinary practice. Software programs have various shortcuts, including templates and the ability to create memorized descriptions of services (so you don't have to type the same thing over and over again!).
Becoming comfortable with these shortcuts and time-savers will likely require some advanced training from your software provider; however, putting in the time now to learn these tips and tricks will yield a huge improvement to your practice efficiency later. It also pays to explore these options when shopping for new software.
5) Voice recognition
Why type when you can talk? Completing ordinary tasks in a veterinary practice often takes extraordinary amounts of time each day—like medical documentation. While necessary for effective charts, records, and the treatment of patients, it is exceedingly
time consuming.
There are software tools on the market designed for veterinary medicine that recognize medical terms (and spell them correctly). These tools speed things up during the day when you can speak your medical notes in between appointments rather than type them at the end of your day.
Simplifying processes
Whether you are searching for new software or just looking to get more out of your existing platform, it pays to stay up to date on software advancements so you can maximize your efficiencies each day. The adage, "if it's not broken, don't fix it," no longer applies to software. Your current software may not be "broken" at all, but it can be improved and far more efficient when you take advantage of the latest technological capabilities.
Melissa Heinz is a software product manager at Patterson Veterinary, responsible for the product development of NaVetor cloud software.