Dr. Kirk Weicht, winner of the 'Thank Your Vet for a Healthy Pet' contest, keeps the well-being of pet owners and staff in sight.
Diana Beck's 11-year-old German shepherd mix was ill. Having recently moved to the Dallas-Fort Worth area, Beck didn't have a veterinarian, so she chose the hospital closest to home, where she met Kirk Weicht, DVM.
Dr. Weicht diagnosed a tumor on the dog's uterus and performed surgery, Beck says. But even more importantly, he gently explained everything, including the fact that had the dog been spayed, the tumor probably never would have developed.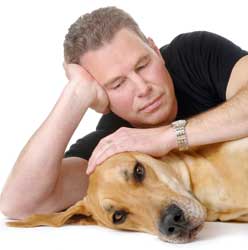 (Courtesy of Margaret Bryant Photography)
Three types of salamander larvae
"I hate to admit it, but up until then I thought that if you spayed or neutered a pet, it would make them fat, so I had never done it," Beck says. "Until that time I was very uneducated in responsible pet ownership. No one, up until Dr. Weicht, had educated us enough to help us extend our pets' lives and give them a better quality of life."
Twenty-five years later, Weicht is still Beck's veterinarian, having helped her pets live as long as 21 years. She feels so strongly about what he's done for her animals and others that she nominated him for the third annual "Thank Your Vet for a Healthy Pet" contest. Weicht was chosen as the national winner from more than 370 nominees.
The award, sponsored by Morris Animal Foundation, Hill's Pet Nutrition, and BowTie Inc., publisher of Veterinary Practice News, honors America's veterinarians for their skill, dedication and commitment to ensuring that pets live healthier, happier and longer lives.
Weicht will officially receive the award this month at the North American Veterinary Conference in Orlando, Fla.
Behind the Scenes
Weicht knew something was up last summer as the nomination deadline approached. One of his employees, Gina DeGennaro, kept huddling with his wife and clients like Beck. He got more suspicious when they oh-so-casually asked pointed questions about his training, the hospital and his credentials, he recalls.
(For the record, Weicht, 52, graduated from veterinary school at Texas A&M University in 1983. In 1994, he purchased Brown Trail Animal Hospital in Bedford, Texas, where he worked during and immediately after vet school, and where he first met Beck. He completed a top-to-bottom renovation of the facility in 2008, nearly doubling it to 4,300 square feet.)
"I really didn't know what they were doing until I got the call from the Morris Animal Foundation,"
Weicht says, adding, "It was a complete surprise. I like to think I do a decent job, but I would never have expected something like this."
That kind of modesty is typical. His nomination letter explained how Weicht heard that some Meals on Wheels clients were sharing their dinners with their pets, so he helped start a program to deliver donated pet food to elderly pet owners in need.
Weicht deferred questions about the program, giving the credit to his staff, saying they'd done all the work.
Beck and DeGennaro, who submitted the winning essay, also explained how Weicht often donates his time, food and medicine to help abandoned animals such as a dozen Weimaraners that Beck helped rescue several years ago.
Spirit of Generosity
Weicht plays down his charity work, mentioning that many veterinarians do the same thing. "We all try to reach out and do something," he says. "What the profession gives to us, we can't give it all back, but we can try."
That spirit of generosity extends to his practice, which concentrates on companion animals. Though turnover can be high in a veterinary practice, several on Weicht's staff of 12 have been with him for more than six years.
Weicht says he tries to make the workplace appealing by providing plenty of extra training and positive feedback. That's the way he learned to run a practice as a young veterinarian, and even before that as a high school student and pre-vet student cleaning kennels and assisting at animal hospitals. And, he adds, it's a great business decision.
"When you walk into an examination room, that client has already talked to your receptionist, they've had their pet's temperature and weight taken, so they've already had the opportunity to form an impression of your practice," Weicht says. "So it's important for the staff to be well-trained and to make sure that everybody is on the same page."
In fact, Weicht last year instituted an unusual rule: The hospital would close every Friday afternoon for a meeting. The entire staff heads to Weicht's home to ensure they won't be interrupted. For about two hours, staff members go over the previous week, discussing unusual cases or difficult clients, remembering animals that passed away and reading comments collected in the suggestion box. Each employee gets to plan an occasional presentation, which may involve bringing in an expert to discuss topics such as new medications or client communication.
Creating a Game Plan
Though some might question closing early on a day that's typically very busy, Weicht says the change has been invaluable in strengthening teamwork and making sure everyone is working toward the same goals. "So many businesses don't do what they say they're going to do these days," he says. "We make sure prescriptions are ready when we say they're going to be ready. If the appointment is at 8 a.m., we don't put them in a room at 10. If the lab work comes in, we call you right away."
The staff also discusses projects such as how to manage a benevolent fund started in honor of a longtime client. The fund has been used to help pay for treatments for financially struggling clients. More recently, they've started choosing a charity to support every month and letting clients know how they can help, too.
That's typical, both of Weicht and the staff he leads.
"He's not doing this to get glory or get awards," Beck says. "He does this because it's truly his life." <HOME>
This article first appeared in the January 2010 issue of Veterinary Practice News