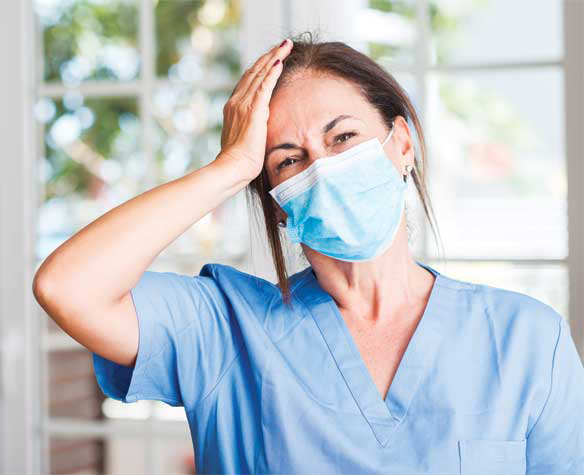 It's October, which means technicians get their turn in the spotlight. Here are 10 ways you can infuriate, aggravate, and frustrate your nurses. After all, how else are you to uncover the toughest, most resilient technicians* with the thickest skin? Survival of the fittest is a proven concept in nature, and we should emulate it in the veterinary field. How many of the critical principles below do you embrace in your practice?
1) Micromanaging
When doctors delegate a task to a nurse, they should hang over their shoulder the whole time. Make sure you scrutinize, comment, and actively involve yourself. We all know some technicians can't be trusted to clip hair, place a catheter, or perform a SNAP test correctly. Also don't forget to correct what you hear in their phone conversations, listen to interpersonal exchanges, and proofread everything they write in medical records.
The better way: Few things are as counterproductive and frustrating to nurses as micromanaging. It's demeaning and it slows down workflow. If you can't trust your teammates, it's probably not their fault, but rather yours. Either you didn't hire the right talent or you didn't train them correctly.
When you delegate a task, give crystal-clear directions then let your team get to work. Choose the right person for the job, so you know it will get done correctly. Sure, not everybody is capable of placing a urinary catheter in a female. But you should be able to delegate 99 per cent of tasks to your nurses, and be confident they will execute them properly.
2) Supplies
It is a well-known fact you can save a bunch of money by not fixing broken equipment. If technicians were as good as they claim, they would be able to monitor patients without all those ridiculously expensive gadgets. After all, how hard is it to feel a pulse, listen to the heart, and take a temperature?
The safer way: It's really tough to figure out O2 and CO2 levels without equipment. And it sure is safer for patients to be monitored by an actual, functional device, in addition to a human. Nurses may be superheroes, but they still need the proper tools and essential resources to do their jobs correctly.
3) Protocols
Good technicians are notorious for adapting to anything that comes their way. They love rapidly changing protocols—it keeps them on their toes. When protocols never change, technicians tend to feel bored and unchallenged. Technicians also love wishy-washy decision-makers, not to mention those who never ask for their opinion. After all, you are much more qualified to choose new clippers or update uniforms than they are, right?
The smarter way: Ever-changing protocols don't exactly make you shine. They do little to instill trust in your leadership skills. It's much wiser to involve the team members who will carry out your wishes in the decision process. In fact, their participation will make them much more likely to follow the new rules. After a month, you can always (or should) poll the team to make sure the decision was the correct one.
4) Criticism
Nurses have thick skin, or they wouldn't be in our profession. They also strive to grow, so be sure to constantly point out what they do wrong. It's probably their fault if revenue is down, an appointment slot is empty, or if you get too many bad reviews.
The neater way: Positive reinforcement helps much more than criticism. Just ask Ivan Pavlov. Strive to emphasize what your nurses do correctly. Celebrate the wins during a team meeting or during rounds: a glowing review, a very productive month, a birthday, an anniversary, a new accreditation… There are many opportunities to remain positive. That is a much better way to boost morale among your nursing team.
5) Communicating
Good nurses are excellent at reading minds, and can always get better at it. To help them sharpen this important skill, don't tell them about new decisions affecting them. For example, if you and the reception team decide medication pickups can only happen between 2 p.m. and 4 p.m. from now on, be sure not to tell the technician team. After all, how long is it going to take them to realize the change, given they live it every day?
The kinder way: If a new decision affects the nursing team, be sure to run it by them before making it permanent. Even better is to get them involved in the decision process, since they may have a different perspective. This is especially true if you want to avoid a "front versus back" crisis.
6) Favouritism
It's perfectly normal to allow some nurses to never work certain shifts. It's completely acceptable to give gifts to some technicians and never others. It is absolutely reasonable to give first dibs to the nurses you prefer when they need time off around the holidays. How would you reward your favourites otherwise?
The wiser way: Playing favourites was tolerated in kindergarten, but it has no place in a professional setting. If your team sees you favouring one employee, you will quickly lose credibility and respect, and that is tough to recover from. Favouritism leads to bitterness and unruliness. You can't expect a team member to follow your rules and respect you if they don't trust you. Make it a priority to treat everyone equally. That means all the rules apply to the entire team all the time. And yes, that includes you.
7) Defending
The client is always right. It's a well-known principle of smart management. If a client yells at your technicians, it's probably well-deserved. After all, clients know their pets better than technicians and should be treated like royalty because they pay our salaries. And yes, that gives them the right to verbally abuse technicians. Keeping anger inside is not healthy, so lashing out every once in a while is actually beneficial for clients.
The shrewder way: There are two sides to every story. Make sure you understand the whole situation before automatically siding with the client. If you always do that, your nurses will feel betrayed and underappreciated. However, the day you have the guts to fire a client who is verbally abusive, you will be considered a hero.
8) Shooting
If technicians were as smart as they think they are, they would know to never deliver bad news to you. They should fix the problem themselves. That's the mark of smart, caring, proactive technicians.
The wiser way: Don't shoot the messenger! It's very unlikely it's your team's fault a surgery gets cancelled, a scathing review is posted, or the capnograph died. Having a temper tantrum over it and taking it out on your nurses is childish at best. Not only that, it's really tough for the recipient of your anger to remain positive in their upcoming interaction with their teammates. The best way to avoid this negative spiral of doom is to accept some things are out of our control. Take a deep breath. If you have a cancellation, enjoy this "free" time to catch up on record keeping and phone calls you've been avoiding.
9) Deceiving
As a leader, you need to take dozens of factors into consideration before making any decision your technicians know nothing about. So it makes perfect sense you should change your mind and break promises.
The saner way: Nothing kills trust faster than reneging on a promise. When you do that, you're not quite lying, but it's pretty close. If you promise you'll celebrate a victory by buying lunch for the team, do it. If you promise a nurse can take the day off on her birthday, don't ask her to work that day. If you promise your nurses will split a bonus when a financial target is met, don't change your mind at the last minute. Do the same with nurses as you should do with clients: under promise and over deliver, not the opposite.
10) Enabling
It's not unusual a highly skilled technician is also cocky. They have reason to be condescending, since they are so excellent at what they do. These days, it's far more important to have bodies to do the work, than spoon-feed kind human beings. So grow up and tolerate the toxicity of a great technician. It's well worth it.
The healthier way: Enabling a toxic nurse by not correcting the behaviour can lead to a rotten culture throughout the entire practice. If you don't perform a toxic-tech-ectomy, you are likely to force kind and caring nurses to seek happier horizons.
Don't keep technicians around who don't mesh with your culture just because you like them or they are skilled. Attitude is more important than aptitude for a healthy culture.
As the saying goes, "People leave bad managers, not jobs." As a manager, a leader, a practice owner, or an associate, you have the power to influence your clinic's culture. So treat your team with respect and make your practice exceptional.
FIVE MORE WAYS TO AGGRAVATE YOUR NURSES
Surely there are many other ways to get under your nurses' skin. These five more come to mind. Can you think of others?
Always leave on time. Technicians can surely take care of the chaos at the clinic
Ignore complaints. Nobody likes Negative Nellies anyway
Discourage growth. Your technicians hopefully know how to do their job by now, so why waste money on more training?
Neglect bio-breaks. The bladder is an expandable organ, so tell your technicians to hold it a bit longer and to get to work. That said, the less technicians drink, the fewer breaks they need, so…
Forget food. Fasting has been proven to be very beneficial to your health. Do your nurses a favour and help them become healthier through fasting
Of course, please do exactly the opposite of these tongue-in-cheek "recommendations" and you will be worshiped by your nurses. You couldn't function without them, so make sure you worship them as well.
YOU MIGHT BE A VETERINARY TECHNICIAN IF…
If you see a broken, L-shaped, dirty cotton swab and know what to do with it
If you can eat your lunch while staring at bloody diarrhea
If the sight of a proptosed eyeball doesn't make you pass out
If you've successfully performed three tasks at the same time
If the thought of cleaning up maggots doesn't repulse you
If plucking scrotums is a daily part of your job
You found poop, nails, or pet food in your scrub pockets
If you know how to remove a Cuterebra
If you have had anal sac juice on your face or your hair
If the number of dead bodies you have carried is higher than the balance in your bank account
Phil Zeltzman, DVM, DACVS, CVJ, Fear Free Certified, is a board-certified veterinary surgeon and serial entrepreneur whose traveling surgery practice takes him all over Eastern Pennsylvania and Western New Jersey. You can visit his website at DrPhilZeltzman.com. He also is cofounder of Veterinary Financial Summit, an online community and conference dedicated to personal and practice finance (vetfinancialsummit.com). Kat Christman, a certified veterinary technician in Effort, Pa., contributed to this article.
* Dear receptionists and managers, don't feel so special. All of the above applies to you as well. Just replace the word "nurse" with "receptionist" or "manager" and read these 10 points again!