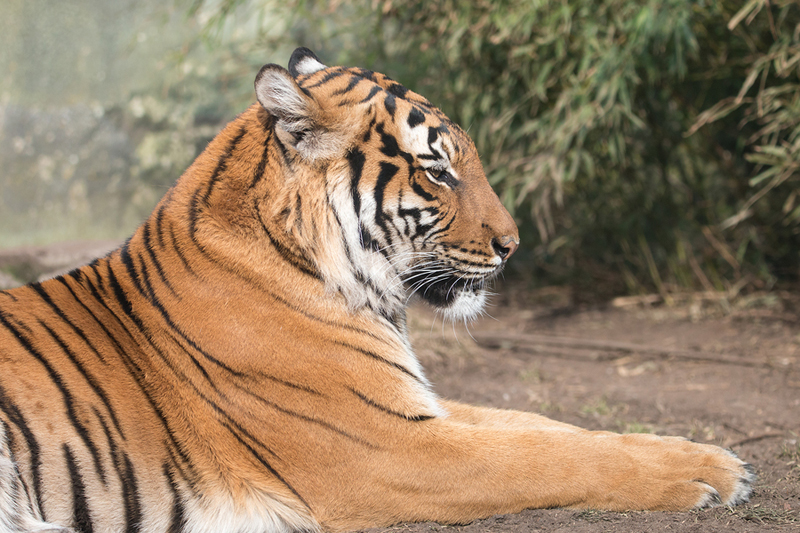 This story has been updated.
The presence of SARS-CoV-2, the virus that causes COVID-19, has been confirmed in a tiger at New York's Bronx Zoo.
This is according to the United States Department of Agriculture (USDA) National Veterinary Services Laboratories (NVSL), which adds the large cat is one of several lions and tigers at the facility to display clinical signs of respiratory illness.
It is believed the animal, a female Malayan tiger named Nadia, contracted the illness from a zoo employee who was actively shedding the virus, the department says.
"The zoo has been closed to the public since mid-March, and the first tiger began showing signs of sickness on March 27," USDA said in a statement.
Since testing positive, the Wildlife Conservation Society's (WCS's) Bronx Zoo reports an improvement in Nadia's condition, along with the other large cats that exhibited similar symptoms.
"Nadia and the other cats are behaving normally, eating well, and their coughing is greatly reduced," WCS said in a statement. "We anticipate continued improvement in the coming days.
"We have been contacted by zoos from across the country and around the world that are thankful we reported on Nadia's condition, and are adjusting operating protocols with felids during this pandemic as we have."
The news out of the Bronx Zoo has spurred several others, including the Toronto Zoo, to re-evaluate their protocols.
Staff members at the facility will be wearing protective gear when working with tigers, lions, leopards, jaguars, and cheetahs, says the zoo's wildlife director, Andrew Lentini, Global News reports.
The Canadian Veterinary Medical Association (CVMA) and the Canadian Food Inspection Agency (CFIA) state that, 'as a precautionary measure,' those infected with COVID-19 should restrict contact with animals and livestock, just as they would humans, until more is known about the virus.
"COVID-19 virus infections have become widely distributed in the human population," CVMA said in a statement. "In some rare circumstances, some animals have become infected through close contact with infected humans.
"Currently, there is no evidence to suggest that animals infected by humans are playing a role in the spread of COVID-19. Human outbreaks are driven by person to person contact."
For more, click here.