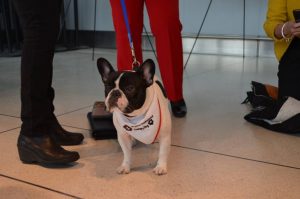 The next time you travel through Toronto Pearson International Airport, you may see furry four-legged friends walking around the terminal.
Toronto Pearson has partnered with St. John Ambulance (SJA) Therapy Dog Program to bring 15 therapy dogs to Terminals 1 and 3 to help ease the stress of travelling.
"At Toronto Pearson, passengers are our passion, and critical to that mission is ensuring all passengers feel relaxed and comfortable while travelling through our airport," said Scott Collier, vice president, customer and terminal services, Toronto Pearson.
The dogs will wander around the terminals on a flexible weekly rotation, and can be identified by red and white SJA Therapy Dog bandanas. Travellers are encouraged to interact with the therapy dogs and pet them as a means to reduce stress that often comes with airline travel. Therapy dogs have been known to have a calming effect and to reduce anxiety.
The SJA Therapy dogs are the newest additions to the Welcome Team, which is a group of volunteers who aid travellers passing through the airport.
"Our therapy dog teams are honoured to continue our tradition of community service by bringing the benefits of therapy dogs to passengers at Toronto Pearson," said Larry Shack, St. John Ambulance Therapy Dog Toronto Pearson program co-ordinator.