Most referred surgery cases lead to a healthy patient, a happy client and a pleased referring veterinarian.
Little is learned from a well-oiled referral process, but we can all learn from the rare mishap, occasional slip-up and infrequent diplomatic fiasco.
I asked several general practitioners and surgeons from across the U.S. to share stories of surgical cases that should have been routine but turned into a difficult situation. From these discussions come our ever-so-slightly tongue-in-cheek 10 commandments of referral bliss.
1. Thou shalt not use aspirin in vain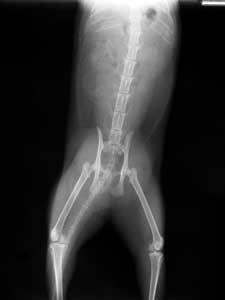 Photo courtesy of Dr. Phil Zeltzman.
This cat, with bilateral sacroiliac luxations, was referred as a paralyzed patient.
Aspirin may be an acceptable drug in specific cases, but because of its effect on platelets, it rarely is a surgeon's best friend.
In a perfect world, a seven-day wash-out period should be respected before surgery. This is annoying but doable with an elective procedure such as a ruptured cruciate ligament. But it becomes tricky when the client lives two hours away and needs to drive back one week later. And it is plain risky in case of emergency.
Case in point: Schnitzel, a dachshund, had gotten progressively weaker in all four limbs over the previous week. Aspirin was prescribed at increasing dosages to control the escalating level of pain. When he became tetraplegic, the platelet-impaired doxie was referred for surgery. A cervical myelogram confirmed a disc hernia. The surgical treatment, a ventral slot, often causes some bleeding in the most capable hands. Adding aspirin to the mix can be nerve-racking at best.
What's a surgeon to do? Scare the client with the increased risk of hemorrhage? This would undoubtedly make the referring vet look bad. Postpone surgery? Nothing good can come out of this situation for anyone.
2. Thou shalt help keep your patient NPO
"Sorry we're late, Doc. We got lost. We stopped at McBurger's, where we got directions after sharing some hamburgers and fries with Fluffy."
Unfortunately, Fluffy was referred for emergency splenectomy on a Friday afternoon.
It may be a good idea, along with directions to the referral hospital, to remind your clients not to feed their pet on the way.
Thou shalt provide first aid.
Of course, most referring vets will do this, except for the exceptions.
When faced with an open wound, it would be appropriate to apply sterile K-Y, clip the hair, lavage the wound with saline and apply a sterile dressing.
When faced with a fracture distal to the elbow or knee, it would be nice to splint the limb to manage the pain and prevent further trauma.
When faced with a gastric torsion, with or without volvulus, it would be ideal to decompress the stomach before referral, either with a gastric tube or by trocarization.
Some referring vets even give a crash course in IV fluid management to their client before sending them on the road.
3. Thou shalt refer before the owner's pockets are empty
Vets Sound Off
We asked a few general practitioners to describe pet peeves about their local surgeon and the referral process. Here are The 10 Commandments of Referring Vet Happiness:
Thou shalt built personal relationships with referring veterinarians (RDVMs).

Thou shalt never ever make your RDVM look bad.

Thou shalt deal with postop complications appropriately.

Thou shalt make yourself available for RDVMs' phone calls.

Thou shalt never ever be a lesson giver.

Thou shalt be diplomatic with non-specialists.

Thou shalt be willing to share your endless knowledge with RDVMs.

Thou shalt be available for questions, even if a case is not referred.

Thou shalt remain humble and leave your ego at home.

Thou shalt send a referral report promptly. (Like, today.)
This is a touchy topic. When to refer is a complex and sometimes subjective decision. Some cases are obvious. Others aren't.
However, the owner may run out of money by the time she arrives at the referral clinic.
If you were a specialist, how would you diplomatically answer this classic question: "Doc, there is no way we can afford your surgery. We're maxed out. Why didn't my vet refer Bandit last week?"
4. Thou shalt not make impossible promises
When in doubt, it is prudent to avoid predicting the treatment course.
Case in point: A poodle was correctly diagnosed with a ureteral stone by a referring veterinarian, who explained to her client how a ureterotomy would easily be performed to retrieve the stone. A short incision, a few stitches, that's it!
The client was sorely disappointed when she was told that because of the severe hydronephrosis, her dog would lose a kidney, all because of a 5mm stone.
6. Thou shalt refer before a mass is pumpkin size
Surgeons often say the three deadliest words in tumor management are "Just watch it." Well, clients do watch masses grow, sometimes from the size of a pea to the size of a walnut or a baseball or a pineapple or worse.
It may just be annoying to deal with a giant lipoma. Closing the dead space will be a challenge. But treatment might be impossible and the outcome much worse in the case of cancers that are locally invasive or that metastasize.
7. Thou shalt not quote too high … or too low
"When referring vets give an estimate to a client for a particular surgery, it is often too high or too low," a colleague comments.
Case in point: A hit-by-car Labrador's owners were told it would cost "at least $5,000" to stabilize their dog's femur fracture. The patient was stabilized by the emergency service overnight. When the surgeon called the owners the following morning, they were determined to euthanize their dog. "Can we have his ashes back?"
After several probing questions, the surgeon realized the reason for the drastic decision. Once the appropriate estimate was given, the relieved owners elected surgery.
All were happy in the end. But talk about an emotional roller coaster for the prematurely-grieving pet owner!
On the opposite end of the spectrum, nothing is more frustrating for a client than to be quoted a certain amount and later be told by the surgeon that the fees are, in all fairness, twice that amount.
Case in point: A springer was referred because of a radius fracture. The quote given by the referring veterinarian was right on target. It was the precise amount of the surgery fee, but it excluded anesthesia, radiographs, implants, hospitalization, medications, etc. The true amount was about three times higher.
There are few ways to come out of this situation honorably.
8. Thou shalt fax useful information
"My biggest grievance is when the entire record is faxed for a referral, all the way back to puppy or kitten shots. Or when it is illegible. Or when none of the original test results are included (biopsy report, blood work, etc)." These were frequent comments heard from fellow surgeons.
Filling in the referral form and choosing which relevant information should be faxed before a referral is highly appreciated. A few referring vets even type a short summary: "This letter is to introduce Murphy Brown, a 9-month-old male neutered Lab who swallowed his owner's $20,000 Rolex. Fortunately, it is waterproof. Blood work and abdominal X-rays were sent with the owner."
That's all it takes to make a surgeon happy!
9. Thou shalt not dump
Surgeons are used to receiving cases on Friday afternoon that could have been referred earlier. It is so common that they invented the poetic expression "the Friday dump."
Patients with cervical or thoraco-lumbar disc hernias are a classic example. Case in point: Schnitzel, mentioned in Commandment 1.
10. Thou shalt communicate with your favorite referral surgeon
Most surgeons are, in fact, human. We enjoy talking with referring vets. And we love updates about patients. "Remember Cinnamon, whose tibia you plated? She won a prize in agility last week."
Of course, not all cases end up happily. We also would like to know when a previous patient dies, if only to send a condolence card to the owner. If also helps us with prognoses, especially in cancer patients.
The situations described above may be extreme. The vast majority of cases are referred in a smooth, courteous and professional way. Our 10 commandments are not intended to point fingers, but to start a constructive dialogue.
You may want to consider discussing difficult cases with your local surgeon.
The ethical thing to do is to never make a referring veterinarian look bad. This is not always easy. Their liability could be involved.
I often use a trick to excuse referring vets' gaffes: "Well, it's easy for me to see the sacroiliac luxation. I see that all the time." It is one way to diffuse the tension and sort of take the blame for someone else.
Surely, no reader or referring veterinarian will be offended by these 10 semi-sarcastic commandments. In fact, general practitioners could probably write a list twice as long about surgeons' sins. This may be a good opportunity to have an open conversation with your local surgeon or any other specialist about what you like and dislike.
Ultimately, the goal is to improve the referral process to enhance your client's experience and your patient's care.
And what could be better than that? <HOME>
Phil Zeltzman, DVM, Dipl. ACVS, is a small-animal board-certified surgeon at Valley Central Veterinary Referral Center in Whitehall, Pa. His website is DrPhilZeltzman.com.
This article first appeared in the January 2010 issue of Veterinary Practice News