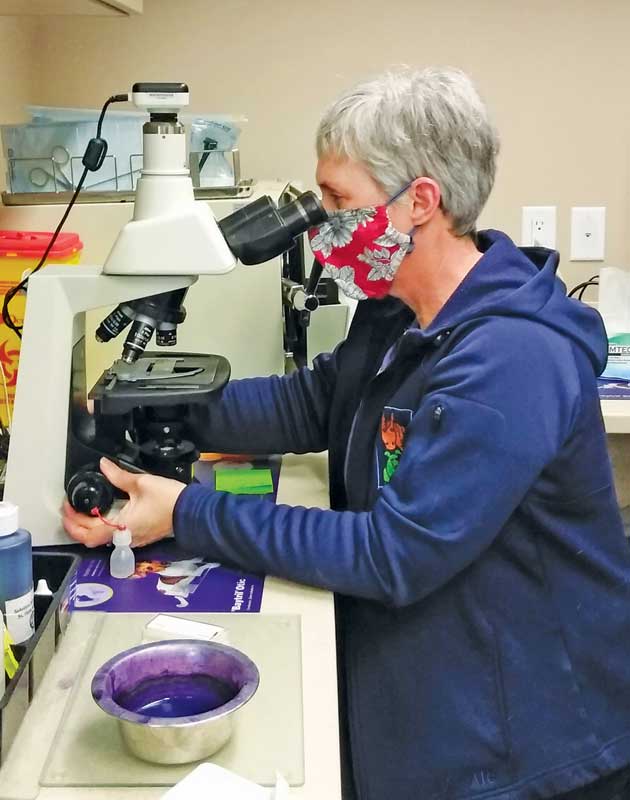 After 35 years in practice, this author has concluded there are two types of veterinary professionals: those who love dermatology and those who run from it.
This is completely understandable. Patients with skin issues are often malodorous, present very similarly for multiple differentials, and tend to relapse, leading to frustration for everyone involved. To have any kind of success with a dermatology case, you need time—which is usually at a premium during a busy day at the office.
So how exactly are you supposed to see a dermatology patient while still getting to everyone and everything else on your to-do list? The answer is simple: teamwork!
Establishing roles
Pre-appointment
It may be time to reassess how empowered each member of your team is. This begins with your receptionist—who, in my opinion, has one of the most challenging positions.
When booking an appointment for a dermatology exam, consider enlisting front-office staff members to start the 'client-education' ball rolling. They should inform the owner these cases are often convoluted, with several possible conditions presenting with similar symptoms, and, as such, it will take time to work up their loved one.
Plain and simple: 20 to 30 minutes will not set anyone up for success. Instead, offer a double-appointment slot. Delivering this message early helps set up realistic expectations.
If double-bookings are not possible, ask the client if they are comfortable leaving their pet for an extended stay at your facility to allow for further work up throughout the day as time permits. Most owners appreciate the opportunity to have extra time spent on the care of their 'fur-baby'—you might be surprised at how well received your offers are.
Intake
We are all too aware of how complicated these cases can be, so be sure to use all your resources and share the load by getting your registered veterinary technicians (RVTs) involved.
In an ideal scenario, a thorough history questionnaire would be sent to the client concurrently with their appointment confirmation. This document should be returned prior to the patient's appointment to allow time for an RVT to review it and pick out key information to help narrow in on differentials.
Once the pet arrives for their appointment, an RVT can review the history questionnaire and clarify details with the owner. This process often uncovers further relevant information. If you empower your technicians to do a dermatologic exam—including collecting and analyzing samples for in-house diagnostics (cytology, trichograms, scrapings)—you will likely have a diagnosis (as well as a few differentials) before you even see your patient.
Educating pet owners
To enjoy success with your dermatology cases, you need to invest time into educating the client—after all, these owners have already reached out to you because they want to help their companion; now it's your turn to arm them with the knowledge needed to ensure success.
Once they have a good understanding of their pets' condition and appreciate the reasons for steps involved in case work up (along with the anticipated benefits of the proposed treatment protocol), these clients are sure to do everything they can to help their loved one feel better. Dermatology cases often have multimodal treatment protocols—including diet trials, which can seem overwhelming.
When clients do not sufficiently understand their pet's condition, the prescribed treatment, or have realistic expectations of what success will look like, they tend to be non-compliant, often unknowingly. This compounds everyone's frustration and, worst of all, causes further discomfort for your patient.
This is another situation where you can look to your RVTs for support: these team members excel in client education, so use them! The technician is also able to discharge a patient, leaving you to handle the next thing on your list while they review everything with the owner. Likewise, an RVT can draft discharges to be sent out to clients with clear instructions to follow and refer to. These discharges are invaluable to have in practices with multiple practitioners.
RVTs can also follow up with clients to ensure things are on track with treatments. They can answer questions that may arise and can triage unexpected issues. (Should any questions or concerns go beyond the scope of a technician, those can be forwarded to the veterinarian.)
Last touch
The appointment is finished by circling back to that key-stone person—your receptionist. When they are checking out a client, they should review everything on the bill one item at a time. This highlights the value of what your client is paying for and provides another opportunity for additional clarity.
We all know dermatology cases are not a 'one-and-done' scenario, so be sure to have your receptionist book a follow-up appointment before your patient leaves the building. If something comes up, the owner can always re-book. By having them commit to a re-check appointment, you are reinforcing your entire clinic is there for them and intent on ensuring their loved one is on the road to recovery.
Once your team gets into a routine, you will become a well-oiled veterinary dermatology machine.
Final take-aways
So, how do you work up a dermatology patient and still get other things done during the day?
1)  Sift through a thorough patient history
2)  Perform a thorough dermatologic exam
3)  Confirm or rule out infections via in-house cytology
4)  Confirm or rule out parasites
5)  Decide what is primary and what is secondary
6)  Tailor a treatment protocol
7)  Review findings with the clients. Educate them on  your diagnosis and/or differential diagnoses and explain how each portion of your treatment protocol will improve the quality of life for their pets. Review possible side effects of medications, as well as expectations for what improvement will look like.
8)  Discharge your patient
9)  Write your medical records
The real answer is to realize veterinary dermatology is a team sport—work smarter, not harder, and take advantage of all the resources available to you.
UTILIZE THE SKILLS OF RVTS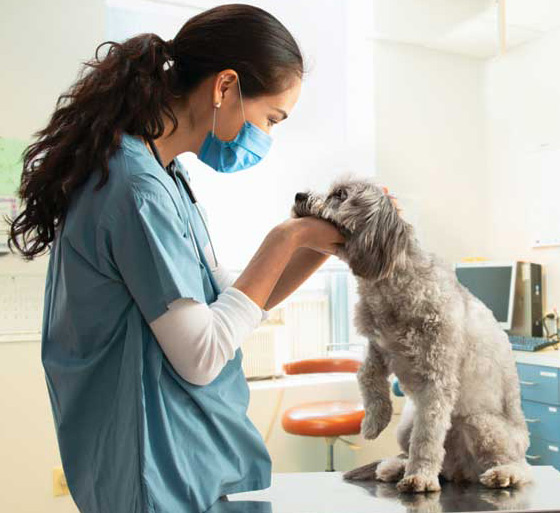 When it comes to dermatologic cases, registered veterinary technicians (RVTs) play a valuable role in helping cases run smoothly. Notably, they can handle cytology.

In-house cytology is incredibly beneficial for dermatology cases, as it can help in assessing for infections. In short, it is impossible to know exactly what to treat for if you do not perform cytology. (Even after 21 years of working in a derm-referral setting, I am still surprised by findings under the microscope.)

Indeed, in-house cytology offers many advantages: it is easily performed; has low costs to conduct, while generating income; provides rapid, high-yield results to allow for an accurate diagnosis and to tailor a treatment protocol; and it's fun for at least one technician in your practice to do!

When doing this in-house, it is important to have everyone on your team speak the same language when quantifying results—in other words, everyone's '3+' means exactly the same thing. This is especially important when reassessing patients at follow-up appointments. (Reference materials for in-clinic posting are available online from the Canadian Academy of Veterinary Dermatology at www.cavd.ca.)

In addition to cytology, RVTs can also perform skin biopsies: a veterinarian auscultates the patient, approves the sedation protocol and selects the sites, then has the technician sedate, block, and perform biopsies.

By utilizing RVTs, you, as a clinician, are freed up for other tasks, such as seeing other patients. This also allows your clients to bond with your technicians, showcasing these professionals as valued members of their pet's health care team. A 2019 report completed for the Ontario Association of Veterinary Technicians (OAVT) revealed that for every additional RVT utilized in clinic per veterinarian, gross revenues increased by more than $78,000.1

1 Acer Consulting, 2019, pp. 1-36, Exploring the Value that Registered Veterinary Technicians Bring to Ontario Companion Animal Practices: Report for the Ontario Association of Veterinary Technicians. Retrieved from https://www.canadianveterinarians.net/documents/exploring-the-value-that-registered-veterinary-technicians-bring-to-ontario-companion-animal-practices
AVAILABLE RESOURCES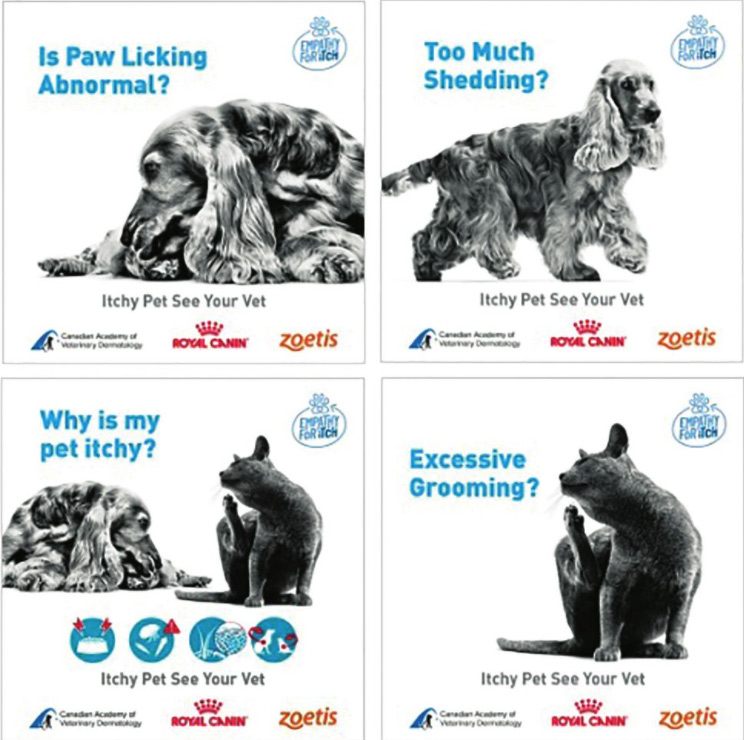 If you are itching for more dermatological resources, the Canadian Academy of Veterinary Dermatology (CAVD) might be your new best friend.
Indeed, the non-profit organization's website (www.cavd.ca) is a treasure trove of information, with loads of dermatologic-specific content, as well as useful in-clinic tools and client handouts, including:
– The Dog and Cat Itch Scale
– The Allergy Assessment Calendar
– The Skin and Ear Semiquantitative Cytology Scale (so everyone in your practice knows what 2+ bacteria really means)
– lists of prescription diets available in Canada for performing diet trials
Additionally, CAVD offers resources with tips for performing cytology, improving your biopsies, and conducting diet trials. The organization also supports the Empathy for Itch Campaign for all of August as part of Veterinary Dermatology Month. It is aimed at helping Canadian veterinary clinics educate their clients on pruritus, so they can appreciate what is normal and what is not.
Introducing client-friendly handouts assists in reinforcing the information your team has reviewed during appointments. When it comes to patients with skin issues (especially life-long conditions), client education is incredibly important.
Jennie Tait, AHT, RVT, VTS (dermatology – Charter Member), is a member of the health care team at the Veterinary Allergy Dermatology Ear Referral (VADER) Clinic in Morriston, Ont. She has served as a regent for the Academy of Dermatology Veterinary Technicians since its inception in 2009 and is on the executive committee for the Canadian Academy of Veterinary Dermatology (CAVD). Tait has more than 24 years' experience teaching veterinary students at the Ontario Veterinary College and has 21 years' experience specializing in veterinary dermatology. Currently the only VTS (Dermatology) in Canada, she graduated as an Animal Health Technician from Centralia College of Agricultural Technology in 1986. She is the proud owner of RVT certificate #4 and is an accomplished speaker and author in her area of expertise.