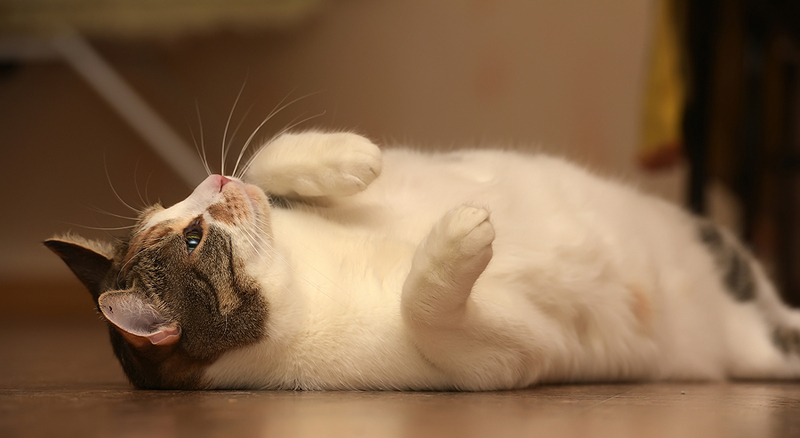 While pudgy pets have been a persistent problem for years, the pandemic certainly hasn't made things any easier.
This is according to BluePearl Specialty and Emergency Pet Hospital, which recently launched an investigation into the prevalence of pet obesity in the United States. The group, which operates more than 90 veterinary practices, found 52 per cent of dogs treated and 56 per cent of cats treated at its clinics this year were overweight.
Lindsey E. Bullen, DVM, Diplomate ACVN, a veterinary nutritionist with BluePearl, says overfeeding and lack of exercise is to blame.
"People are spending more time at home with their pets, which makes overfeeding and overtreating a greater possibility," she says. "Owners who are more likely to get up and move may be taking on more of an active role regarding their pet's activity levels. This means more walks and playtime."
Further, Dr. Bullen adds, those having a tough time finding suitable work-life balance may be spending less time with their pets and compensating for this by giving them more treats.
"Unfortunately, these modern-day realities can and likely will negatively impact pet weight."
To help companion animals shed those extra pounds, Bullen offers these tips for veterinarians to share with clients:
Be cautious when giving your pet human food. Even in small quantities, human food can represent a large per cent of your pet's daily caloric intake, and may cause digestive discomfort or complications (e.g. toxicity, intestinal blockage).
Don't give in to begging. Instead of giving your pet food or treats when they're begging, see if playing or grooming will satisfy them instead. They may simply be hungry for your attention.
Make meal time fun. Try scatter-feeding your pet using dry food to slow down their eating, while also encouraging them to be more active. Additionally, small treasure hunts can extend mealtime and keep your pet mentally stimulated.
Use a digital scale. While measuring cups can lack accuracy and cause unintentional overfeeding, digital scales help ensure daily feeding allowance accuracy.
Opt for healthy treats. Keep in mind that treats (including those used for training and medication administration) should be less than 10 per cent of a pet's total daily caloric intake.
Involve the whole family. Make sure everyone in the household is aware of the pet's feeding regime.
Stay active. For dogs, regular walks and games of catch are great exercise. For cats, try using toys and gadgets (e.g. laser pointers) to promote play.