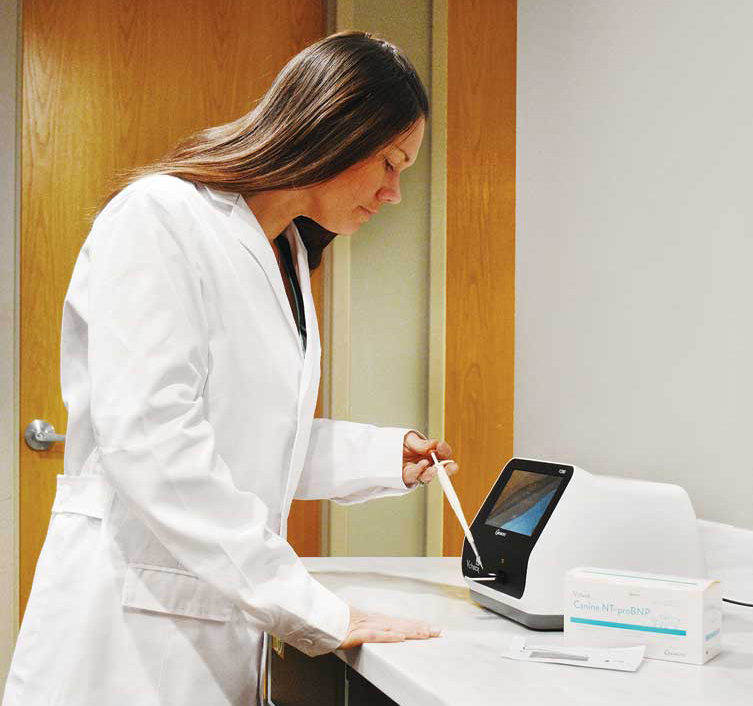 With the benefits of point-of-care testing more widely recognized, accepted, and sought-after by veterinarians, new technologies to test the heart in-clinic are now available. An approach to detecting heart disease quickly gaining attention from veterinarians across the spectrum of veterinary disciplines—general, dental, and cardiac specialties—is NT-proBNP testing via a veterinary fluorescence immunoassay analyzer.
Specifically, europium-detection, technology-based analyzers that are fully quantitative are a good complement to a practice's chemistry and hematology lab suite to close the gap on existing deficits in the suite. Quantitative immunoassay analyzers allow more biomarkers for various canine and feline diseases—including heart disease—to be tested on one machine in minutes and can often direct next steps and bridge the gap in diagnostic outcomes.
The basics
NT-proBNP is a great indicator of heart disease in both dogs and cats. Testing allows for identification of the cardiac biomarker pro-hormone (proBNP). Pro-hormone is produced by cardiac muscle cells and rises due to increased myocardial wall stress. NT-proBNP is correlated with heart size and systolic function. Upon release in the blood, it is cleaved into BNP and NT-proBNP. Of the two, NT-proBNP, due to its longer half-life (about two hours) and stability, is better suited as a diagnostic biomarker for diagnosing heart diseases.
Several companies on the market have offered in-clinic feline cardiac testing with this biomarker for years—qualitatively. One fluorescence immunoassay analyzer offers in-clinic, quantitative NT-proBNP tests with results for both dogs and cats regarding early diagnosis of heart disease. Having a number result allows for continued screening during the life of the patient, as well as monitoring a response to heart medications.
Based on NT-proBNP concentration results, veterinarians can distinguish cardiac from respiratory disease in patients presenting with dyspnea requiring emergency care, as well as differentiate cardiac and respiratory causes of respiratory signs.
With an in-clinic cardiac biomarker test kit, veterinarians can quickly identify patients at high risk of congestive heart failure, allowing them to differentiate whether their patients are experiencing myxomatous mitral valve degeneration (MMVD), with or without congestive heart failure. Staging and ongoing monitoring of patients with MMVD can also be conducted with the test; and, in large canine breeds, the NT-proBNP test is highly sensitive and specific for detecting occult dilated cardiomyopathy (DCM).
This test precisely quantifies the degree of elevation of NT-proBNP levels within minutes, allowing veterinarians to quickly prescribe decisive treatment plans related to cardiac issues without the need for an outside reference lab, which takes more time and potentially incurs a higher risk of sample degradation, affecting accuracy. 
Test with predispositions
NT-proBNP testing can be insightful for monitoring all geriatric cats and dogs, or those predisposed to heart failure or other cardiac issues such as those that commonly occur in certain breeds. Christopher Stauthammer, DVM, DACVIM, a veterinary cardiologist based in Minnesota, states one in seven cats has asymptomatic heart disease.1 Finding an issue early in life or before anesthesia can make a great difference in outcomes.
Predisposed canine breeds include the Cavalier King Charles Spaniel, English springer spaniel, cocker spaniel, Great Dane, Saint Bernard, Portuguese water dog, Irish wolfhound, boxer, and Doberman pinscher. In felines, special attention to heart health should be focused on Persian, Maine coon, rexes, sphynx, and ragdoll breeds. 
Uncover hidden conditions before anesthesia
Quantitative results from pre-operative heart screenings are especially helpful to veterinarians. It allows for a better assessment of the animal's ability to handle anesthesia (how it is doing internally), can detect hidden heart abnormalities, and allows for calculation to determine the correct rate of IV fluids a pet will need for surgery.
Although the risk of death encompassing all types of veterinary anesthetic procedures is low—0.05 per cent (dogs) to 0.11 per cent (cats)²—anesthesia is not without risk.
"As a profession, we would prefer to have no fatalities—and with a judicious approach to anesthesia, we can realize an anesthesia risk that is very low," says Jennifer Mathis, DVM, CVPP, of Animal Dentistry Referral Services in Norwalk, Iowa. "To do this, it makes sense to evaluate each patient to best address any concerns pre-emptively as well as have continual monitoring during the anesthetic procedure. Most veterinarians are familiar with, and require, bloodwork prior to anesthesia. We will always listen to the heart, but issues can be present without being able to hear them."
"Recently, our practice began requiring NT-proBNP testing for all anesthetic cases," Dr. Mathis adds. "This test can identify undetected heart disease in minutes while allowing for alterations in anesthetic protocol, should whole-patient concerns be considered.
Chairside NT-proBNP testing is also showing a direct correlation with echocardiogram findings, helping to make the decision about how best to proceed with further work-up or anesthesia. There are now more ways than ever to increase anesthetic safety for patients, helping to ease some fears faced by pet parents before veterinary surgical procedures.
"We are seeing a bit of a migration among our veterinary partners with the approach to cardiac testing," says Randy Knick, president at veterinary diagnostic analyzer manufacturer, Bionote USA. "We have veterinary clients who are currently requiring baseline bloodwork for all anesthetic patients over the age of six and are currently offering the NT-proBNP test as an add-on to that patient baseline. One practice we work with reports they will soon start requiring the NT-proBNP with the baseline to obtain more information for better treatment of their patients." 
Put routine heart care to the test
Some veterinarians are beginning to use the NT-proBNP in their general health and wellness exams for both dogs and cats. Checking for markers indicating a pet's heart condition makes sense when you can roll it into your point-of-care clinic lab for a fraction of the time and cost compared to sending samples to an outside reference lab. With in-clinic, quantitative NT-proBNP test results, serious states of declining patient health in the absence of symptoms conducive with a decline can be unveiled within minutes.
A soon-to-be-published study will detail how NT-proBNP test results correlate with stage of mitral valve disease in dogs. Significantly, this helps not only for screening, but also serial monitoring.
"This diagnostic tool allows a quantitative biomarker to screen for heart changes just as one would screen for other internal organ changes on a blood panel," Mathis says.
It is important to note, for best practices, NT-proBNP should be interpreted with other diagnostic techniques, such as echocardiography, thoracic radiography, history, and clinical signs to improve the diagnosis accuracy.
Savings in time and costs
Given in-clinic NT-proBNP test results provide results about the heart's condition in just minutes, time savings are realized by both the doctor and client, and faster treatment is afforded to the patient. Results obtained on in-clinic tests, such as the NT-proBNP, also reduce clinic fees associated with shipping and handling to reference labs, as well as all the points of contact that process entails—especially important as veterinarians continue to navigate the effects of the pandemic while maintaining proper patient care.
Better care in a heartbeat
With routine predisposition or pre-anesthetic NT-proBNP screening, you can get to the heart of what you may be missing in your patients. In-clinic, quantitative detection of heart disease in patients can allow veterinarians to avoid complications, treat earlier, and improve quality of life.
Frankie Bowers, DVM, MS, owns Animal Clinic of the Ozarks in Ozark, Missouri. Dr. Bowers, a University of Missouri graduate with an MS in veterinary medicine and surgery, has been in practice for 35 years.
References
1 Christopher Stauthammer, DVM, DACVIM (cardiology), "Use of Bedside NT-proBNP in Primary Care Practice." Webinar; June 2021.
2 Matthews NS, et. al. Factors associated with anesthetic-related death in dogs and cats in primary care veterinary hospitals. J Am Vet Med Assoc 2017 Mar 15; 250(6):655-665. DOI 10.2460/javma.250.6.655