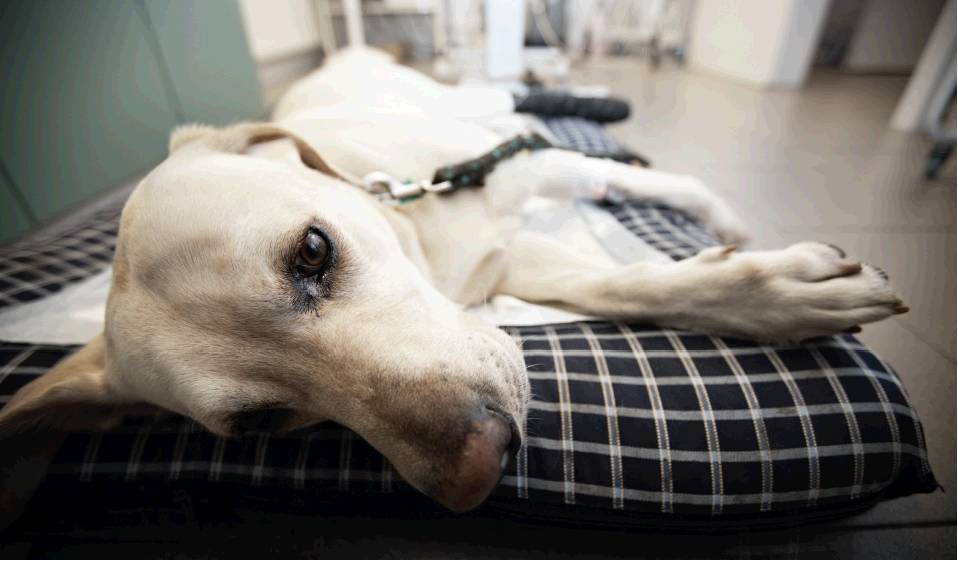 Whether you're treating something as deadly as cancer or as frustrating as chronic allergies, immunotherapy offers the possibility of slowing or reversing disease.
Veterinary researchers have attempted for decades to harness the power of the immune system to fight cancer. Given the challenges presented by cancer in its various forms, many experts believe that immunotherapy eventually may be the game changer.
"I think it's the next best hope we've got," said Rowan J. Milner, BVSc, MVetMed, Ph.D., Dipl. ACVIM (oncology), the Hill's professor of oncology at the University of Florida College of Veterinary Medicine.
"In the case of osteosarcoma," Dr. Milner said, "whether you're a dog or human, there really hasn't been any improvement in survival in the last 30 years. It's actually quite tragic. We're cautiously confident that we will see changes with immunotherapy."
For cancer, immunotherapy is just one component of multi-modal treatment.
"Traditional cancer treatments alone are effective but have a limit to what they can achieve," said Katherine Skorupski, DVM, Dipl. ACVIM (oncology), associate professor of clinical medical oncology at the University of California, Davis, School of Veterinary Medicine. "Research in human medicine suggests that the immune system may be harnessed in a number of ways to help eradicate remaining cancer cells that are not killed by chemotherapy, radiation therapy or targeted therapies."
Digging Into Melanoma
According to Dr. Skorupski, melanoma—in both people and dogs—is a known immunogenic cancer and, in both species, spontaneous remissions are sometimes seen. It's theorized that these remissions are a result of the patient's immune response to the cancer.
"This is one reason why the first veterinary cancer vaccine targeted melanoma," Skorupski said. "That said, research suggests that all cancers have tumor-associated antigens that can potentially be targeted by immunotherapies. Some of the newer human immunotherapies are effective against multiple cancers because they target the patient's immune system and not the cancer itself."
However, immunotherapy is no panacea; clinical response is highly variable.
"In many cases, a subset of patients show remarkable clinical responses while others may not achieve the same benefit," said Nicola J. Mason, an associate professor of medicine and pathobiology at the University of Pennsylvania School of Veterinary Medicine.
"One of the next challenges in the field is to identify biomarkers that predict responses," said Dr. Mason, BVetMed, Ph.D., Dipl. ACVIM. "These may be intrinsic to the tumor or may relate to the status of the patient's immune system or may involve other factors that have not yet been identified. In this way, we can select patients for treatment that are most likely to respond."
A lot remains to be discovered about how immunotherapies can work together with conventional cancer treatments, Mason said.
"We know that chemotherapy and radiation therapy can act synergistically with immune-based therapies to achieve a greater response," she said. "So another question in the field is, 'What are the most effective combination treatment protocols to use, and could combination approaches improve the response of predicted or confirmed non-responders to monotherapy?'"
Cancer Vaccines and CAR T-Cell Therapy
At the University of Florida, Milner, Bikash Sahay, BVSc, MVSc, Ph.D., and colleagues from the College of Medicine are engrossed in two cancer vaccine clinical trials: one for melanoma and one for osteosarcoma.1-4 
The vaccines in both studies are similar.
"In the case of the melanoma study, we do surgery on some of them and then we vaccinated them, and they are not allowed to get anything that would suppress their immunity [such as cortisone]," Milner said.
More than 500 dogs have been enrolled in that trial. The results will be published as soon as the intellectual property rights have been secured.
"The osteosarcoma vaccine trial is different because we are administering the immunotherapy while we are giving chemotherapy," Milner said. "Our hypothesis is that by vaccinating them during the time they are getting chemotherapy could have a beneficial effect by decreasing cells from the bone marrow, called myeloid derived suppressor cells." Because these cells are thought to play a crucial role in suppressing the immune system at the site of the cancer, reducing them with platinum-based chemotherapy could be beneficial.
In addition, an interesting phenomenon has been observed with some osteosarcoma dogs that have a surgical limb-sparing procedure and receive a prosthesis. It has been reported that dogs that develop infections at the surgical site live longer than dogs that don't get such infections.
"This means we can add components to the vaccine called adjuvants that bluff the body that there is an infection, as well as direct this immune reaction to a specific antigen [target] on the cancer cell," Milner said. "In our case, this is a ganglioside [GD3] on the surface of melanoma and osteosarcoma cells."
The UF research team also is studying the effect of chimeric antigen receptor T-cell therapy, a targeted form of immunotherapy, on osteosarcoma in dogs. Whereas the vaccine is designed to be given concurrently with chemotherapy, the CAR T-cells can be administered only after chemo is finished.
According to Milner, CAR T-cell therapy is mainly being used for bone marrow cancers in humans, although some research is being done with sarcomas and brain tumors.
"You harvest T-cells from a patient and then with a viral vector you introduce a virus with a piece of encoded DNA called a plasmid that is carried by the virus into the T-cells," Milner said. "Then these T-cells will make an antibody against the ganglioside target like GD3 or GD2.
"So these cells are then primed via this receptor antibody that's on the surface," he added. "These are then given back to the patient, and they will go and localize in the cancer and expand in number."
This form of immunotherapy carries risks, and Milner said more research is needed.
"The CAR T-cell therapy sounds very exciting, but it still needs a lot of work for solid tumors such as osteosarcomas," he said. "I think there's a lot still to be done, but nevertheless we are making progress."
Allergen-Specific Immunotherapy
Although the symptoms of allergic disease can be mitigated with various treatments, many long-term symptomatic patients won't achieve lasting resolution without immunotherapy.
"At this point, allergen- specific immunotherapy is the only treatment that can alter the course of the disease," said Rosanna Marsella, DVM, Dipl. ACVD, a professor in UF's department of small animal clinical sciences. "[With] all other treatments, the moment you stop them you are right back to where you were.
"For any patient that has symptoms more than three or four times a year, I strongly encourage them to consider immunotherapy because it's a longterm strategy," Dr. Marsella said. "Just prescribing symptomatic treatment will commit [the patient] to a lifetime of drugs."
A relatively new advance in allergen-specific immunotherapy is in the route of administration.5
"In the past we only did subcutaneous, which has the potential for side effects, like a risk for anaphylaxis," Marsella said. "What we do now is sub-lingual, which in some patients is actually more effective than subcutaneous, and it's definitely safer."
Marsella said there have been no reported anaphylactic reactions with the sublingual route of administration.
"The downside is you have to do sublingual every day," she said, "while subcutaneous, when you're on maintenance, is typically once every two to three weeks."
However, clients have no problem administering the vaccine daily at home, and patients like the sweet taste. The real upside to the sublingual vaccine is cost.
"Of all the treatment options, sublingual the most cost-effective," Marsella said. "Basically, a whole year's supply of vaccine is between $250 and $300."
One message Marsella wants to convey is the importance of referring to a dermatologist early.
"Don't wait until they're old and have a bunch of side effects," she said. "Consider immunotherapy early because the immune system is more likely to respond to it. For the response, part of it is linked to the type of allergy that you have, but a lot has to do with the age of the patient and the age of the disease."
Acknowledging Risks
Immunotherapy is a promising tool to fight a number of diseases, but it's not without risk.
"The immune system is incredibly powerful, and it can be very damaging," Penn Vet's Mason said.
She highlighted three major areas of risk with immunotherapy:
Creating a cytokine storm. The immune system produces large amounts of cytokines, which lead to significant morbidity and even mortality.
Inducing autoimmunity.
On-target but off-tumor cytotoxicity caused by the targeted antigen expressing on other tissue types.
With more research, immunotherapy might be the key to beating back cancer and other diseases once and for all.
"Harnessing the tremendous power of the immune system to kill abnormal cells represents a more specific, effective and lasting way to eliminate disease than most of our current therapies," Mason said.
Tumor cells fight back
Torigren Pharmaceuticals of Farmington, Conn., introduced VetiVax, a tumor-derived immunotherapy treatment for cancer, in August.
"VetiVax is a personalized cancer immunotherapy that uses the patient's own tumor cells to create an autologous treatment," Torigen CEO Ashley Kalinauskas said. "After a tumor is surgically excised, veterinarians send a minimum of 5 grams of tumor material to our laboratories, where we create the treatment and send it back the next day."
Tumor material must be shipped on ice, in saline and not fixed in formalin.
VetiVax is administered by a veterinarian via subcutaneous injection once a week for three weeks.
"To date we have treated over 100 patients with VetiVax" Kalinauskas said. "We are in the process of conducting a larger efficacy study and have seen great results with skin tumors and carcinoma-based cancers, with a majority of patients exceeding published mean survival times."
Treatment Approved for OA Dogs
T-Cyte Therapeutics Inc. launched Lymphocyte T-Cell Immunomodulator (LTCI) in October. The Murrieta, Calif., company described LTCI as the first U.S. Department of Agriculture-approved treatment for osteoarthritis in dogs.
"Osteoarthritis appears to be an immune-mediated process similar to rheumatoid arthritis" said T-Cyte's CEO, immunologist Terry Beardsley, Ph.D. "In both humans and dogs, scientific studies have shown that similar immune-mediated processes are present in both diseases. LTCI is not a drug but rather a naturally occurring protein that modulates the immune response to canine osteoarthritis"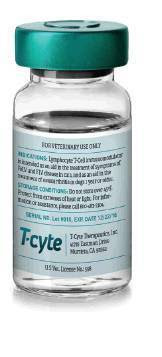 LTCI is administered via subcutaneous injection and acts as an immunomodulator, increasing the number and function of precursors of a regulatory T-cell population. As a result, the immune-mediated response is reduced.
T-Cyte reported that LTCI is a safe treatment option for dogs that cannot use NSAIDs, including patients with kidney, liver or heart issues; senior dogs; and those that cannot tolerate the side effects of NSAIDs.
Synchronization Immunotherapy Studied
Chagrin Falls Pet Clinic in Chagrin Falls, Ohio, is the first and only U.S. animal hospital taking part in a clinical trial investigating synchronization immunotherapy to treat cancer in dogs. Carol Osborne, DVM, is working in conjunction with Biotempus Ltd. of Melbourne, Australia.
"This research trial is attempting to treat cancer by modulating the immune system's response to cancer," Dr. Osborne said. "Current clinical trials and ongoing treatment modalities appear to indicate that precise timing of therapy synchronized with the body's immune cycle is paramount to therapeutic success. Researchers are learning that the immune system's perception of the cancer may, in many cases, be more important than the actual type of the cancer itself"
Biotempus' chief scientific officer, Martin Ashdown, along with other researchers, has published research showing that the immune system of cancer patients cycles "on" and "off" where "on" indicates active immunity. According to Osborne, synchronized immunotherapy allows veterinarians to time administration of the cancer therapy so it coincides with periods when the immune system has cycled "on"
"Current research and ongoing clinical trials have shown that by locking the immune system in the 'on' position, we are able to harness its vast power and use that to manipulate successful cancer cell therapy" she said. "Serial, daily measurements of C-reactive protein, an inflammatory blood marker, allow us to determine the optimal phase of the immune cycle calculated using the proprietary algorithm established by Biotempus"
Osborne reported promising initial results for more than 40 patients. "We have a couple dogs in complete remission, and a significant number of dogs have shown a partial response, meaning that although their cancer is still present, it has stopped progressing" she said. "All have outlived their estimated survival time."
References
Milner RJ, Chimura N, Bowles KD, Salute M. "Abstract A29: Differential Expression of the Gangliosides GD3 And GD2 in Canine and Human Osteosarcoma Cell Lines: An Immunotherapy Target" Cancer Immunology Research. 2015 October 01; 3(10 Supplement):A29-A29.
Chulanetra M, Sayour E, Eldjerou L, Lagmay J, Slayton W, Chang L, Milner RJ. "Abstract 3157: Novel GD2-Specific Chimeric Antigen Receptor-Modified T-Cells Targeting Osteosarcoma" Cancer Research. 2015 August 01; 75(15 Supplement):3157-3157. 
Milner RJ, Salute M, Crawford C, Abbot JR, Farese J. "The Immune Response to Disialoganglioside GD3 Vaccination in Normal Dogs: A Melanoma Surface Antigen Vaccine" Vet Immunol Immunopathol. 2006 Dec 15; 114(3-4):273-84. PubMed PMID: 17027091. 
Rowan J. Milner, James P. Farese, Marc E. Salute and Nick Bacon, et al. 2010. "The Immune Response to Disialoganglioside GD3 Vaccination in Dogs With Spontaneous Occurring Melanoma: A Large Animal Translational Model" Proceeding American Association for Cancer Research, Tumor Immunology: Basic and Clinical Advances, November 30-December 3, 2010, Miami Beach, Fla.
Marsella R, Ahrens K. "Investigations on the Effects of Sublingual Immunotherapy on Clinical Signs and Immunological Parameters Using a Canine Model of Atopic Dermatitis: A Double-Blinded, Randomized, Controlled Study (abstract)" Vet Dermatol 2012; 23(Suppl 1):66.
---
Originally published in the November 2016 issue of Veterinary Practice News. Did you enjoy this article? Then subscribe today!