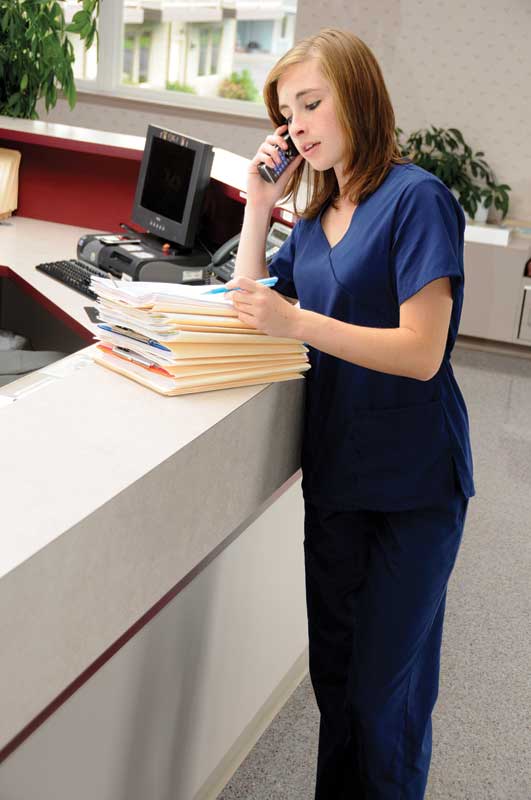 His frustration had reached the boiling point. After three no-shows this week, a veterinarian asked me if he should start asking clients to prepay surgeries. While I empathize with his angst, don't punish 99.9 per cent of good clients for a few bad apples. Imagine you are a client of 12 years who now has to pay before services get delivered. You might get so mad that you leave the practice. To avoid this scenario, use these proactive techniques to prevent no-shows:
Text or email appointment confirmations immediately after booking. A client schedules a spay one month from today during her puppy's last checkup. If you wait until the day before the procedure to remind her of the surgery and fasting instructions, you take the chance she may forget or need to reschedule. When she books today, immediately text or email an appointment confirmation she can add to her calendar. Set up appointment confirmations in your practice-management software or third-party apps. Text: "<Pet name> has an appt with Dr. <Name> on <date> at <time>. Reply C to confirm or RS to reschedule." If a client replies RS, call to have her select a new time and date.
This double confirmation at the time of booking reiterates the importance of the exam or procedure. My dentist does this. When I booked my next hygiene appointment, I got a text on the elevator ride to the parking garage. I added the appointment to my calendar before I unlocked my car.
Confirm earlier and multiple times. Don't wait until the day before appointments or procedures to remind clients. Set up a series of confirmations and reminders:
1) Upon booking
2) Four days before the appointment or procedure
3) Two days ahead
4) The day of the appointment, reminding of fasting instructions for procedures or bringing stool samples for checkups
Gather new client information during scheduling calls. Go beyond collecting a name and phone number. When scheduling, take two minutes to enter the client and patient names, address, email, cell number, and patient breed and birth date. You'll avoid the negative experience of 'clip-boarding' a new client when you hand her a registration form at check-in while she struggles with her Jack Russell terrier on a retractable leash. You'll suck away valuable exam time with busy paperwork. Because you have gathered the majority of client contact information during the scheduling call, you've established a 'know, like, and trust' relationship.
Perform preanesthetic testing when clients book procedures. If you diagnose my cat with dental disease on Wednesday and I schedule treatment for Friday, collect blood and urine samples for preanesthetic screening today. This lets you choose the most cost-effective diagnostics from the reference lab or in-house testing. The client pays for lab tests today, reassuring she will show up two days later for the procedure. Your nursing team will also appreciate one less task to perform the morning of the dental treatment.
Have clients sign anesthetic and surgical consents before booking. Let's say you diagnose dental disease and explain the need for treatment. The client agrees. Get signatures on the treatment plan and anesthetic consent form today. You'll dodge the time-suck of paperwork and get written commitment to show up.
An alternative is to use text and email together. When you confirm the surgery two days in advance, text the client: "See you Friday at 8 a.m. for <pet name>'s surgical admission. No food after 10 p.m. Water is OK. We emailed surgical forms to <email address>. Reply with questions." The text prompts the client to check her email, where you can provide detailed fasting instructions and attach consent forms and treatment plans.
Your email message would say, "We will see <pet name> for surgery on Friday at <Your Veterinary Hospital>. Please withhold food after ___ p.m. tonight. Water is OK to drink to prevent dehydration. Your surgical admission begins at 8 a.m. with a nurse, who will spend 15 minutes reviewing the consent form, answering your questions, and getting phone numbers where we may reach you the day of the procedure. I've attached your treatment plan and anesthesia consent forms. To speed up your admission, please bring these signed forms with you, or we are happy to answer questions during check-in. Please allow at least 15 minutes for <pet name>'s admission to our hospital. If you have questions, call or text (555) 555-5555."
Text driving directions to new clients. When you confirm exams two days in advance, text: "We're excited to meet you and <pet name> on Friday at 4 p.m. Bring a stool sample that's fresh within four hours. Get driving directions at <link>." When new clients click the link on their smartphones, map apps will give them estimated travel time along with turn-by-turn directions. You'll enjoy on-time arrivals and create 'wow' first impressions.
Send a final text or email confirmation the day before appointments and procedures. Text the client: "We will see <pet name> tomorrow for an appt with Dr. <Name> beginning at 9 a.m." The word 'beginning' trains the client to be in your lobby at exam time, not down the street at Starbucks (unless she's fetching you a pumpkin spice latte!).
Mail thank-you cards after the first visit. This is the first date that starts a lifetime relationship. Don't default to a templated email or text that will get scanned and deleted. People receive hand-written greeting cards in the mail on birthdays, holidays, or anniversaries. Make the new client appointment a standout occasion. Have the doctor and hospital manager sign the card and add a personal message such as "We loved meeting your kitten, <pet name>, and look forward to watching him grow up!"
Start no-show strategies today. A dog owner may spend nearly $700 for a checkup that includes an exam, vaccines, diagnostics, and 12 months of flea/tick and heartworm preventatives. Surgical and dental procedures may add even higher dollar values to your practice. Stop the anxiety of whether clients will show up as promised. With these approaches, reclaim the confidence that you'll have long-term, loyal relationships.
Wendy S. Myers, CVJ, has been training veterinary teams for more than 20 years as owner of Communication Solutions for Veterinarians in Castle Pines, Colo. She helps health-care teams improve telephone and communication skills that result in getting more pets the medical care they need. Myers shares her expertise through conferences, online courses, and monthly CE credit webinars. She is a certified veterinary journalist and author of five books. You may reach her at wmyers@csvets.com or csvets.com.