It's a somewhat unlikely tale: Motivated by his father's early death and his son's premature birth, a 39-year-old veterinarian with limited climbing experience decides to take on the world's highest mountain.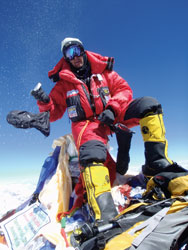 Photo courtesy of Dr. Lance S. Fox.
Dr. Lance S. Fox pauses on top of Mount Everest.
But it's all true, even the Hollywood-style happy ending.
On the morning of May 21, after 10 final, exhausting hours of climbing—six of them by headlamp in the dark—Lance S. Fox, DVM, joined a very exclusive club. He reached the summit of Mount Everest, one of fewer than 3,000 people who have set foot on top of the world.
And now the Wisconsin vet is telling his story to the world. Soon to be featured in the third season of the Discovery Channel series "Everest: Beyond the Limit," Dr. Fox is drawing on his adventure during speeches to high school and college kids, hoping to persuade them to conquer their personal Everests.
"My opening slide is 'If You Believe, You Can Achieve,' " Fox says. "So often we hear people say the words, 'I can't.' But I disagree with that. You have to maintain a positive attitude and you have to recognize that nothing's going to come for free. If you do that, anything is possible. … Maybe you're not going to climb a mountain, but (everyone) has a dream."
An Idea Takes Root
Fox's Everest dreams began in 1997, when his son, Jordan, was born prematurely. During the baby's 11 harrowing days in intensive care, Fox was reminded of the fragility of life and the importance of pursuing dreams. It was a strong reminder of a lesson he'd learned years earlier, when his father died at age 36 of complications from Hodgkin's disease.
While the baby grew stronger in the hospital, Fox picked up a book on Everest to give himself something else to focus on. That's all it took.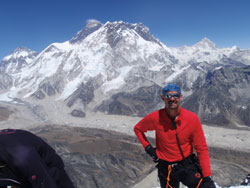 Photo courtesy of Dr. Lance S. Fox.
Atop 20,075-foot Lobuche, which he climbed twice to get acclimated. Everest is over his right shoulder.
"I remember telling myself, 'I'm going to go there someday,' " he recalls.
But being a new father and a new vet—he graduated from the University of Wisconsin School of Veterinary Medicine in 1995—left Fox little time to pursue an expensive, time-consuming hobby like mountain climbing. It wasn't until 2006 that he began climbing in pursuit of Everest. Over time, he scaled three dormant volcanoes in Mexico and a string of other peaks in Colorado, Washington and elsewhere.
In 2008 he learned of an opportunity to join a Himalayan Experience Ltd. expedition departing in March 2009. With the support of his wife, Katherine Fox, DVM, he approached his employer, Alpharma, where he had worked as a technical service manager since 2005. His proposal: a sabbatical so he could make the two-month journey.
"At first I thought he must be a bit crazy," admitted Jeff Mellinger, global leader of sales and marketing for Alpharma. But as company executives learned more about the expedition, they had an idea: Alpharma would sponsor the trip, then deploy Fox afterward to do motivational and educational speaking that incorporated his Everest adventure.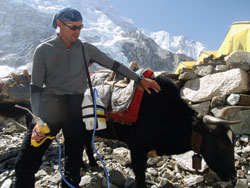 Photo courtesy of Dr. Lance S. Fox.
With a yak, among those he dewormed.
As he continued to plan the trip, Fox knew he wanted to give back somehow to the citizens of Nepal. "I'd read about Sir Edmund Hillary and how he had built schools and hospitals," Fox said. "And I thought, 'What better way as a vet to give back than to help with the animals?' "
Fox learned there is virtually no veterinary care in the valleys around Everest, even though locals depend heavily on work animals such as yaks and horses. So, even before leaving for Nepal in March, Fox arranged to ship hundreds of doses of deworming medication, donated by Intervet/Schering-Plough Animal Health. Shortly after arriving at the foot of Mount Everest, he used the first doses to deworm some of the yaks owned by Sherpa families in the valley and taught the owners how to administer the follow-up doses. (E-mails received after his return to the U.S. indicated that the treated yaks were producing more milk, Fox says.)
On the Mountain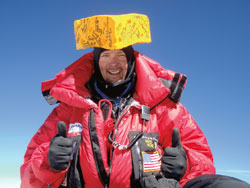 Photo courtesy of Dr. Lance S. Fox.
>Wearing a cheese hat in honor of his home state of Wisconsin.
The yaks cared for, it was time to get on with the business of climbing. Conquering the 29,035-foot-high Everest is a multiweek process involving days of conditioning, then intense, often dangerous climbing. The climbs are often interspersed with days of waiting at the base camp for just the right weather conditions. Luckily, Fox was armed with a high-altitude communications kit that allowed him to e-mail and phone his family and even post to his blog.
Fox not only had to acclimate to the brutally cold, thin air and Spartan living arrangements, he had to adjust to having his every move monitored by a film crew. Though the team included more than 50 climbers, guides and porters, Fox was chosen to be one of just a few who will be featured in the TV series, producer Dick Colthurst wrote in an e-mail from his office in Great Britain.
"He has an irrepressible energy and enthusiasm even at 28,000 feet and can always be relied on for a funny line," Colthurst wrote. "He's a great character with a compelling story."
The air dates had not been set at press time, but Colthurst said Fox was likely to be featured in Episode 4, which will follow the team to the summit.
The summit day, Fox says, was perfect: sunny, clear, not too windy and temperatures of only about 20 degrees below zero. After the final push to the top, Fox was allowed about 30 minutes to take it all in.
The time rushed by, Fox says: "It's a really surreal feeling to sit up there and know that you couldn't go any higher in the world."
He pulled out a Wisconsin cheese hat and an Alpharma banner for long-planned photo ops. And finally, having carried them all the way from Wisconsin, he released his father's ashes into the wind, scattering them over the top of the world. <HOME>
This article first appeared in the November 2009 issue of Veterinary Practice News