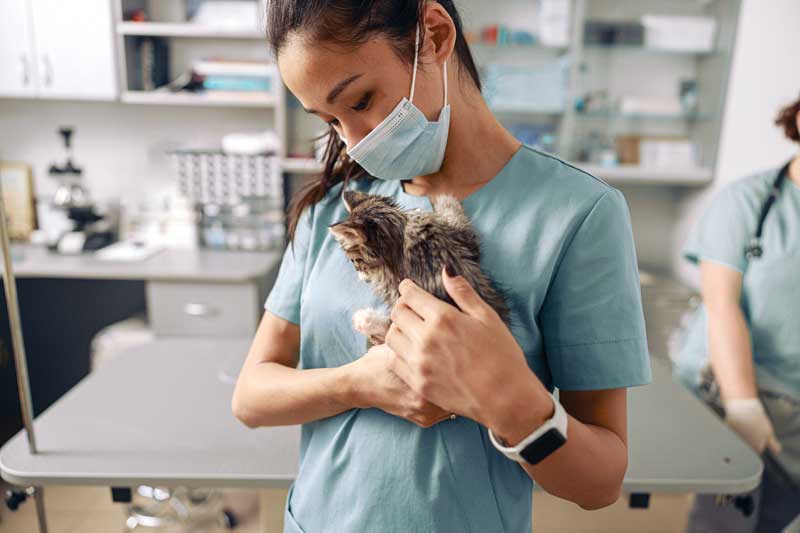 Clients are controlling your schedule and running you ragged. If clients dictate times and dates of appointments, your schedule will be chaos. While you want to accommodate their requests, how appointments are organized is the difference between a good or bad workday.
The secret: Be the boss of your schedule (not clients). I teach client service representatives to lead with yes-or-yes choices. When a client requests Tuesday morning for her dog's checkup, say, "My next available appointments on Tuesday mornings are December 13 at 8 a.m. and December 17 at 11 a.m. Which do you prefer?" Guide her to times to result in efficient exam flow. You will organize a productive day and avoid the mayhem of three sick patients in a row.
To illustrate best practices in scheduling, I created a sample schedule with numbered appointments and explain why I chose each slot. This 'flex-10' scheduling method sets appointment lengths based on the reason for the visit in 10-minute increments.
Create appointment types and assign color codes in your practice-management software. As you book exams each day, strive to create a rainbow pattern of appointment types rather than large blocks of similar colours.
Sample appointment schedule
This outpatient doctor will see exams from 8 a.m. to 5 p.m. with a one-hour lunchbreak.
1) 8:00 a.m. Preventive adult pet checkup. Ease into the workday with a routine exam rather than getting slammed with, "My cat has been vomiting for three weeks." You will have better mental health and focus for a productive day. Checkups for adult pets aged one to six years are 20 minutes.
2) 8:20 a.m. Level 1 sick patient exam. Allow 30 minutes for sick patients with ear infections, skin conditions, sneezing, and other minor illnesses.
3) 8:50 a.m. Preventive adult pet checkup. Sandwich a sick patient exam between two checkups, which are more predictable and likely to stay on time. If you schedule several sick patients back-to-back, you will run late, create angry clients, and feel stressed.
4) 9:10 a.m. Level 1 progress exam. Avoid the term 'recheck,' which clients may perceive as free and optional. A Level 1 progress exam is a 10-minute follow-up exam on a previous problem. Use this exam category for minor issues, such as ear infections and suture removal.
A Level 2 progress exam is a 20-minute follow-up exam for complex cases, such as a cat with recently diagnosed diabetes. Because time is money, set a higher exam fee for a Level 2 progress exam than a 10-minute Level 1 progress exam.
5) 9:20 a.m. Pediatric progress exam (second puppy visit). Puppy and kitten exams are 40 minutes for the first appointment, which requires more history taking and client education. Second, third, and fourth pediatric progress exams are 20 minutes. Leverage technicians and assistants to handle most of the client education, such as parasite prevention, nutrition, and socialization.
6) 9:40 a.m. Urgent care exam (same-day sick patient). Every morning, clients will call with sick pets needing to be seen today. Block three to four 30-minute urgent care slots per doctor per day. You may need more urgent care slots on Mondays, Fridays, and Saturdays, when practices typically see more sick animals.
7) 10:10 a.m. Doctor's client communication block. This scheduling hack will be your favourite! Assign times for veterinarians to call, text, and email clients. Doctors can contact pet owners about lab results, hospitalized patients, discharged sick patients, and other cases needing follow up.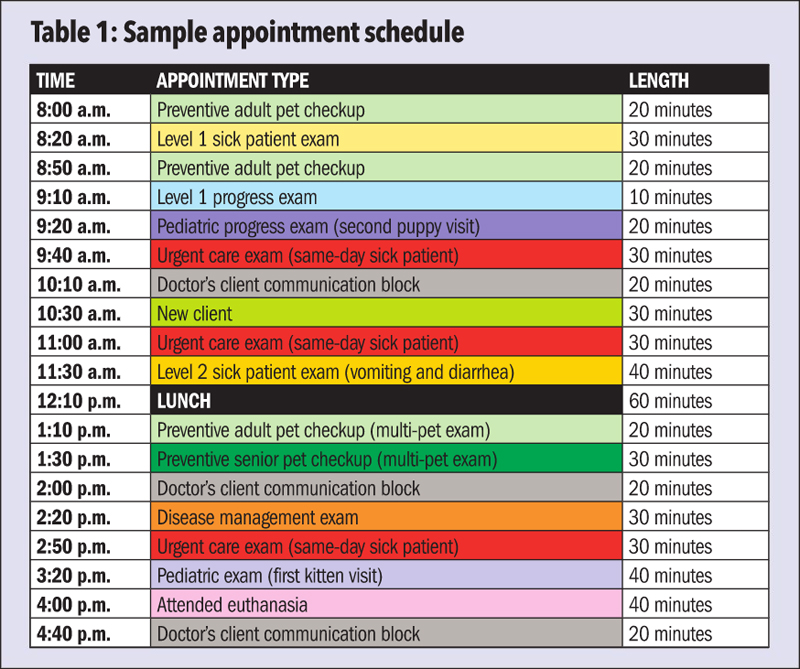 Put client communication times in the schedule just as you would appointments. Block 10 to 20 minutes for doctors every two hours. The doctor will review texts, emails, and voicemails and choose whether she or a technician should respond. A veterinarian will call a client to discuss abnormal lab results, while a technician will talk with a pet owner about how to give her cat a pill.
Set expectations for when calls will be returned, and ask callers about their availability. If the doctor finishes surgery at 1 p.m. and the caller will be in a meeting until 3 p.m., the veterinarian would return the call after 3 p.m. rather than play phone tag. Repeat the caller's phone number to communicate you took an accurate message. Say this: "I will give the doctor your message and let him know that he may reach you on your cell phone at <client cell number>. The doctor will return calls between 4:50 and 5 p.m." Ask the client which type of response she prefers: Call, text, or email. Digital communication may be faster and eliminate phone tag.
8) 10:30 a.m. New client. Budget 30 minutes to establish a veterinarian-client-patient relationship and to review medical or adoption records for a new patient. Do not let new clients feel rushed.
9) 11a.m. Urgent care exam (same-day sick patient). In a multi-doctor practice, stagger urgent care slots for each doctor by 60 to 90 minutes. If two doctors see urgent care exams at 11 a.m., they will play 'steal the technician' game and cause traffic jams in the treatment area for workups.
10) 11:30 a.m. Level 2 sick patient exam (vomiting and diarrhea). Budget 40 minutes for sick patients with vomiting and/or diarrhea, multiple symptoms, and complex illnesses. Several diagnostics may be needed, meriting an extra 10 minutes compared to a 30-minute Level 1 sick patient exam.
11) 12:10 p.m. Lunch. Yes, you get to eat! Outpatient teams comprising a veterinarian, technician, and assistant will take their lunchbreaks at the same time. You will stop and start together, ensuring you stay on time for clients.
12) 1:10 p.m. Preventive adult pet checkup (multi-pet exam). Schedule a checkup as the first appointment after lunch. You will start the afternoon back on track and hit the mental reset button.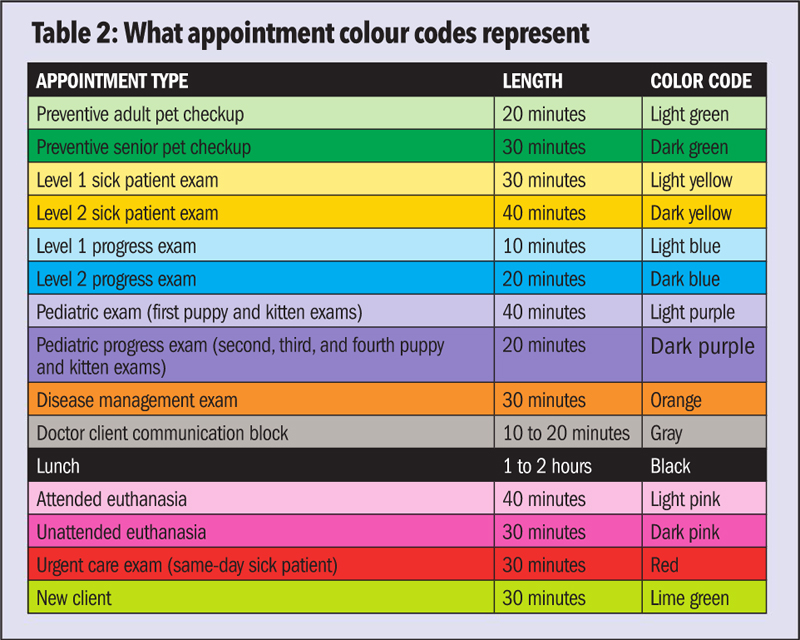 Book multi-pet exams from the same family back-to-back. In this example, the client has one adult pet checkup at 1:10 p.m., followed by a senior pet checkup at 1:30 p.m., for a total of 50 minutes. Never cram two pets in one exam slot. You will be rushed, get behind, and client compliance may suffer because you don't have enough time to educate and answer pet owners' questions.
13) 1:30 p.m. Preventive senior pet checkup (multi-pet exam). Senior pets get 30-minute checkups instead of 20. Allow 10 additional minutes to collect blood and urine samples for early detection screening. Many senior pets also have chronic health conditions that merit more time.
14) 2 p.m. Doctor's client communication block. The veterinarian will contact clients who left voicemails, texts, and emails after 12 p.m., which is when the last communication slot occurred. The doctor also will do administrative tasks, such as approving prescription refill requests and reviewing lab results.
15) 2:20 p.m. Disease management exam. This 30-minute exam is for patients with chronic health conditions, such as renal disease, cardiomyopathy, skin conditions, allergies, and concerns requiring long-term case management. Set the interval between disease-management exams based on the disease stage. For example, you might examine a cat with advanced renal disease quarterly for reassessment.
16) 2:50 p.m. Urgent care exam (same-day sick patient). Block your last urgent care exam at least 60 to 90 minutes before the doctor's shift ends to allow time for workups. If the doctor ends appointments at 5 p.m., her latest urgent care slot would be 3:30 p.m. Avoid scheduling urgent care as the last appointment of the day. You risk feeling rushed and end the day with a stressful case.
17) 3:20 p.m. Pediatric exam (first kitten visit). The initial pediatric exam is 40 minutes, allowing time to review medical or adoption records and for client education. If necessary, you may double-book the doctor for another 10- or 20-minute exam because the technician or assistant will provide client education for about half of the appointment.
18) 4 p.m. Attended euthanasia. Schedule euthanasia appointments during lower-traffic times or near the end of the day. Allow 40 minutes, giving clients ample time to say goodbye. Never have these clients wait in your lobby. Immediately escort the family and pet into an exam or consultation room. The CSR should step out from behind the counter to remove physical barriers and say, "We've been expecting you. Let's go into the exam room. I will let the doctor and technician know you've arrived."
19) 4:40 p.m. Doctor's client communication block. Wrap up your day and clear your texts, emails, and voicemails. This schedule has three 20-minute blocks for the doctor to respond to clients' requests and to complete administrative tasks, totalling 60 minutes. The goal: Go home on time with the day successfully wrapped up.
When building your schedule template, pre-block three to four urgent care slots and two to three doctor client communication slots per outpatient veterinarian. Fill in all other appointments as clients call, text, or email with requests.
Wendy S. Myers, CVJ, has been training veterinary teams for 21 years as owner of Communication Solutions for Veterinarians. She teaches teams to become confident communicators, so more pet owners say yes to medical care. Wendy shares her expertise through conferences, online courses, and monthly live CE credit webinars. She is a certified veterinary journalist and author of five books. Her passion is to help practices like yours thrive and grow through effective communication skills. You may reach her at wmyers@csvets.com or www.csvets.com.