Annie Davis' PT Cruiser is no ordinary automobile.
Upholstered with heating pads in the lining and equipped with an oxygen system and technology for fluid and airway control, it serves as one of two pet ambulances at VetCab, Davis' emergency pet transfer service in Yucaipa, Calif.
These souped-up automobiles can't drive in Code 3 mode-which entails flashing red lights, sirens and often high speeds-but they can save the life of a pet whose life may be dependent on just a few critical minutes.
Unlike most mobile clinics, pet ambulances are usually available on a 24-hour basis, and unlike most 24-hour clinics, they're willing and able to travel. And while the ambulances may also function as pet taxis, it's the emergency situations that inspire the creation of these businesses. Seeing the need, Davis, owner and creator of VetCab, opened her business in September 2005. After working as a technician at an emergency clinic, she noticed that the current system of pet transportation via the pet owners didn't always work.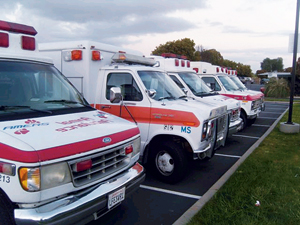 A.M.E.R.S. Animal Ambulance's fleet of emergency vehicles lined up in San Leandro, Calif.
"I recognized the need because I saw [the pets] coming in and not making it," Davis says. "They were, unfortunately, dying on the way between the vets and our facility."
Filling the gap between a pet owner's home or a local clinic and an emergency facility, pet ambulances serve a specialized niche.
Critter Coach, an animal transport service in Raleigh, N.C., offers both a taxi service for healthy pets and one for emergency situations. Though the company does not provide medical services in transport, oxygen support is available.
Dennis Money, who also worked as an emergency technician, began the company in August 2004.
"The normal response when someone calls is to say, 'Bring the animal in,'" Money says. "And they would say, 'Well, I can't.' My experience in the medical side is that you can only serve the client if they can reach you."
An around-the-clock emergency transport service saves owners the problem of manipulating their work schedules, and long travel distances and rush-hour traffic are no longer a burden for panicked pet owners, Money adds.
Pet owners who find themselves in the midst of a medical emergency often don't know who to turn to. David Watts, chief executive officer of A.M.E.R.S. Animal Ambulance, in San Leandro, Calif., says he's seen pet owners react by dialing the human emergency number 911.
Such a story inspired Watts to create his company in 2002.
Watts says that after a friend's aging dog collapsed in her home, she instinctively called 911. When EMTs arrived, they told her there was nothing they could do.
"She had to watch her dog die," Watts says.
After searching for a service in northern California to provide safe transport for pets and finding nothing, Watts began his own pet ambulance company. "Two years later, we went to the banks," he says. "And they laughed us out of there."
Watts couldn't find a bank willing to finance his company, so he turned to family and friends. With $80,000, he started A.M.E.R.S. Gaining Acceptance Just years ago, the idea of an ambulance company dedicated solely to animals sounded luxurious and even foolish to many non-pet owners. A vehicle full of medical equipment available at the beck and call of pet owners to transport animals as small as fish and as large as Great Danes sounded extravagant enough to be limited to those with substantial disposable income.
Watts initially figured the affluent upper class would be the target market for his ambulance services. But he quickly learned otherwise.
"As time went on, we [realized] a majority of our calls came from people like me, who work for a living, who didn't have millions of dollars to spend, but the pet was a vital part of their family."
The increasing willingness of pet owners to spend more money on their animals, regardless of their annual income, is helping fuel the popularity of pet ambulances. In 1994, the American Pet Products Manufacturers Assn. reported a total of $17 billion in U.S. pet expenditures. In 2007, the total shot to $41.2 billion, with $10.1 billion going toward vet-care expenses alone.
But even pet lovers can be reluctant to place their animals' lives into the hands of strangers, even if the strangers' hands are well-practiced in the field of emergency medicine.
Watts says that breaking into the business of pet ambulances was slow going. At the company's inception, he says, 99 percent of the calls made were from owners who wanted to move their already deceased pets. Owners didn't yet trust him to transport their living animals.
But years of reliable pet transportation gradually led that trust; Watts says since his company's beginning, A.M.E.R.S. has made more than 6,000 successful pet transports. Vets Make the Call Veterinarians have also warmed up to using emergency transport for pets.
Veterinary clinics often use pet ambulance companies to get their patients to an urgent-care facility without disruption of pets' medical needs, such as oxygen tanks or IVs. Some vet clinics even take matters into their own hands.
Buying an ambulance has proved profitable for WestVet veterinary clinic in Garden City, Idaho, says Danette Drake, marketing assistant. When the clinic opened a second hospital in neighboring town Meridian, it also opened a new can of worms: How could patients be efficiently and safely transported to and from the facilities?
The answer lay in Minnesota, where a 1985 human ambulance was purchased and driven to WestVet's clinic by a retired paramedic. With only 50,000 miles on it, the ambulance was converted into a pet-safe vehicle with modifications including four oxygen ports, kennels with safety straps and a slogan that reads "Pet Emergency Transport."
Adding ambulance service makes the clinic more marketable, Drake says. "It's been a really good investment for our company," she says.
Similarly, Seattle Veterinary Specialists in Kirkland, Wash., purchased an ambulance in October to work with its 24-hour emergency services. Geri Daily, head of marketing, says it enables veterinarians to transport animals between clinics.
But independent pet ambulance companies that aren't directly affiliated with a clinic must market themselves to both veterinarians and pet owners.
Some companies' calls originate from vet clinics. VetCab, which operates independently, has clientele comprising local veterinarians because the company hasn't started outside advertising.
A.M.E.R.S. courts veterinary clinics by offering discounted rates if clinics sign a contract agreement that icludes regular use of the ambulance.
Otherwise, Watts says, veterinarians pay the same rate that pet owners do, which vary depending on location.
He believes clinics that use his ambulances are making a smart move.
"The hospitals that tend to have contracts with us are the ones that are really into maximizing the profit potential," he says. "They're the ones trying to maximize every square inch of the facility to increase revenue."