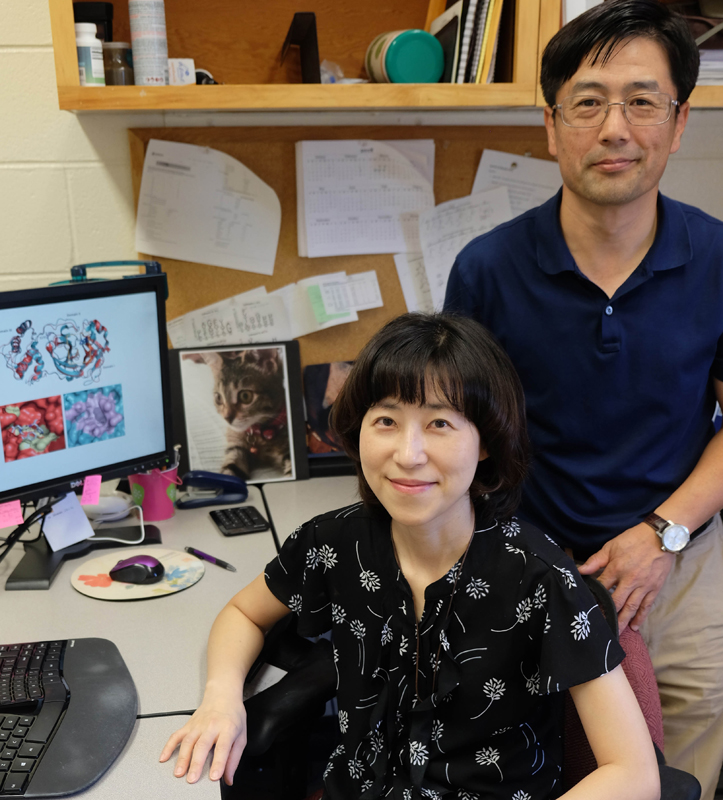 An effective therapeutic treatment for COVID-19 might be close at hand.
This is according to team of virologists at Kansas State University's (K-State's) College of Veterinary Medicine (CVM). Researchers Kyeong-Ok "KC" Chang, DVM, MS, PhD, and Yunjeong Kim, DVM, PhD, ACVM, have been using grants from the National Institutes of Health (NIH), including US$3.7 million dispensed in March, to develop antiviral drugs to treat various human coronaviruses, such as Middle East Respiratory Syndrome (MERS) and SARS-CoV-2.
The findings, which were published in Science Translational Medicine, reveal small molecule protease inhibitors show potency against human coronaviruses. These coronavirus 3C-like proteases (known as 3CLpro) are strong therapeutic targets because they play vital roles in coronavirus replication, K-State says.
"Vaccine developments and treatments are the biggest targets in COVID-19 research, and treatment is really key," says Dr. Chang, a professor of diagnostic medicine and pathobiology at K-State. "This paper describes protease inhibitors targeting coronavirus 3CLpro, which is a well-known therapeutic target."
The study, K-State says, demonstrated this series of optimized coronavirus 3CLpro inhibitors blocked replication of the human coronaviruses MERS-CoV and SARS-CoV-2 in cultured cells, as well as in a mouse model for MERS, suggesting further investigation into the series as a potential therapeutic for human coronavirus infection.
Co-collaborators include research teams led by Bill Groutas, PhD, at Wichita State University (WSU); Stanley Perlman, MD, PhD, at the University of Iowa (UI); and Scott Lovell, PhD, at the University of Kansas (KU).
The compounds in the publication are exclusively licensed and being developed by Cocrystal Pharma for COVID-19, K-State says.
The study, '3C-like protease inhibitors block coronavirus replication in vitro and improve survival in MERS-CoV-infected mice,' can be found here.