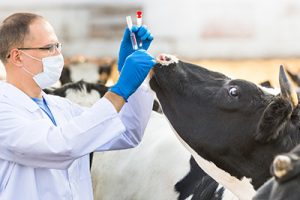 Under the Pan-Canadian framework to reduce antimicrobial resistance (AMR), the use of Medically Important Antimicrobials (MIA) on animals in Canada will soon require the supervision of a veterinarian. The agenda, which is part of an international campaign to reduce the use of human-critical medicines in livestock to slow the spread of AMR, will also move a number of MIAs to Canada's Prescription Drug List.
Announced by Health Canada in 2017, the regulatory change is a response to concerns voiced by the World Health Organization (WHO), which stated that existing antibiotics are becoming less effective at treating infections. Unless action is taken, WHO predicts even common ailments could become life threatening, with estimates indicating that, by 2050, annual worldwide human deaths attributable to AMR could reach 10 million.
"Antimicrobial resistance is a serious global health threat that cannot be overlooked," said Ginette Petitpas Taylor, Canada's minister of health. "Our government is committed to taking action to mitigate the impact of antimicrobial resistance on Canadians. We are enhancing surveillance, promoting good infection prevention and control practices, promoting the responsible use of antimicrobials, and supporting research and innovation for new prevention and treatment products."
The framework will apply to injectable MIAs, as well as in-water and in-feed formulations. As such, veterinarians, farmers, and feed mill operators across Canada are working on plans to reduce the use of these medications in livestock, as well as collecting data to demonstrate progress as it unfolds.
The Canadian Veterinary Medical Association (CVMA), with financial support from the Canadian Food Inspection Agency and Agriculture and Agri-Food Canada, has supported the initiative. The association recently hosted a workshop in Ottawa, bringing together veterinarians, feed mill representatives, commodity groups, and government officials to discuss the impending changes.
"We have reached a common goal on how the new system should operate," said Duane Landals, DVM, past-president of CVMA. "The workshop participants all agreed that we would work together to move this project forward."
Health Canada will announce specific commitments and measurable outcomes for the framework later this year.