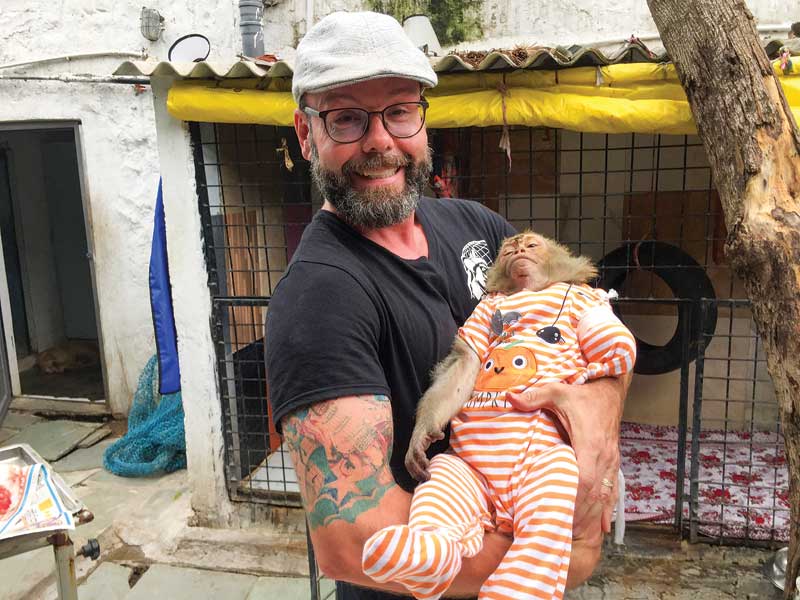 What do an American crocodile, a rhesus monkey, and a cave-full of Jamaican greater funnel-eared bats have in common? They've all received veterinary care from Cliff Redford, DVM, a 'worldwide veterinarian' who travels the globe to collaborate with local animal rescues to treat injured and sick pets of all species.
An alumnus of the Ontario Veterinary College (OVC), Dr. Redford has owned Wellington Veterinary Hospital, in Markham, Ont., for 20 years. His foray into volunteer veterinary work abroad began with a trip to Jamaica in 2016, and, since then, his drive for adventure has taken him to Greece, India, and Egypt. Redford travels with a team—among them, his daughter, Emily, who plans on becoming a veterinary technician, and colleagues from his clinic. The ups and downs of the trips are filmed and presented, documentary-style, on his YouTube channel, "Dr. Cliff Worldwide Vet."
"I focus our travels on countries that struggle economically," Redford says. "The animal rescue groups and shelters we volunteer with often struggle to find the help they need, and I'm constantly amazed at what they can do with such limited resources."
These days, along with employing traditional veterinary medicine to treat companion animals at his home base, you'll often find Redford in remote corners of the world, learning grassroots techniques from local veterinarians and helping bats, turtles, snakes, elephants, and more.
We recently caught up with the globetrotting veterinarian following his trip to India to talk about his experiences and why he's a better veterinarian because of them.
1) What inspired you to travel internationally to treat animals? Did you have to obtain any additional certification or immunizations to do so?
My first excursion was to Kingston, Jamaica, about four years ago. In part, the trip revolved around hopes of pitching a veterinary-adventure travel show. Though that dream never panned out, I fell in love with volunteer travel, and I've been pursuing it ever since.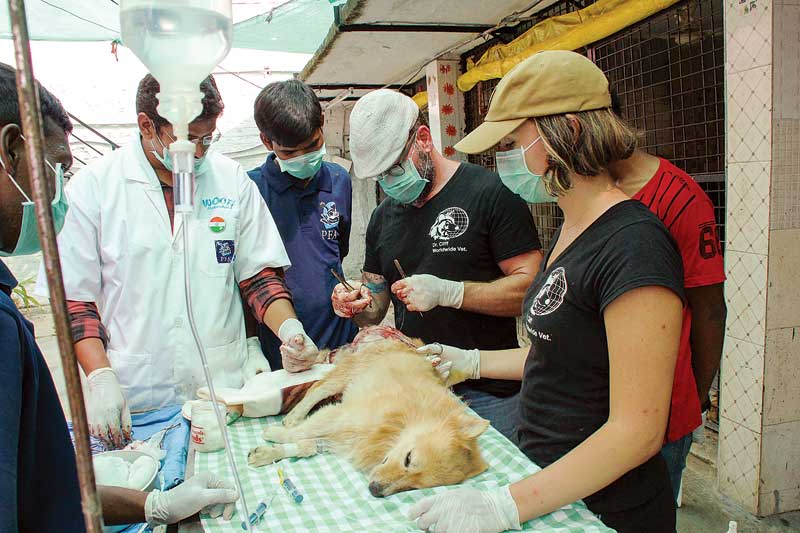 Certifications are a minor thing. Most countries seek proof you are a licensed veterinarian—if you're working with a shelter or rescue, that's good enough. As far as immunizations go, I've received many: tetanus, MMR, and rabies boosters, plus preventatives against hepatitis B, yellow fever, typhoid, cholera, chicken pox—I've even taken the travel diarrhea vaccine that tastes like battery acid. When I received a prescription for anti-malarial pills before going to India, I asked the doctor, "Do I take these if I get malaria?" He looked at me funny and said, "No, take these pills or you will get malaria." The medication gave me nightmares as a side effect, but I'm currently malaria-free.
2) What are among the most notable differences in how veterinary medicine is practised in Canada as compared to the other countries where you have volunteered? Likewise, what similarities
have you noticed?
Other than the passion and dedication of the veterinarians working in the countries I've visited, you won't find many similarities in how animal health care is practised. The medicine used is largely outdated or, more accurately, simply different. There are no inhalant anesthetics, and veterinarians often rely on xylazine. Most don't have the funds for third-generation antibiotics or opiates. Some of the medications used are only available locally—they're often of a holistic nature and work amazingly well.
Surgeries take place spur of the moment. There's rarely a chance to view radiographs, and you certainly can't run bloodwork. The surgical equipment used is occasionally engineered out of tools not intended for surgery. Nonetheless, the success rate I've seen is impressive, and the skill of the veterinarians and paraveterinarians is inspiring.
3) Tell me about some of the most memorable or challenging patients you've encountered while working abroad.
On my first trip abroad, the first surgery I performed was a pyometra spay on a 100-lb Akita named Auggie. I had no inhalant anesthetic, no anesthetic monitoring equipment, and my only source of light was a tall window. Worse still, her uterus ended up rupturing shortly before I started surgery. She was ehrlichia-positive and bled a ton!
Then there was the time I met an American crocodile in Jamaica that needed an enucleation, and the other time I was introduced to a rescued circus elephant that had skin lesions from the leg chains that had restrained her. I also rescued a handful of animals that had been burned in a wildfire in Greece, and once encountered a giant fruit bat with a dislocated digit. And I'll never forget the rhesus monkey I treated in India who had been hit by a car and suffered a broken jaw, head laceration, and hand wound. Honestly, I could go on and on.
4) How has your experience working alongside veterinarians in remote and often underserved areas shaped the way you practise at Wellington? What have you learned from these professionals and how have you applied these skills at your clinic?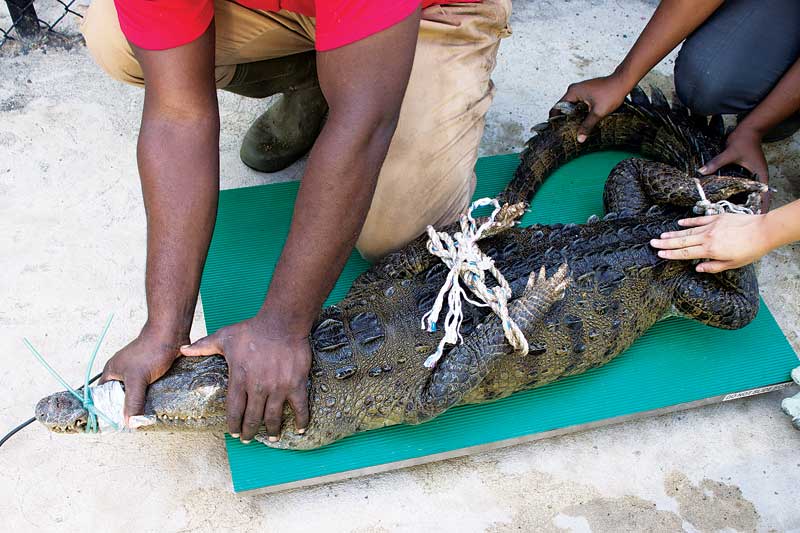 I've definitely learned from the veterinarians I've worked with. I've become a much faster and more efficient surgeon, and I've learned techniques I once considered advanced—like how to pin a bird's broken bones!
I've also learned that, as veterinarians, we know a lot more than we think we do. I had zero experience with wildlife and exotic animals, but by working with local veterinarians and trusting in the comparative anatomy and physiology lessons taught to me 25 years ago,
I realized that, together, we can do a lot of good.
Overall, the most important lesson I've learned is gratitude. We should always be grateful to have the chance to work in this profession, even with the long hours and challenging scenarios. I'm also grateful to live in such an amazing country, and for the chance to work with so many talented colleagues, both internationally and locally. This includes non-veterinarians as much as fellow veterinarians.
I've been reminded numerous times that kids and adults alike look at us as the lucky ones for having the chance to work with animals. Let's not forget how much we wanted this career as children—we're living out our dreams.
5) What advice do you have for veterinarians and veterinary students who are based in Canada, but are interested in working with rescue organizations abroad?
Do it—don't overthink it. Just do it. Go somewhere you have never gone before and embrace the culture, the challenges, the sights, the sounds, and the aromas. Make yourself uncomfortable by trying new things—this goes for your personal life as well. After all, if we aren't challenging ourselves and learning new skills—if we aren't failing almost as much as succeeding—we are wasting the finite life we have.
Check out Dr. Cliff's YouTube channel here.