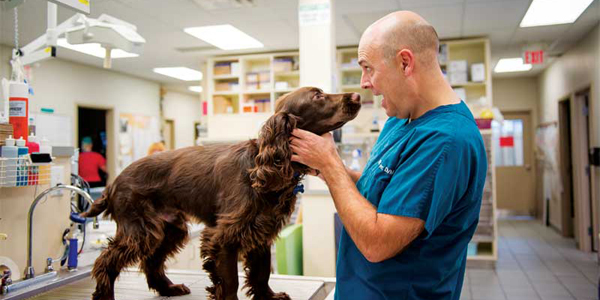 Toronto-based veterinary ophthalmologist Joe Wolfer, DVM, DACVO, traces his interest in animal medicine to his boyhood in the rural township of Delhi, Ont.
"When I was 15 years old, I had a particular Quarter Horse I loved, but she developed several serious health issues," he says. "The attending veterinarian, Dr. Terry Boys, was so dedicated, caring, and amazing. After seeing him work, I knew I wanted to be a veterinarian."
In 1988, Dr. Wolfer obtained his DVM from the Ontario Veterinary College (OVC), and then completed a one-year general internship at the Western College of Veterinary Medicine (WCVM) before specifying his focus on animal eye health.
Following his internship, Wolfer began a residency in ophthalmology at OVC, ultimately becoming board certified by the American College of Veterinary Ophthalmologists (ACVO) in 1994, and, in 2004, a member of the American Society of Retina Specialists (ASRS).
In 2000, he opened the Toronto Animal Eye Clinic and established a crackerjack practice team to treat pet eye diseases for an array of animals, including dogs, cats, birds, pocket pets, reptiles, and wildlife. The custom-built hospital employs cutting-edge diagnostic technology, including ultrasound, split-lamp biomicroscopy, and electroretinography to make accurate and fast diagnoses for pets across the Greater Toronto Area (GTA).
Alongside his clinical duties, Wolfer has found a passion for teaching, serving previously as adjunct professor of ophthalmology at OVC, as well as travelling the world to educate other professionals on animal eye health, specifically, retinal reattachment surgery.
"I have lectured on five continents and have seen a lot of the world simply by virtue of this passion for teaching," he says. "I've met many wonderful people and have learned so many amazing things by being invited to these conferences.
"What's more, the information I've picked up when teaching abroad goes into my future lectures to help improve the quality of veterinary ophthalmic care everywhere."
Veterinary Practice News Canada recently caught up with Wolfer to learn more about the various critters he treats at his specialty practice, as well as recent advancements he's exploring in the realm of animal eye health.
1) What inspired you to specialize in veterinary ophthalmology?
When I was an intern at WCVM, I failed to match with the surgery residency I wanted and I was devastated!
Once out in practice, I noticed Dr. Keith Barnett, a famous veterinary ophthalmologist from England, was scheduled to work at OVC for three months. I called the school to find out if I might meet him, and, following a series of 'fortunate' events, I became his assistant. Keith's passion for ophthalmology and teaching inspired me beyond words. I still practise and teach in many of the ways he taught me. 'Larger than life' doesn't even begin to describe this man.
2) What species of animals do you typically treat at your clinic?
We treat all species at our clinic, except for the most dangerous animal on the plant: humans!
Joking aside, we primarily see dogs and cats. That said, rabbits, snakes, chinchillas, turtles, owls, hawks, eagles, elephants, raccoons, foxes, and coyotes are among some of the other interesting creatures we have helped.
3) What is the most challenging or memorable case you've handled?
I faced what was probably my most challenging case when I was a resident at OVC. Rex, an elephant who lived at African Lion Safari, had a corneal ulcer. He was not the friendliest of elephants, and I had to rely on his trainer at all times to keep me safe while we operated. In the end, all went well and Rex soon had a healed and happy eye.
4) I understand Toronto Animal Eye Clinic does a lot of pro bono work. With which organizations have you partnered?
We perform free work for many wildlife organizations, including Toronto Wildlife Centre and the Owl Foundation. Owls are my passion, so a day with owls in the clinic is a fine day indeed.
We also do free examinations for all service dogs, including guide and personal assistant dogs, as well as working canines with police and fire departments.
I suppose this is my way of giving back, but, really, it's 'getting back'—having the chance to connect with these people brightens everyone's day at my clinic, so I think we get more than we give.
5) What do you consider the most rewarding part of working in animal eye health?
The most rewarding aspect of this job is the variety of things I get to see and do. We're always striving to find new and efficient ways of treating eye conditions to save pet owners' time and money, while also reducing anxiety in patients.
Some of our newest advances—such as corneal cross-linking for infected corneal ulcers, corneal glues for treating corneal wounds, and dropless cataract surgery for dogs—are game-changing procedures in the field of veterinary ophthalmology. Anything we can do to spare a patient anesthetics or complicated procedures and heal their eyes more efficiently means a job well done for the team at Toronto Animal Eye Clinic. It helps, of course, that I have the best ophthalmology team in the world.