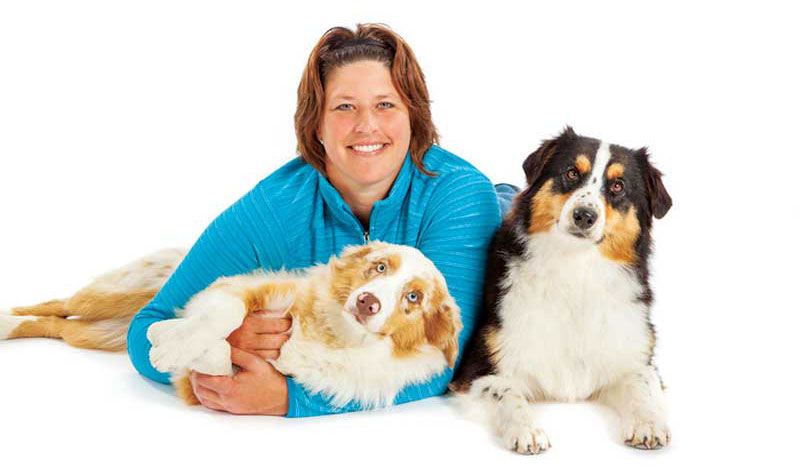 While plenty of animal health professionals are unsure of where, exactly, their careers will take them, most would not anticipate landing their own television show.
This was the case for Keri Hudson Reykdal, DVM. After graduating from the Western College of Veterinary Medicine (WCVM) in 2000, the Saskatoon-raised veterinarian took a job at a government-funded clinic in Ashern, Man., (population: 565) before moving into private practice in the same town in 2013.
"I'm a bit of an oddity," she tells Veterinary Practice News Canada. "Not only did I leave the city for a rural practice, but I've spent my career in one location and have been a solo mixed animal practitioner for almost my entire career."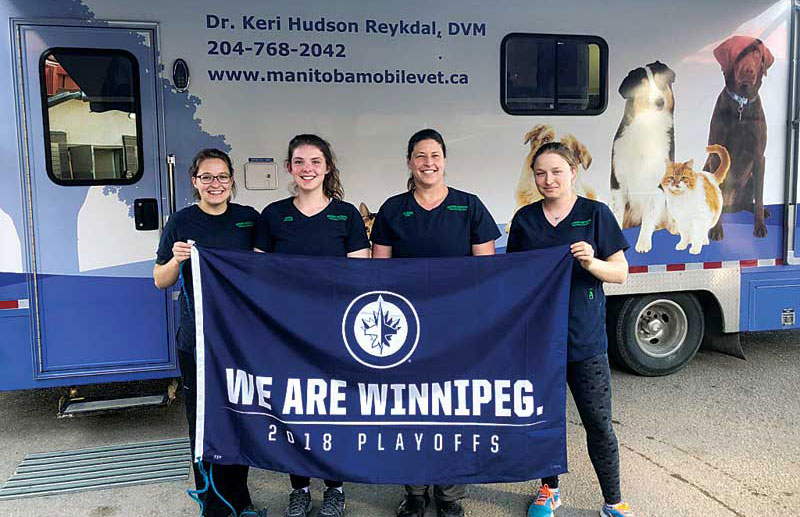 To maximize the care she could offer the remote community and its surrounding areas, Dr. Hudson Reykdal opted to open a mobile clinic along with her brick-and-mortar practice. Equipped with complete diagnostic equipment and more, the van helps the veterinary team treat animals, both large and small, in Manitoba's farthest corners.
"For the past seven years, we have spent a lot of time on the road in First Nations communities, assisting with prevention of overpopulation and community health by offering spay/neuter and vaccination clinics," she says. "My staff has been wonderful about giving up many weekends to help with this important project."
Hudson Reykdal's unique setup and menagerie of clientele, ultimately, caught the eye of a production company in neighbouring Winnipeg. In 2017, Dr. Keri: Prairie Vet premiered on Animal Planet Canada, providing viewers a glimpse into her daily life.
Veterinary Practice News Canada recently chatted with 'Dr. Keri' about the unique challenges facing rural animal health practitioners, how she made her foray into the world of television, and why, when you work as a solo veterinarian, 'the show must go on'—even after a bull nearly tears off your finger.
1) What inspired you to open Manitoba's first-ever mobile veterinary clinic? How many patients do you treat per day and how far do you travel to see them?
When I moved into private practice in a small town, I knew I would have to think 'outside the box' to build and maintain a successful business. My mobile practice allows me to work in communities without regular access to veterinary care, and it keeps me busy during times traditionally considered 'quiet' in a rural area.
When I first purchased the mobile hospital, the rescue groups in the province were the first to recognize the unit's potential, largely because they understood the value of providing care in communities without access to regular veterinary services. We started doing spay/neuter clinics with rescue groups, and are able to spay and neuter 25 dogs (or 50 cats) per day with a team consisting of one veterinarian, one technician, an assistant, and a team of volunteers. We have travelled seven-and-a-half hours north to provide spay/neuter and vaccination clinics to remote First Nations communities. Typically, however, we'll go two to three hours to reach areas in need of service.
We've also become a popular service for dog breeders. We travel to dog shows and to breeders' kennels to provide wellness services and health clearances for purebred dogs.
2) Tell me about Dr. Keri: Prairie Vet. Have you found it has increased understanding of the scope of your work?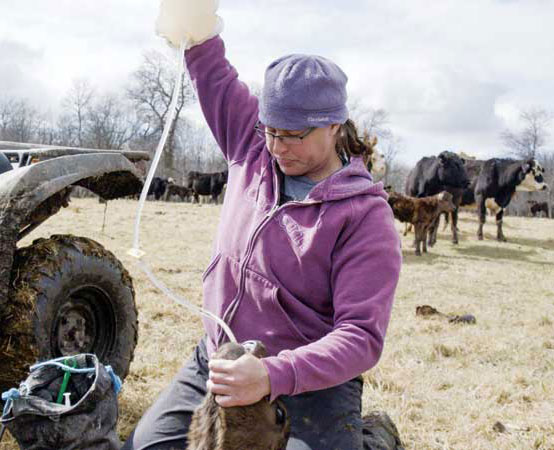 A friend I met through the dog show world worked for Merit Motion Pictures, a production company in Winnipeg. We were connected on social media, and she often commented on how 'crazy' my life was as a rural mixed animal practitioner. Ultimately, she pitched the idea of a series because she saw value in urban populations learning about rural life through the eyes of a veterinarian. It was certainly not an overnight success—it took five years for the initial pilot to be picked up by a broadcaster. I just looked at it as a once-in-a-lifetime opportunity and not something I had ever aspired to.
I don't think many veterinarians watch the show—why would we want to watch something we do all day? That said, colleagues have mentioned their kids really like the show, which is awesome. I love that we get a chance to inspire a new generation of future veterinarians!
Giving viewers an up-close look at a regular day in the life of a rural veterinarian is great. It helps build trust and rapport with the animal-owning community because they see we're just regular people and we love animals. When developing the show, it was important we represent excellent veterinary care in a rural setting so people understand that just because we're rural doesn't mean we compromise care for our patients. We collaborate with colleagues and routinely refer to specialized practices for any services I deem 'above my pay grade.'
3) Which species of animals do you treat? Can you share a story of a patient that was particularly memorable?
We regularly treat dogs, cats, horses, and cattle. I have always believed that if I don't do something on a regular basis, I won't gain proficiency. For things like orthopedics, pocket pets, and in-depth equine cases, for example, I refer to colleagues. As it is, keeping up with the species I work on takes a tremendous amount of time and resources—we have a full lab, digital X-ray, ultrasound, and digital dental X-ray. We also have a veterinary truck for large animals and a cattle handling facility.
A memorable case for me is something particularly representative of being a solo veterinarian, for better or for worse. A few years ago, I tore the end of my middle finger off when a bull went down in the chute during semen testing and trapped my hand. I ended up at the emergency room in Winnipeg, which was two-and-a-half hours away. A plastic surgeon was able to save most of my P3, but it was incredibly painful. Of course, this was during my busiest season and I really couldn't take time off. One week after it happened, while my finger was still completely bandaged and unusable, a very sick dog came into the clinic. We did X-rays and found multiple pellets in the abdomen. We did an exploratory and I discovered a 30-cm length of devitalized bowel. An agonizing four hours later, I ended up having to resected several sections of intestine. Each time I placed a suture, I would accidentally hit my injured finger and almost vomit—but the dog pulled through and did great.
4) What do you consider to be among the unique challenges faced by veterinarians who work in Canada's more sparsely populated and/or rural areas?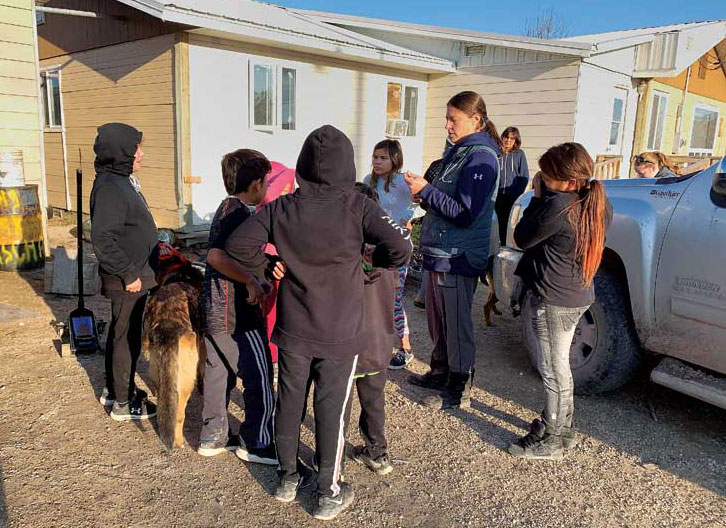 Social isolation is very challenging. I think working with colleagues is so important, particularly for moral support with difficult cases and clients.
Also, being on-call 24-7 is mentally and physically draining. Canada presents a different set of challenges than the United States because our country is so massive with a relatively small population base. Specifically, rural areas lack resources and access to many things urban populations take for granted.
5) What do you do to maintain work-life balance and avoid potential burnout/compassion fatigue?
I have learned you must care for your own mental health. I have a lot of hobbies, and I take the time off to do them. I have also learned to say 'no.' I think it's important to remember you can't be all things to all people. At my clinic, we have a small staff and maintain a positive work environment. We know it's a safe place to vent about difficult cases and celebrate successes. We do not allow toxic clients and I stand up for my staff. We are a small practice, and this lets us stay fairly informal, which allows for flexibility.