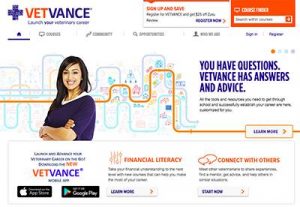 Zoetis has launched a mobile version of its VetVance website.
VetVance, a free educational resource, provides veterinarians, veterinary students, recent graduates, and veterinary technicians with online content relating to professional development, business skills, professional stewardship, financial literacy, and personal wellness.
The new mobile app, available for use on iOS smartphones/tablets and Android smartphones, features many of the tools found on the VetVance website, including courses, course progress tracking, and registrant profiles.
Registrants who use VetVance span multiple areas of interest, including small-, large-, and production-animal medicine, as well as academia, laboratory, industry, and other areas. They represent a range of professional veterinary experience and include nearly 8,000 students enrolled in, and more than 6,000 practicing veterinarian graduates from, a U.S. or Caribbean college of veterinary medicine.
"Currently, VetVance has nearly 17,000 registrants globally," said Christine Jenkins, DVM, DACVIM, vice president and chief medical officer, Veterinary Medical Services and Outcomes Research at Zoetis. "This new mobile app will provide additional access for users, and more opportunities for Zoetis to reach an even broader audience with important messaging around topics of greatest interest to the veterinary professional, including personal wellness and financial literacy."
The free VetVance mobile app provides users the ease of:
Registering, creating, or updating their user profile on VetVance from any iOS mobile phone or tablet, or Android mobile phone;
Viewing course videos on business skills, professional development, financial literacy, professional stewardship, and personal wellness.
Building a professional community among registrants with similar areas of interest
Tracking individual course progress and learning assessments
Applying for the Zoetis Veterinary Student Scholarship (eligible students)
Search for the VetVance mobile app in Apple's AppStore or Google Play.