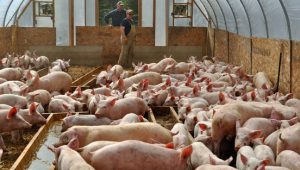 The World Health Organization (WHO) launched new guidelines regarding the use of antimicrobials in food-producing animals, urging farmers and the food industry to stop using antibiotics to promote growth and prevent disease in otherwise healthy animals.
The guidelines were announced ahead of World Antibiotic Awareness Week, Nov. 13-19.
The WHO recommends an overall reduction in the use of all classes of medically important antibiotics in food-producing animals, including complete restriction of these antibiotics for growth promotion and disease prevention without diagnosis.
Healthy animals should receive antibiotics only to prevent disease if it has been diagnosed in other animals in the same flock, herd, or fish population, according to the WHO.
The new guidelines aim to help preserve the effectiveness of antibiotics important for human medicine. They recommend that antibiotics used in animals should be among those that are the least important to human health, and not from those classified as "critically important."
The European Union barred the practice in 2006, and a US ban on use of "medically important" antibiotics kicked in at the beginning of this year, according to the WHO.
"A lack of effective antibiotics is as serious a security threat as a sudden and deadly disease outbreak," said Tedros Adhanom Ghebreyesus, WHO director general. "Strong, sustained action across all sectors is vital if we are to turn back the tide of antimicrobial resistance and keep the world safe."
The WHO also recommends improving hygiene, better use of vaccination, and changes in animal housing and husbandry practices as alternatives to using antibiotics in animals for disease prevention.
Challenges to come
Not everyone is 100 percent on board with the WHO's vision.
Liz Wagstrom, DVM, chief veterinarian of the National Pork Producers Council, agreed that America's pork farmers are also concerned about the rise in antibiotic-resistant bacteria, but she said a ban on prevention uses of antibiotics in food-animal production is ill-advised.
"A ban on disease prevention uses of antibiotics in food-animal production being advocated by the World Health Organization would be ill-advised and wrong," said Dr. Wagstrom. "Denying pigs, cows, and chickens necessary antibiotics would be unethical and immoral, leading to animal suffering and possibly death, and could compromise the nation's food system."
US pork producers understand the importance of ensuring responsible antibiotic use in animals to protect the efficacy of antibiotics for humans and animals, she said.
"They share the WHO's concern about the rise in antibiotic-resistant bacteria, which is why they have taken steps over the past 30 years to ensure they're using antibiotics strategically and responsibly to keep animals healthy and to produce safe food."