"I'm so sorry, but all of the 27 animals you have entrusted in my care have died," read the note posted outside of a small-animal hospital in Waveland, Miss.
It was a note that Trey Wofford, DVM, owner of Palmetto Vet Calls mobile clinic, found after Hurricane Katrina stormed through their small town in 2005, and one he prayed he would never have to write.
"I put myself in the place of those veterinarians, and if the animals had been in my care, I would have felt horrible," he says.
While the storm left behind a trail of ripped roof shingles and shattered windows, many veterinarians were left with similar feelings of chaos and brokenness.
As June marks the beginning of another hurricane season and the Humane Society of the United States' national animal preparedness month, others are still plagued by the question of what they could have done differently to better prepare. That was certainly the question Gregory Rich, DVM, asked himself after he found his exotics practice, the West Esplanade Veterinary Clinic in Metairie, La., in shambles.
"Without a roof, it looked like a mixer [had come through] the inside of the building," he says. "It was about 98 degrees inside with mold everywhere and no air."
Before the storm hit, Rich had rented an air-conditioned cargo van, just in case evacuation became necessary, and was able to drive all 33 of the animals staying there to his brother's house in Florida.
Although it has taken 18 months—and extensive remodeling and reconstruction—for Rich to restore his clinic, he has put a positive spin on the situation by using his experience to teach other veterinarians about what to do before disaster strikes.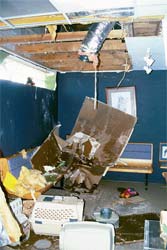 It has taken Gregory Rich, DVM, nearly two years to restore the West Esplanade Veterinary Clinic after Hurricane Katrina tore through its ceilings.
A frequent speaker on disaster preparedness at veterinary conferences around the nation, Rich advises veterinarians to have all of their paperwork, including client files, bank files, loans and leasing contracts, backed up on a zip drive or external hard drive.
HSUS also offers programs that give step-by-step advice on what actions to take to prepare for and respond to emergencies. Its Disaster Animal Response training program June 13 to June 15 in Deerfield, Ill., is a 22-hour, three-day course that covers incident command, animal handling, responder safety and emergency animal sheltering.
On the business aspect of preparation, Rich also stresses the importance of being well-insured. Although he estimates his total construction costs and content damage to be close to $450,000, his insurance covered only a portion of the bill.
Wofford's business wasn't directly affected by the storm because his practice is mobile, but the devastation Katrina caused inspired him to get involved in emergency preparedness. He is part of a volunteer group that responds to emergencies locally by providing assistance to other veterinary clinics and hospitals.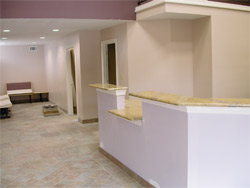 The clinic's front desk and waiting room, above, have been remodeled. Photos Courtesy of Dr. Gregory Rich
"We're getting a network together so if something happens, we can go and help them," he says. "I've got the perfect vehicle to provide on-site veterinary care. I have a generator and can do surgery."
Since not all clinics have the luxury of having help drive to their doorstep, Wofford says one of the most important steps of disaster preparedness is choosing a safe location to evacuate to—and one that also meets the needs of the animals in your care.
"Responses after a disaster start locally," says Kathy Covey, HSUS public information officer for disaster services in Washington, D.C. "As a national organization, we might not be able to get to, say, California for a few days. Develop a relationship with your local humane society and animal control and find out what services they offer."
Veterinarians should also consider resources outside of their immediate area, such as nearby veterinary schools, says Tiffany Mahaffey, disaster preparedness manager for the American Society for the Prevention of Cruelty to Animals. She says the University of Louisiana's veterinary school was a great help in providing aid during Katrina.
Whether it's a hurricane, earthquake or flood, veterinarians should be aware of the immediate threats to the areas in which they live, and also of the best driving route to safety when disaster strikes, Mahaffey says.
When a blizzard hit Lamar, Colo., in January, ASPCA team members were called to rescue trapped sows that were in medical distress.
The team had to dig trenches in the snow to get the animals out of their huts safely. And the snow wasn't the only obstacle.
"When you're trying to move a 1,000-pound hog, it's certainly not as easy as it sounds," she says.
Factors such as an animal's size make it crucial to not only have a plan, but to test it ahead of time.
On any given day, Mahaffey advises veterinarians to count how many carriers they would need to evacuate the animals currently staying in their facility and what size carrier each animal would require. She recommends that once or twice a year, staff practice loading the carriers into a van to make sure they fit properly.
"It's one thing to have a good plan, but another for the staff to know how to [implement] it," Mahaffey says. "Take five to 10 minutes everyday and walk through your clinic thinking, 'If I had to evacuate the clinic at this very moment, how would I do it?'"
Once veterinarians know how they will transport the animals, they should also be aware of how to identify them and their medical problems quickly.
Attaching information cards to a pet's carrier can make it easier to recognize a diabetic dog that will need insulin shots, she says, adding that staff should make sure to have enough supplies to last the duration of an evacuation.
Although Mahaffey says the general conception is that federal assistance arrives within a 48-hour period in an emergency, she says it's best to stock enough supplies, including food and water, to last at least three to four days.
To make the process of reuniting clients with their pets easier after an evacuation, Mahaffey recommends that veterinarians ask clients for the contact information of someone who does not live in their household.
When Rich returned to Metairie after the evacuation, he said it took almost four months to locate the pets' owners, many of whom had lost their property in the storm. "Out of the 33 animals we evacuated, 26 were owned by clients and all were safely returned to their rightful owners," he says.
Owners can also do their part by making sure their pets wear ID tags on their collars.
"You'll never cover every scenario, but thinking about the 'what ifs' will help prepare you," Mahaffey says.
For more information on disaster preparation and to register for courses on the topic, visit www.hsus.org/disaster.