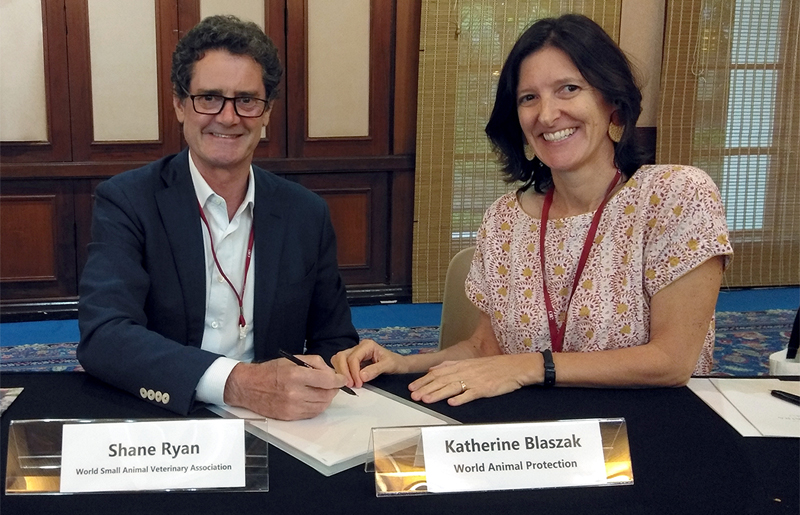 Two international animal-focused groups are collaborating resources to draw attention to the role veterinarians play in managing global dog populations and eradicating rabies.
World Small Animal Veterinary Association (WSAVA) and World Animal Protection have engaged in a memorandum of understanding (MOU) aimed at raising awareness of animal welfare issues and promoting its education on a global scale.
Specifically, the agreement prioritizes how veterinarians can help with the humane management of the global dog population, as well as in the control and eradication of the rabies virus. The two organizations hope the collaboration will engage and mobilize veterinary professionals.
The agreement marks the second MOU for WSAVA and World Animal Protection. The first was signed in 2014, following World Animal Protection's 'Red Collar' campaign, which was aimed at improving the lives of dogs globally.
"Dogs have long been viewed as man's best friend, but, sadly, the majority of the free-roaming global dog population lives under the constant threat of persecution and violent culling," says Pankaj KC, program director for Animals in Communities at World Animal Protection. "Our continued collaboration with WSAVA means we can, together, continue to safeguard the lives of dogs and people in these communities and help humans and dogs live together in harmony."
Under the terms of the MOU, WSAVA members will have access to World Animal Protection's 'Life's Better with Dogs' campaign resources, as well as its 'Animals in Disasters' Prepvet veterinary training course.
"This second MOU is an extension of our important collaboration with World Animal Protection," says WSAVA president Shane Ryan, B.VSc., MVS, CertVetAcupuncture, GradDipAnimChiro, MChiroSc, MRCVS. "It puts more focus on the role of the veterinarian in humane dog population management and rabies control, issues in which our Animal Wellness and Welfare and One Health Committees take a strong interest."