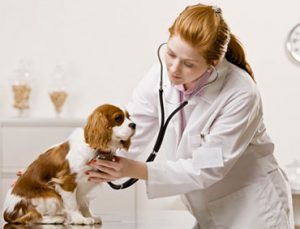 Veterinarians as a group don't experience psychological distress at significantly higher rates than the general population, according to a new mental health and well-being study by Brakke Consulting and Merck Animal Health.
The Merck Animal Health Wellbeing Study, designed to definitively quantify the prevalence of mental illness and stress in the veterinary profession, compared findings to previous studies and to the U.S. population in general. The survey, which polled 3,540 American Veterinary Medical Association members (from a random sample of 20,000), is the first to measure well-being of such a large veterinary sample using the Kessler Psychological Distress Scale, which is widely used in assessing psychological distress among general and clinical populations.
"This survey is unique in that, for the first time, a nationally representative sample of veterinarians in the U.S. were asked about their well-being, which is a broader measure of happiness and life satisfaction than mental health alone," said study investigator Linda Lord, Ph.D., DVM, academic and allied industry liaison lead for Merck Animal Health.
One big takeaway is that 5 percent, or 1 in 20, of veterinarians struggle with serious psychological distress (roughly that of the employed general population).
"The good news is that veterinary medicine does not have a mental health crisis," Brakke analyst John Volk said, but tempered his statement by adding that "most vets are mentally well, but they have poor well-being."
The not-so-good news
Another big takeaway is that younger and female veterinarians, those age 45 or younger, are more likely to experience psychological distress than older male veterinarians and the general population.
And that's the greatest concern, according to Dr. Lord.
"They are the future of our profession," she said.
Veterinarians under the age of 45 report greater rates of "serious psychological distress" than the general population and reported experiencing high rates of depression (94 percent), compassion fatigue/burnout (88 percent), and anxiety/panic attacks (83 percent). Among this group's primary concerns are high student debt (67 percent), stress levels (53 percent), and suicide rates (52 percent). Among veterinarians age 34 and younger, only 24 percent would recommend the profession to friends or family, compared to 62 percent of veterinarians age 65 and older. Just 41 percent over all would recommend becoming a veterinarian, compared to 70 percent of the general population.
This adds up to less a less than satisfying sense of well-being, which Volk defined as "how you feel about your life compared with the ideal." Veterinarians are legitimately worse off in this area than those in other professions, he added, but, unlike those experiencing serious psychological distress, which often requires therapy, medication, or both, individuals can improve well-being by making lifestyle changes.
However, such factors as high student debt, relatively low income, poor-quality personal lifestyle (limited family time, socialization, exercise, etc.), and spending too much time on social media, seriously complicate the situation.
The long road ahead
"We don't have to panic, but we can't ignore what we've learned," said Elizabeth Strand, Ph.D., LCSW, director of veterinary social work at the University of Tennessee, in reference to Volk's earlier declaration.
One piece of the mental health puzzle Dr. Strand referred to is that only half of the veterinarians who experience serious psychological distress are seeking treatment. Less than one in five (16 percent) had sought mental health or well-being resources via state or national vet groups.
What accounts for this low reporting? Perceived and real stigma around seeking mental health resources, as well as difficulty getting out of work to actually see someone, according to Lord.
To address this problem, study collaborators and analysts recommended that veterinary organizations advertise wellness resources better, continue to seek ways to reduce student debt and improve financial conditions, especially for young veterinarians, and educate members about signs, symptoms, and rates of mental illness among veterinarians. Employers can help reduce barriers to treatment by allowing time off for doctor's appointments, discussing and establishing healthy work-life balance expectations, and launching new-employee mentoring programs. Individual veterinarians can develop a stress management plan with help from a mental health professional or coach; make time for friends, family, and exercise; enlist a financial planner to help tackle debt; limit or eliminate social media; monitor themselves (and others) for signs of distress; and engage in mutual peer support.
"Veterinarians today cope with a physically and emotionally demanding occupation that is undergoing changes from increased competition to the declining ability of clients to pay for veterinary care," said Jen Brandt, LISW, Ph.D., director, well-being and diversity initiatives AVMA. "Moreover, veterinarians often find themselves giving up the things that improve well-being and provide a healthy balance in life, such as family, friends and time for self-care."
It's time to put change into motion, Lord said.
"Just like children can't be healthy in unhealthy homes, veterinarians can't be healthy in unhealthy practice environments," she added.
KEY FINDINGS
Mental illness among veterinarians similar to the general population

Many affected are not receiving treatment

Overall, well-being is slightly lower than in the general population

Significant variation by profession segments
AVMA RESOURCES