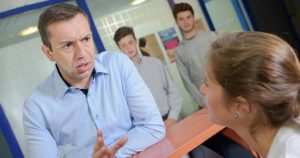 A new survey from the British Veterinary Association (BVA) found that nearly 85 percent of veterinarians in the UK have experienced some form of intimidation and have felt threatened by a client's language or behavior.
The survey queried more than 1,600 members of the BVA.
Clients are likely to pressure their pet's veterinarian to waive fees and become angry and aggressive over the cost of care, according to the report. This behavior includes swearing, shouting, threats to damage property, disparage the clinic on social media, and even threats of death, according to survey participants.
Support staff, women, and younger veterinarians seem to bear the brunt of client anger, according to the survey.
Other survey findings:
Vets who work with companion animals or in a mixed practice are particularly likely to have experienced difficult clients, with 89% reporting some form of intimidating experience
6 in 10 vets said they or a team member experienced intimidating language or behavior at least every couple of months, while almost a third at least monthly
1 in 8 vets said they suffered intimidating language or behavior on a weekly basis
Cost of treatment was one of the most common reasons for threatening behavior, with 98 percent of vets admitting feeling under pressure from clients to waive fees or accept late payment
"These statistics make for sad reading, but are certainly not surprising," said Sam Morgan, president of the British Veterinary Nursing Association. "Working within practice we have all either been subject to or witnessed that 'difficult' client. We understand there can be a lot of distress when pets are ill, but this is no excuse to be aggressive or intimidating to a member of the veterinary team. It's important not to feel alone in these situations and to ensure there is awareness and support throughout the veterinary team."
"Every situation is different and has to be dealt with on an individual basis, but it's concerning to see the figures around challenging client [behavior] and fees," said John Fishwick, president of the BVA. "Owning an animal is an important responsibility and will cost tens of thousands of pounds over its lifetime. It's important for everyone in the vet team to take pride in the healthcare and treatment they deliver, and, equally, they must feel valued for their services. These figures emphasize the importance of managing expectations around fees by ensuring a two-way discussion about options and costs so clients can make a decision in collaboration with the veterinary team."