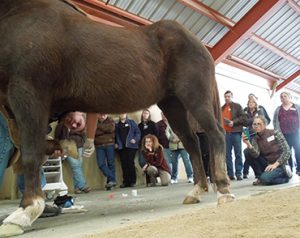 The 32nd Annual Charles Heumphreus Memorial Lecture will take place Feb. 3 at the UC Davis School of Veterinary Medicine (SVM). This year's event features farrier Daisy Bicking, APF-I, CFGP, CE/CI, founder of Daisy Haven Farm: School of Integrative Hoofcare, and Nicholas Frank, DVM, Ph.D., DACVIM, professor of large animal internal medicine, the chair of the Clinical Sciences Department, and associate dean of Academic Affairs at the Cummings School of Veterinary Medicine at Tufts University.
Farriers and equine veterinarians are invited to attend the lecture, which honors Charles Heumphreus, the school's farrier from 1967 to 1985. The program was initiated to foster the veterinarian-farrier relationship in order to develop a better understanding of equine foot disorders.
Registration and a complete schedule for the event can be found on the UC Davis website.
The Heumphreus Lecture serves as an opportunity for farriers and veterinarians to share insights and collaborate on industry best practices. A veritable "who's who" of farriers and veterinarians have served as past guest lecturers. This year's program will focus on laminitis and endocrine disorders.
Lecture details
During the morning session, Bicking will present "Hoof Mapping – Relating External Landmarks to Internal Anatomy in the Laminitic Foot" (which will highlight foundational principles to evaluate the laminitic foot with a focus on hoof mapping) and "Rehabilitating the Chronically Laminitic Foot Using Composite Materials" (which will highlight the use of synthetics in the treatment of laminitic horses). Dr. Frank will present "The Role of Endocrine Disorders in Laminitis," which will present background information for farriers and veterinarians to better understand the association between laminitis and pituitary pars intermedia dysfunction and equine metabolic syndrome.
The afternoon hands-on session will include a demonstration by Bicking that will focus on evaluating the laminitic foot, including hoof mapping and trimming, followed by selection and application of composite materials. Following that will be a hands-on opportunity for farriers and veterinarians to apply the techniques described during the demonstration using models and/or equine limbs.
Winter Conference
New this year are three additional CE credits for equine veterinarians as part of the CE office's sister event, the Winter Conference, which will be held in Valley Hall. Following the Heumphreus Lecture, Frank will present "Navigating the Minefield of PPID and EMS Diagnostic Testing" and "Management of the Challenging Endocrine Case." Also presenting at the Winter Conference are UC Davis' own Drs. Julie Dechant and Nicola Pusterla, who will present colic surgery outcomes and dental disease in the geriatric patient, respectively.
The equine Winter Conference lectures are offered at a special registration price of $100 for Heumphreus attendees. Registration for these lectures is only available through the Heumphreus registration link.