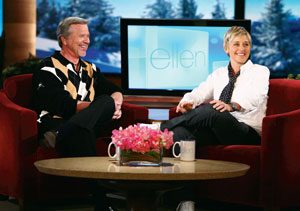 Ernie Bjorkman, a Denver news anchor for more than 26 years, was recently laid off when two competing news stations merged, a layoff many Americans are experiencing in this economic climate.
The Bureau of Labor Statistics of the U.S. Department of Labor reported that the unemployment rate rose to 7.6 percent in January. About 598,000 jobs were lost that month, the department said, meaning the number of unemployed people is at 11.6 million.
Bjorkman, whose last day at Denver's News2 was Dec. 31, was fortunate. He already had a backup plan in motion: Become a veterinary technician.
"On Dec. 31, I looked in the mirror and I didn't have to say, 'What are you going to do now?' because I had this other path going," said Bjorkman, who just graduated as a veterinary technician after 2 1⁄2 years at the Community College of Denver.
Bjorkman said he doesn't know whether it was a supreme being or a Mr. Bluebird on his shoulder, but he woke up one morning a couple of years ago thinking, "I need to rekindle my passion, and that was veterinary medicine. The TV job is not going to last forever."
Bjorkman said he always had a love of animals and was one of those kids growing up who picked up strays off the street. At one point he had considered becoming a veterinarian, but one thing led to another and he ended up in broadcast journalism, where he spent 36 years.
After deciding to rekindle his passion, Bjorkman looked into becoming a veterinarian but decided he didn't have the time or money.
Becoming a veterinary technician was the next best thing, he said, and the college program fit his schedule. Bjorkman was able to go to school and do internships in the morning and still get to the news station by 2 p.m.
"To say the least, the last 2 1⁄2 years have been very hectic," he said. "My golf game went to hell, I couldn't work out and my wife hardly saw me. It was a big sacrifice, but the more I was into it, the more I knew I loved this passion and I knew I was there for a reason."
Bjorkman said he realized one day about six months ago that he would rather work all day at the vet clinic where he was interning than break off and go to the station.
"I knew at that point that my passion for being a veterinary technician was really on the rise and my passion for doing the news had plateaued or even possibly had gone down a bit," he said. "I knew I was at a crossroad."
The career move calls for a change in priorities. Bjorkman and his wife, Susan, need to adjust to a new lifestyle because his annual salary will drop from $210,000 to about $35,000. The couple is selling both their homes and is looking into living more simply by watching their budget, something they didn't do before, he said. Susan doesn't work but may pick up a part-time job.
Bjorkman emphasized that his self-worth is not based on salary and quoted the old saying, "Money doesn't buy you happiness."
"I'm probably happier now than I was six months ago," he said. "My wife and I are communicating more and are closer for that. Money is great, but it's not everything. It took me 58 years on this Earth to finally realize that."
Bjorkman's story has attracted national attention. He appeared on "The Ellen DeGeneres Show" in late January. The comedian and talk-show host invited Bjorkman to share his story and to offer the veterinary clinic that hires him a year's supply of pet food (a $5,000 value) from Halo, Purely for Pets, a natural pet food company which she co-owns.
At press time, Bjorkman had finished his first interview with a veterinary clinic in the Colorado Springs area and was lining up several others.
While he may have lost his job as an anchorman, he feels happy and fortunate to be on a new and exciting career path.
"There are two things I always tell people," he said. "Things happen for a reason, and when one door closes several others open. I'm a firm believer of both of those."
Bjorkman, who doesn't plan on retiring until his mid- or late 60s, thinks everyone should have a backup plan.
"I don't care how secure you feel in your job right now, have something in your back pocket," he said. "Take time to ask, 'What would I do if I lost my job tomorrow?' Act on your passions, act on your hunches and go back and get another skill or another trade. I didn't think it was going to happen to me and it did.
"You just never know, especially in this day and age."