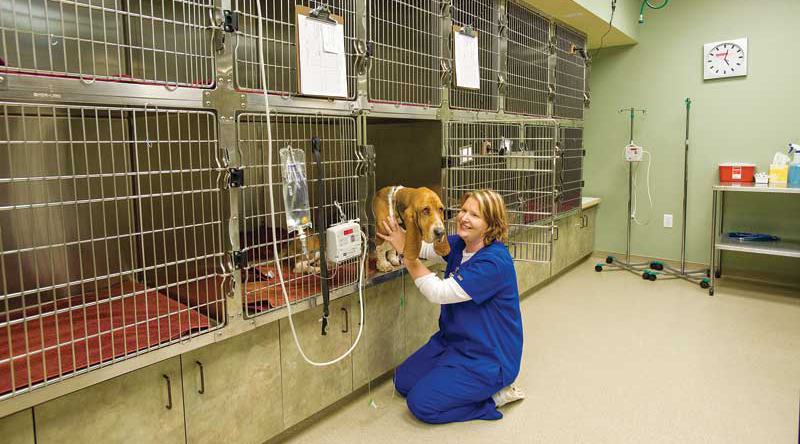 The pandemic saw an explosion of pet adoptions, triggering an increase in veterinary visits. Indeed, researchers point to this trend driving a 4.3 per cent increase in veterinary services in Canada for 2021.1
There is optimism for continued growth in veterinary practices: a recent survey of North American veterinary clinics saw 77 per cent report they are seeing more patients now as compared to before the pandemic.2 With that growth, of course, comes the demand for new and better equipment.
This is an overview of the newest trends in veterinary housing. With economic experts predicting rising inflation, some financial advisors are recommending investing in capital equipment now to satisfy your hospital's future needs.
Changes from pandemic
The pandemic brought in a huge shift to drop-off or telemedicine appointments. Research shows about a third of North American veterinarians have kept this as a standard offering.3
Some of the products veterinarians turned to were mobile stainless-steel cage banks. They easily augment housing when back cages are full, as well as provide a staging area for pets ready to be picked up. Overall, a 1.8-m (6-ft) wide assembly was the top choice because it provides larger units on the bottom and smaller on top.
Look for a well-made cage assembly that easily moves around in your facility. It can become a versatile housing area. Once travel returns, it can provide extra boarding space, as well.
Mobile transport and organization
For tired staff members moving pets from the parking lot and to different triage and treatment areas, mobile units helped ease back pain. There are several mobile treatment tables to add extra triage and treatment space.
Treatment areas have become even busier, so having a lift table that easily adjusts height for different veterinarians and technicians helps. Look for a durable unit with tie-down bars to help keep everyone safe, and a sturdy surface for treatment and assessment. Larger units allow more space for charts and/or tablets.
Keeping track of a pet's belongings becomes more difficult as you take in more drop-off visits, as canine patients come with leashes and other essentials. Organizers, such as a cage valets, are a favourite among staff. These tools provide an easy place to store items, so no one struggles to find them at pick-up time.
Canine cage basics
Stainless-steel cages have been the go-to housing for generations. They are easy to clean, and the durable cage doors easily accept IVs, pumps, and other treatment attachments.
Cages are modular housing units that fit together to form cage banks or set in walls. While 0.45-m (18-in.) square cages used to be common, the current trend is to provide more space for both dogs and cats to decrease confinement stress.
Practically, most cages start at 0.6-m (24-in.) and increase in increments of 152 mm (6 in.), creating a set of standard width sizes. Additionally, there are three standard heights: 0.6, 0.8, and 0.9 m (24, 30, and 36 in.). Standard depth is 0.71 m (28.25 in.).
Save money by designing your cage banks in standard configurations; this allows you to create dozens of combinations. Most manufacturers will have a configurator to design your choices.
When buying, look for clean edges and doors able to be removed easily for cleaning. Rounded corners and clean welds make cages easy for staff to clean and long-lasting. Extra bars near the latch protect both curious paws and staff members.
Many facilities put carabiners in the lock area to make sure cages are secured at night to prevent pet escape artists. 
Retrofits for larger cages
Balancing for space can be a struggle. If your practice has a surplus of 1.2- m (48- in.) or wider double-door cages, you can easily retrofit with dividers. This allows you to create two housing areas for smaller dogs from one larger space. When you need the larger area, just remove the divider.
A 'pro tip' is to buy several dividers, then mix and match them for different cages as needed. Dividers are sold by the height. If you have double-door kennels of the same height and standard depth, one divider will fit most of your cages regardless of width if the height is the same.
Run gates
Large kennel runs have exploded in popularity among both veterinary practices and pet boarding areas. Indeed, as we see an influx of rescue dog adoption, these gates could help your practice become a lifeline to clients who are first-time shelter pet owners. Further, if your staff can provide boarding to dogs that might not meet doggy daycare standards (due to behaviour challenges, anxiety, etc.), you will certainly reap the owner's gratitude and loyalty.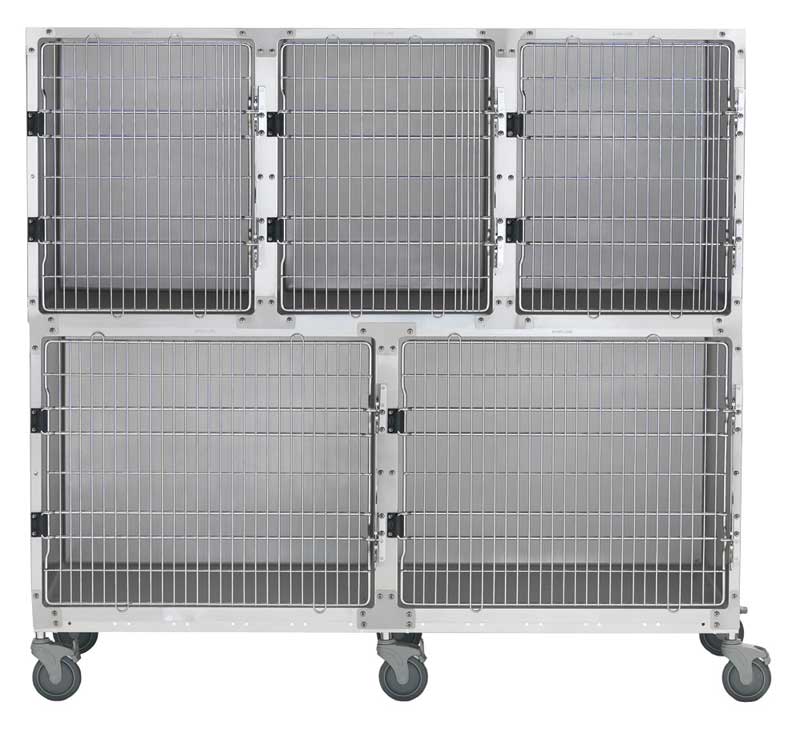 Kennel runs are modular units purchased by width and length. The height is generally between 1.8 and 1.9 m (6 and 6.5 ft) high on concrete, but plan on additional height if you are using casters or stationary legs.
On single kennels, standard widths are 0.9 or 1.2 m (3 or 4 ft), and lengths are 1.2, 1.5, 1.8, and 2.4 m (4, 5, 6, and 8 ft). A front-to-back kennel connects two standard kennels, usually with a transfer door. This provides double-compartment housing, so the dog has more room and a place to defecate away from the sleeping area.
The double-compartment housing makes the most sense for boarding because it is easy to clean, and it reinforces the dog's housebreaking by providing a defecation area. Front-to-back kennels with transfer doors are trending because of the flexibility they offer facilities.
Most manufacturers will have configurators that allow you design your own from standard choices. Options for runs include tempered glass or stainless-steel grill doors, or a combination of tempered glass or grill doors and polyvinyl chloride (PVC) panels. Sides are generally PVC or stainless-steel panels with a 1.2-m (48-in.) flag panel of tempered glass or grill. The latter helps with ventilation on the top, while the side panel decreases interactions with neighbouring dogs, which may cause stress.
A pro tip for saving money is to anchor the side panels to a back wall. You can still provide a PVC panel against a sheetrock wall, but the preference is solid wall. The alternative is to purchase a back panel.
Most manufacturers provide brochures on their kennel run offerings. Read up on the different options and ask several manufacturers to give you quotes. Don't be afraid to ask for special help with areas you want for specific uses, such as post-op recovery.
Feline housing trends
Feline housing has experienced significant transformation in the past 10 years. University research on the links between feline stress and illness has driven the recommendation for 3.3 m2 (11 sf) of floor space for cats.4
In Shelter Housing for Cats, Dr. Denae Wagner et al., discuss how facility housing design can impact animal health.
"This is particularly true for cats, a species that is exquisitely sensitive to environmental changes," the study reads. "The quality of housing can be literally a matter of life or death for a cat entering a shelter."
While veterinary facilities do not typically have the same feline lengths of stay, there are lessons that can be learned from this research. Having a main living area and a litter area helped reduce feline stress.
Portals
Many shelters have retrofitted standard stainless-steel housing to include portals, creating double-compartment housing. The portal stays open when you want the cat to be able to travel between kennels, but can also be closed when you need the space or if you want to limit walking.5
This solution is also applicable to veterinary hospitals. It is part of the flexibility trend that allows practices to increase a patient's living space when such space is available.
Waterproof housing
The trend to provide comfortable but durable feline housing has been developing for decades. Among the new possibilities is the availability of waterproof options. Indeed, new extruded PVC and other synthetic materials create housing able to stand up to urine and water without warping or becoming contaminated.
Cat housing is offered as either 'condos,' which are single openings, or 'suites,' which consist of a main unit plus a litter area. Most cats become stressed when they must defecate in the same space where they sleep. A suite provides the least stressful housing.
To increase your flexibility, consider purchasing all feline housing with transfer portals. The area between litters or condos can be kept open, but also closed off for space or medical concerns.
Standard size options
For feline kennels, research indicates the main living area should be at least 0.8-m (30-in.) wide, while the litter box area should be 0.45 m (18 in.) in width.
Most facilities build feline housing into a bank. Many manufacturers offer a configurator to mix and match the different door and colour options. These tools help you explore what you want and need at your hospital.
Best time to purchase
The end of the year is a great time to assess your financial health and plan for your hospital's future. If the projected inflation does happen,6 purchasing capital goods now makes good economic sense. Do your research and involve your kennel staff. Whatever housing you purchase should give you service for decades and add value to your practice.
Holly Gibson is marketing and innovation manager for Shor-Line, which has been manufacturing stainless-steel housing, surgery, and treatment equipment for 90 years. She works with industry thought leaders on educational materials for Shor-Line's two websites and has spent more than 30 years writing about veterinary innovation. In her spare time, Gibson is a medical and behavioural foster parent for a Kansas City-area shelter. Koala, an Aussiedoodle rescue and her most recent foster success, approved this article.
References
1 IBISWorld. (2020, December). Veterinary Services in Canada – Market Size 2004-2026. IBISWorld. https://www.ibisworld.com/
canada/market-size/veterinary-services/
2 Grandpré, V.M., Langen, G. Canadian Animal Health Market Update: Companion animals are getting a lot of attention during COVID-19. Osler. June 21, 2021. https://www.osler.com/en/resources/
regulations/2021/canadian-animal-health-market-update-companion-animals-are-getting-a-lot-of-attention-during-covid
3 Vetspanel. (26 September, 2021). VetsSurvey 2020: part 1 – COVID-19 Global Pandemic impact on the veterinary market. Vetspanel. https://www.vetspanel.com/vetssurvey-part-1
4 Wagner, D., Hurley, K., and Stavisky, J. Shelter housing for cats: Principles of design for health, welfare and rehoming. Journal of Feline Medicine. 2018;20, 635-642. https://journals.sagepub.com/doi/pdf/10.1177/1098612X18781388
5 "Portals: Opening the Door to Lifesaving," UC Davis Koret Shelter Medicine Program, accessed October 20, 2021. https://www.sheltermedicine.com/services/facility-design/portals-opening-the-door-to-lifesaving
6 Trading Economics (2021). Canada Inflation Rate. Trading Economics. https://tradingeconomics.com/canada/inflation-cpi