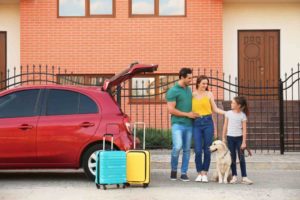 Family road trips are fun, but making sure a pet is comfortable and safe is a big part of that.
With summer winding down, families will be hitting the road to make the most of what's left of the season. To help keep stress levels down for pets and owners alike, advise clients to do a little prep work ahead of time.
"Preparing for the journey is just as important as knowing what pet-friendly amenities and accommodations are available at your destination," says Jennifer Freeman, DVM, PetSmart's resident veterinarian and pet care expert. "Be sure to pack plenty of food, water, and a few familiar objects like their bed, blanket, or toys. I also recommend pet parents take their pet to the veterinarian prior to the trip to ensure their pet is up for travel."
Here are some travel tips you can offer pet owners:
Get a dog safety harness for the car to help keep the pet in place in case of an abrupt stop. Most harnesses clip into the car's seat belt system so they're easy to use
Protect car seats with a bench seat cover, allowing the pet to stretch and relax for a comfortable ride while keeping the car clean. Waterproof fabric offers extra protection
Consider a dog booster seat, especially for smaller pets who want to look out the window. Doggie booster seats clip onto the seat belt and harness the pet
Bring a hard-sided carrier to help keep the dog from roaming around the vehicle while it's in motion. Be sure it's big enough for the pet to stand up, lie down, and turn around in
Keep pets hydrated with a collapsible bowl that expands into food and water cups and latches onto the dog's leash
Pack a pet first aid kit
If the pet gets car sickness or has anxiety about travel, prescription and over-the-counter calming products can be helpful to make the trip more enjoyable for everyone
Prevention is key, especially concerning fleas/ticks and heartworms
Microchip and register the pet for peace of mind in case it gets lost. Always keep pets leashed when stopping at gas stations and rest areas.