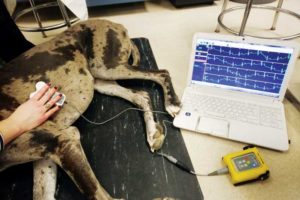 The ECG has been a routine test in veterinary practice for decades, and is commonly used for diagnostic purposes, as well as an anesthesia and critical-care monitoring tool. Although the principles of ECG diagnosis remain the same, the ways in which an electrocardiogram can be recorded have changed in recent years. Some of the changes in technology now allow general practices to have access to services that were previously only provided by specialty clinics. Some of the newer technologies also allow screening ECGs to be obtained easier and faster than their conventional counterparts.
Why get an ECG?
When obtaining a "standardized" ECG, we generally have been taught to use alligator clips and to place the patient in right lateral recumbency. This, of course, requires time and generally two people: one to restrain the animal and the other to run the machine. Further, this technique generally is not amenable to exam room use. A newer option is to consider using a direct chest lead. To decide which technique is best for a particular clinic, it is important to know what ECGs can be used for.
The simplest and most important feature of an ECG is it allows a definitive rhythm diagnosis and it determines if there are any conduction defects. In theory, ECGs may also offer information regarding heart size and mean electrical axis—it is specifically for these determinations that a standardized ECG is needed. It would, of course, be very useful if this were the case; however a study we performed at the University of Saskatchewan's Western College of Veterinary Medicine in Canada showed that sensitivity for cardiac enlargement was generally poor, though specificity was good in some cases. We found tall P-waves that are supposed to identify right atrial enlargement have only a 10 to 20 percent sensitivity, though specificity was almost 90 percent.1 With some practice, it is possible to get a good diagnostic ECG to make a rhythm diagnosis with a direct chest lead in a matter of minutes, which makes this technique ideal for routine screening purposes. The more ECGs you write, the more confident you will become with this diagnostic technique.
When selecting any ECG with or without direct chest lead capabilities—especially if the machine is predominantly meant for use on humans—it is vital a 50-mm/sec paper speed printout can be generated. Many of the non-veterinary-dedicated machines only print at 25 mm/sec, which makes diagnosis very difficult in small-animal patients, as they have much higher heart rates than humans. It is also ideal if the ECG unit has the capability to not only do direct chest lead ECGs, but also can support a set of alligator clips in case the direct chest lead tracing is suboptimal. 
Anesthesia and critical-care monitoring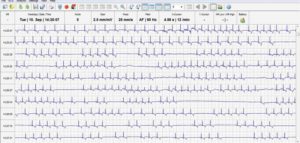 Electrocardiography plays an important role in anesthesia and critical-care monitoring. Multiparameter anesthesia monitors are widespread, so it is quite common to monitor ECGs during anesthesia. Although monitoring during anesthesia is important, there is value in continuing to monitor the ECG in the recovery phase. This is certainly true in critical patients (gastric dilatation-volvulus [GDV], splenectomy, trauma, etc.) where serious arrhythmias are not uncommon; however, it also applies to relatively healthy patients. Several studies have shown that, independent of the anesthetic protocol used, even healthy dogs can have significant arrhythmias, though they generally do not result in clinical signs.2,3 In many cases, postoperative or critical-care ECG monitoring was accomplished by use of alligator clips and a clinic's multiparameter anesthesia monitor set up next to the patient's cage. The disadvantage to this is the clips can detach with movement or the patient can start chewing on the wires. With the newer monitors and Bluetooth-enabled ECG units, it is now possible to have telemetry, which allows the ECG to be monitored without wires or alligator clips, and either projected on a screen or a tablet. The leads are attached via sticky pads and the unit is bandaged on. An alternative is to use a holter suit to keep the leads and the unit protected. The ECG is saved in a database so it can be reviewed for any abnormalities. These systems do not have software that identifies arrhythmias with ease, so manual review is needed; however, it is possible to do this fairly rapidly when needed.
Holter monitoring is a valuable tool in some patients as well, and newer products allow this technique to be carried out in most practices. Holter monitoring is especially useful in breeds that are predisposed to arrhythmias, such as boxers and Dobermans.
In boxers, arrhythmias are often the only sign of arrhythmogenic right ventricular cardiomyopathy (ARVC) a.k.a. "boxer cardiomyopathy." Heart failure tends to develop late, if ever. Diagnosing ARVC is important in breeding animals, as it is heritable. In Doberman pinschers with dilated cardiomyopathy (DCM), arrhythmias occur about a year before ultrasound changes are seen or about two years before heart failure occurs. As such, holter monitoring is a vital test in early DCM and ARVC diagnosis. In most cases, holter monitoring in general practice is accomplished by renting a unit from a company and then sending it back for evaluation. Given the logistical issues with this and the turnaround time, holter monitoring is rarely done in practice. It is now, however, possible to obtain veterinary-specific holter monitors with appropriate software. These units also are Bluetooth-enabled, and when they are not being used as a holter, they can be used for in-clinic telemetry. In those practices where using a holter does not make sense, it is possible to use Bluetooth-enabled ECG units as a "poor-man's holter."
An ECG can be recorded for a variable amount of time—the recordings don't have to be very long to be diagnostic. In boxers, a premature ventricular contraction (VPC) during a two-minute ECG was approximately 60 percent sensitive for picking up on arrhythmias when the patient had more than 50 VPCs/24 hours. Specificity was very high at over 90 percent.4 In Dobermans, a single VPC during a five-minute ECG is also around 60 percent sensitive and more than 90 percent specific for the presence of DCM.5 It would be expected that sensitivity would increase significantly the longer the ECG is evaluated.
The advent of new ECG technology allows practices to offer services such as holter monitoring or telemetry, which previously were reserved for specialty clinics. Obtaining an ECG using a direct chest lead also has a significant impact in private practice in that it allows a screening ECG to be generated in a short amount of time, often in the exam room and with the client present. All these advances make ECG diagnosis easier in practice and can result in better monitoring and care for our patients.
Anthony Carr, Dr. med. vet., DACVIM, is a professor of small-animal clinical sciences at the Western College of Veterinary Medicine in Saskatoon, Saskatchewan, Canada. He can be reached at tony.carr@usask.ca.
References
1 MC Gaunt, AP Carr, JW Pharr. Evaluation of electrocardiography and thoracic radiography for identification of cardiac enlargement in the canine patient: a retrospective study. Veterinary Radiology & Ultrasound 2013; 54: 425-426.
2 FM Duerr, AP Carr, T Duke, et al. Prevalence of perioperative arrhythmias in 50 young, healthy dogs. Can Vet J 2007;48:169–177.
3 K Buhl, U Kersten, S Kramer, et al. Incidence of post-anaesthetic arrhythmias in dogs. J Sm Anim Pract 2005;46:131-138.
4 KM Meurs, AW Spier, NA Wright, RL Hamlin. Comparison of in-hospital versus 24-hour ambulatory electrocardiography for detection of ventricular premature complexes in mature Boxers. J Am Vet Med Assoc 2001;218:222–224.
5 G Wess, A Schulze, N Geraghty, K Hartmann. Ability of a 5-Minute Electrocardiography (ECG) for Predicting Arrhythmias in Doberman Pinschers with Cardiomyopathy in Comparison with a 24-Hour Ambulatory ECG. J Vet Intern Med 2010;24:367–371.