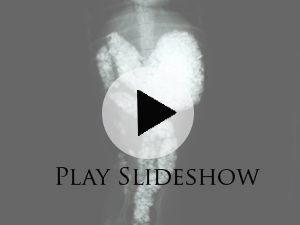 For the third year in a row, a snake radiograph has been named the winner of Vet Practice News' annual "They Ate WHAT?" radiograph contest featuring the odd things that animals have been known to ingest.
And this was a snake to reckon with – a 12-foot-long, 65-pound Burmese phython that had not only consumed its dinner, a rabbit, but the electric blanket underneath the bunny.
The annual contest is sponsored by Eklin Medical Systems of Santa Clara, Calif.
Gregory Rich, DVM, of Metairie, La., is the veterinarian who the snake and posed for a photo of with the blanket.
Elizabeth Boland, North Carolina State Class of 2008, was named winner in the student category for her radiograph of a dog that had swallowed a small stuffed dog—which she also radiographed.
Both win single-lens reflex digital cameras. Dr. Rich won in the professional category, and Roland in the student category.
"It was interesting to see the marked increase in digital radiographs this year compared to past contests," said Gary R. Cantu, president and chief executive officer of Eklin, which has sponsored the contest every year.
"Even though a snake radiograph won for a third time, we always marvel at the wide variety of species represented in the entries we receive each year.
"It reminds us of the extensive breadth of knowledge needed by a veterinarian for rendering excellent clinical care and the need for us to provide state-of-the-art digital technology in support of this goal."
Contest judges were Matt Wright, DVM, Dipl. ACVR, of AnimalInsides.com; Brian Poteet, DVM, Dipl. ACVR, of Gulf Coast Veterinary Specialists in Houston; and Rachel Schochet, DVM, MS, Dipl. ACVR, of Southern California Veterinary Imaging.
Professional Category
Grand Prize Winner
Gregory Rich, DVM
West Esplanade Veterinary Clinc
Metairie, La.
 
| | | |
| --- | --- | --- |
| | | |
| The patient is a 12-foot-long, 65-pound Burmese python that ate a heating blanket and the rabbit that was on the blanket. | The python was taken to surgery to remove the heating blanket. | Dr. Rich holds the 3-foot-by-4-foot blanket after he removed it from the snake. |
Student Category
Grand Prize Winner
Elizabeth Boland
North Carolina State University Class of 2008
Raleigh, N.C.
| | | |
| --- | --- | --- |
| | | |
| Murphy is a 2-year-old male castrated Labrador retriever, who presented for acute onset of vomiting and decreased appetite. He had a history of eating socks, all of which was able to pass on his own. | His abdomen was tense on palpation. Radiographs revealed a barium-coated cloth foreign object in the antral region of the stomach, and "tailing" into the duodenum. | Evidence of obstruction was not seen, however the position of the object looked as though it could cause outflow obstruction if lodged.  A small stuffed toy dog was retrieved endoscopically. |