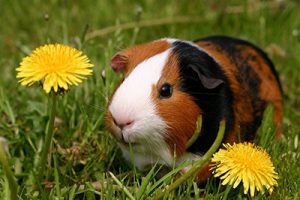 The Centers for Disease Control and Prevention (CDC) has reported nine cases of Salmonella infection connected to pet guinea pigs across eight states. The illnesses, which resulted in one hospitalization, ranged from July 2015 to Dec. 2017.
"This outbreak is a reminder that pet rodents such as guinea pigs, regardless of where they are purchased or adopted, can carry Salmonella bacteria even when they look healthy and clean," states the advisory.
States cited in the advisory include Colorado, with two reported cases, as well as Indiana, Iowa, Massachusetts, Michigan, New York, Virginia, and Vermont, with one case each. The outbreak strain of the bacteria was identified in a sample collected from the guinea pig belonging to the patient in Vermont.
Illness resulting from exposure to Salmonella usually lasts four to seven days. Those affected usually recover without treatment, but extreme cases of diarrhea and vomiting can lead to hospitalization. Infection is considered most dangerous for children younger than 5, older adults, and people with weakened immune systems.
The CDC recommends veterinarians remind clients with pet rodents to enforce good hygiene practices, especially in regard to young children.
To read the full report, click here.