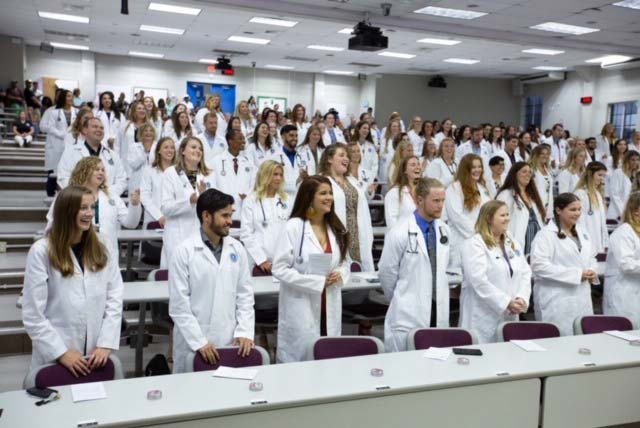 As summer shifts to fall, aspiring veterinarians from around the world have converged at their respective colleges, eager to begin their studies in animal medicine.
In recognition of this, Ross University School of Veterinary Medicine (RUSVM) hosted a white coat ceremony to welcome and inspire its class of 2022, with Tres Clarke, DVM, DACZM, returning to his alma mater to address the crowd.
Dr. Clarke, senior staff veterinarian and director of rescue at SeaWorld San Diego, spoke of the range of opportunity available in the field, describing his journey into exotic animal medicine and encouraging students to find their calling and pursue it.
"I tell future veterinary students that if veterinary medicine is truly your passion, be persistent and dogged in it, and go for it," Clarke says. "Take in the lessons from your life experiences and from different veterinary practices. Let them mold you on how you want—and sometimes don't want—to practice veterinary medicine."
Dean Sean Callanan, PhD, MVB, MRCVS CertVR, DipECVP, FRCPath, also spoke at the event, describing the students' white coats as a "symbol of support and a commitment to professionalism and ethical values."
"Veterinary medicine is one of the most highly respected professions, primarily because people believe veterinarians are honest, demonstrate the highest integrity and moral behaviour, and are caring, compassionate providers," he says. "With more than 5000 RUSVM graduates practicing in almost every U.S. state and many other countries, it is an honour to welcome our newest class of future veterinarians."