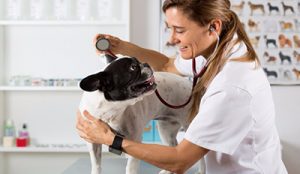 Growing competition for flea and tick medication sales online, the aging demographics of the veterinary profession, the heavy debt load of recent veterinary school graduates, and the money being offered by consolidators are transforming the veterinary industry, according to market research firm Packaged Facts' Pet Industry Outlook: Veterinary Services and Pet Product Retailing.
Consolidation and ecommerce trends that in large part are fueling the shifts tie in to significant changes in the pet industry overall, including consumer preferences for pet product shopping.
"It's all about customer loyalty," said David Sprinkle, research director for Rockville, Md.-based Packaged Facts. "As choices increase and customers can get their veterinary services and pet products in many places, customer loyalty spanning in-store and online will be key to retaining business and driving growth across the pet market."
Consolidation brings greater purchasing power and cost savings to chain veterinary practices, including those under the expanding veterinary umbrella of Mars Inc., and those associated with pet superstores, the report states. The main challenge for independent practices is to establish how their personalized service differentiates them from the growing field of chain veterinarians.
However, pet ownership attitudes, expectations, and spending patterns, along with the large population of senior pet dogs and cats in the U.S., are creating increased demand for a wider range veterinary services and pet care guidance.
Further, veterinary services represent the second-largest segment of the pet industry (following pet food), growing over 6 percent in 2017 to reach $26.9 billion, according to Packaged Facts.
The report forecasts market growth for veterinary services in pet food and nonfood products and nonmedical pet services. The analysis investigated other topics, including:
Ways pet owners can access veterinary services
Impact pet superstores and online retailers have on veterinary channel trends
New and upcoming products shaping veterinary care services and revenues
Impact of "pet parents" and Millennial pet owners on market trends
Effects of pet population and health trends on the veterinary practices
Veterinarian influence on pet owners, pet product purchases, and pet health and wellness
For more information, visit bit.ly/2LMEbkH.