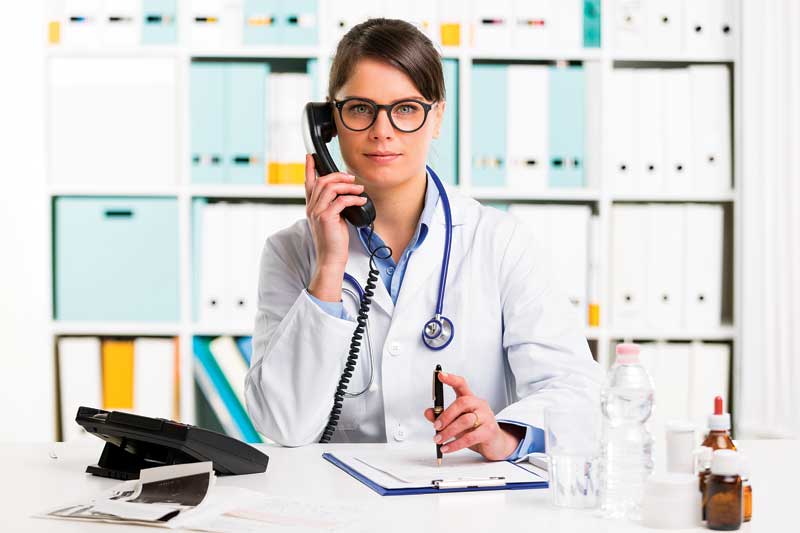 Historically, the creation of new technologies ushers in the development of new products and services. From the first cell phone call made in 1973 to asking Alexa to play a song, technology changes the products and services used in everyday life.
Tech advancements also impact in healthcare. In the late 1940s, technology made it possible for radiology images to be sent 24 miles between two townships via telephone in Pennsylvania, making it the first instance of an electronic medical record transfer. By the late 1960s, entire urban centers were utilizing the technology to fit their specific needs. Since then, the technology for telehealth services, and the demand for it, has increased exponentially.
While telehealth services may be more widely known in human healthcare, it isn't exactly a new idea for veterinarians, either. Veterinary teams have been providing advice, triage services, and consultations via phone, email, and fax for years. But with the advancements in technology, telehealth services, including telemedicine and teleconsulting, have begun to take on a different look and feel.
Changing demographics
Millennials (ages 18-34) have surpassed baby boomers (ages 51-69) as the largest pet owning demographic, according to the American Pet Products Association. Millennials also are the largest consumers of technology. More than 85 percent of millennials own smartphones (Nielsen) and 87 percent use two to three tech devices at least once a day (Forbes). Additionally, 65 percent of millennials start interactions with a brand or organization online (Microsoft), and 41 percent of millennials have already made purchases online (Edielman Digital).
These statistics indicate a growing trend of pet owners who can be reached online, purchase online, and may potentially prefer using telemedicine services for their pets for minor and nonlife-threatening medical questions over visiting a veterinary clinic.
According to Matthew Rumbaugh, executive director of TeleHealth Suites and co-founder of VetNOW, it isn't just a matter of preference.
"Millennials have an expectation for this service," Rumbaugh said. "They spend $47 billion in veterinary care per year, indicating there is a business opportunity for this service."
This doesn't mean practice owners can ignore other generations though, he added.
"While no longer being the largest pet owner demographic, baby boomers still have an extremely important purchasing power, spending $60 billion per year," he said. "While millennials have an expectation for telemedicine, practice owners must validate it for others."
Its place in a practice
Veterinarians and their teams have been providing telemedicine services for years without consciously acknowledging it as such. But as technology advances, so do the avenues in which pet owners can reach their veterinarian for advice, and veterinarians can connect with specialists.
Veterinary practices with active Facebook pages, for instance, may have clients sending private messages to the page asking for general advice. For example, they may message their veterinary practice wondering if they need to bring their dog in immediately because although a stitch came out, he isn't bleeding. Nonemergent questions like this generally can be answered without an office visit, saving the client and practice both time and money.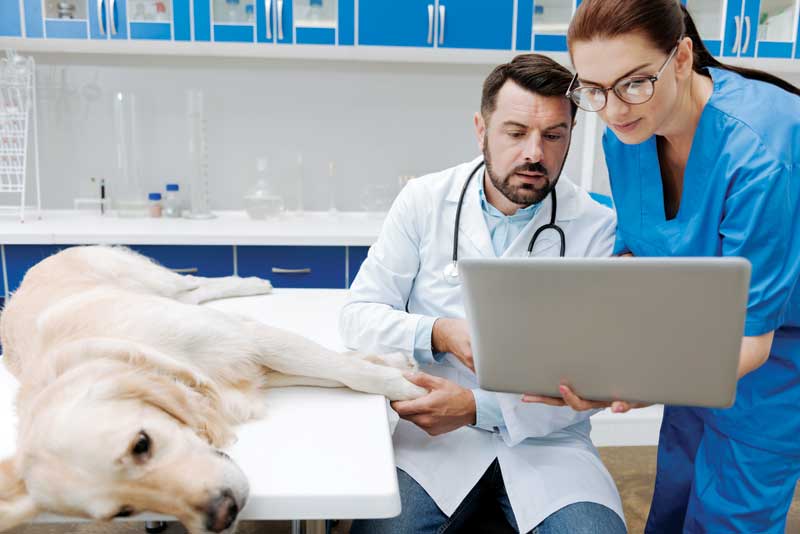 While the ways a client reaches out to their practice are changing, so are the ways a veterinarian connects with specialists. Through telehealth technology, specialist-to-clinician consultation models may involve the client being present with the clinician during the consultation. It's like having the remote specialist in the exam room during the client's appointment, only all medical recommendations are given directly to the clinician, not to the client."
And while emailing questions, test results, or radiology images to specialists continues to be an option, it is one that is much slower than meeting via a dedicated teleconsulting service.
"While the relevance for this service comes from the human side, veterinarians need to understand what [telehealth] means for them," said Rumbaugh. "Veterinarians already provide telemedicine services when they answer emails, texts, and fax, but it takes on a new level of care when it comes together in a comprehensive platform like VetNOW, where video, medical records, discharges, scheduling and more can be shared in real-time."
Risks involved
When assessing telehealth services, it's important to consider the legal requirements surrounding them. Telemedicine services are still an evolving space for veterinarians. In fact, the American Veterinary Medical Association only recently released its final report on telemedicine, which has provided a deeper understanding of how this service may impact the industry.
While laws vary by state, legally there isn't a real difference between telemedicine for human health versus pet health at this point, said Michael H. Cohen, founder of Michael H. Cohen Law Group, who specializes in healthcare legal and FDA legal and regulatory law.
"Both types of health services require an establishment of a physician-patient or veterinarian-client-patient relationship, or VCPR," Cohen said. "Telemedicine does not permit an easier standard of care."
In fact, the AVMA guidelines may be stricter in terms of requiring an actual examination, whereas some states are relaxing the requirement of an in-person exam as part of establishing the professional relationship for physician-patient care, he said.
Practice owners should seek legal advice whenever establishing services involving telemedicine or affiliating with companies that offer them, Cohen said. He also suggested practice owners explore appropriate insurance coverage, disclaimers to and agreements, and consent forms with their attorneys to lower the potential risk of any venture.
In the AVMA Telemedicine Report, published in early 2017, the AMVA ultimately recommended to mirror existing healthcare models while further exploring the telehealth landscape.
There's a big difference between the human and veterinary sectors that greatly impacts the function of veterinary telehealth services, said Amy Kaplan-Zattler, DVM, DACVECC.
"According to the most updated AVMA resource regarding veterinary telehealth, the veterinary clinician cannot give direct medical advice to the client regarding a patient without an established VCPR, which includes a hands-on physical examination of the animal," she said. "On the human side, their patients can tell the doctor first-hand what symptoms they are experiencing, so their doctor-to-patient relationship can take on a different form. In both human and veterinary medicine, the definition of this relationship can vary state by state."
Other human healthcare professionals can be engaged with telemedicine visits other than the doctor themselves, including nurse practitioners and physician assistants. That is not the case in veterinary care; proxies such as a technician cannot hold the VCPR.
Impact on the industry
Increasing the speed in which cases are referred and seen is beneficial to pets, clients, and veterinarians everywhere. However, it is possible that the greatest impact telehealth will make is in specialist veterinary care.
"There is a huge shortage of specialists, and there aren't enough being trained," said Apryle Horbal, VMD, MRCVS, and president of University Veterinary Specialists. "Teleconsultation connects all of your consultants, regardless of location and specialization, immediately."
Dr. Kaplan-Zattler agreed.
"It's very beneficial to have the in-person relationship with the veterinarian and pet as a specialist," she said. "If you don't have access to the specialist services you need, the telehealth services open those doors."
Telemedicine services will never replace the importance and need for in-person visits with the veterinary specialist, nor should they, she said.
"I don't see telehealth services as a replacement for the veterinary referral hospital and do not wish to ever see it developed that way; telehealth is an opportunity to expand and increase quality of care by increasing accessibility, not to replace it," she said.
Rural communities are another opportunity for telehealth services to make an immediate impact.
"Telehealth services give rural areas access to doctors and specialty care," said Rumbaugh. "Veterinary admission rates are up, but so are student loans," he said, adding that there isn't a shortage of doctors; there is a displacement of them. "Graduating veterinarians are going to clinics in the city where they can earn a higher wage to pay back their loans. Telehealth exchange platforms will provide veterinarians to rural areas to fill those needs and provide specialist service to rural veterinarians."
It also provides a new revenue stream for referring veterinarians and specialists. Specialists can do a lot of the work in their own practice, regardless of location, while still providing quality care for the referring veterinarian's patient. Practices that typically refer patients to a specialist at a different practice also have an opportunity to keep the client, thus retaining the business.
"If you're a general practitioner [and have] no specialist, you have to refer out. That takes the patient away from you and to another clinic," said Rumbaugh. "On our platform, for example, referring veterinarians connect via the virtual telehealth exchange to a specialist and the patient never leaves your clinic."
Keeping the patient and client in-house also provides a practice with added value that can be marketed, because now pet owners can visit their local veterinarian and have access to specialists across the country without having to travel from a small town to a larger city a few states away.
Moving forward
The AVMA continues to educate veterinarians on the opportunities in telehealth, including telemedicine, teleconsulting, telemonitoring, and teletriage. It also continues to lobby for further definitions and how they apply to practices, which is another reason why in-person visits will never be replaced by telehealth services.
Like cell phones and social media, telehealth services will soon be in demand by more than just the millennial generation. From initial triage to appointment follow-up to hospice care, opportunities to incorporate telehealth services and further patient care and business success are waiting.
Stephanie Duncan is the communications coordinator at the Veterinary Hospitals Association, a cooperative based in South St. Paul, Minn.